According to the Scoring Tech Talent Report by CBRE, a major investment and commercial real estate firm, the tech talent labor force in Madison grew 10.6 percentage points faster in 2016 and 2017 than it did from 2014 through 2015. CBRE noted that tech companies continue to view Madison as a place to tap into quality talent.
There is also a growing demand for advanced industry jobs in Wisconsin — including those related to computer science and information technology. This tech-related workforce demand, especially in sectors like finance, insurance, and healthcare can be exciting for students pursuing programs at computer science schools in Wisconsin.
Wisconsin's Technology Education Initiatives
The Badger State is home to a number initiatives that are intended to support the IT sector as well as increase enrollment in IT degree programs in Wisconsin. Let's dive deeper into several of them:
Promoting STEM education and careers: STEM Forward is an organization in Wisconsin that collaborates with businesses, educational institutions, and the community to promote STEM education and careers to students across the state. It offers scholarships, conferences, and a variety of special events.
Improving the diversity of students who pursue STEM education: The POSSE STEM program at the University of Wisconsin-Madison partners with ten higher education institutions to increase diversity in STEM education and careers. Each year, a private foundation dedicated to advancing research in basic science and mathematics, awards POSSE STEM a $450,000 grant to support its continued growth and development.
Incorporating STEM throughout a Wisconsin school district: The Janesville School District has spent $750,000 on implementing STEM initiatives throughout all grades. It strives to encourage high school students to pursue science programs or IT schools in Wisconsin after graduation.
Exposing students to STEM careers: The University of Wisconsin-Stout hosts the Stout Connects You Science Festival to give high school students the opportunity to explore STEM careers and learn about STEM programs at the university.
Southern New Hampshire University
Some of the nation's most affordable tuition rates, from a private, nonprofit, NEASC accredited university
Qualified students with 2.5 GPA and up may receive up to $20K in grants & scholarships
Multiple term start dates throughout the year. 24/7 online classroom access
Offering over 200 online degree programs
Purdue University Global
Experience world-class education online with more than 175 programs at associate's, bachelor's, master's and doctoral levels.
Apply eligible work experience and prior college credits toward up to 75% of your undergraduate degree.
You have the option of trying out a Purdue Global undergraduate program for an introductory 3-week period. There's no cost beyond the application fee.
Competency-based ExcelTrack™ programs may allow you to earn your degree faster and for less money
Best Computer Science and IT Colleges in Wisconsin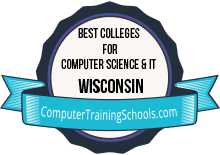 Wisconsin has more than a dozen different two- and four-year schools that offer either associate, bachelor's, and/or advanced degree programs. Based on a review of the data, here's a look at the institutions that may provide the best opportunities for computer science or IT students.
| Ranking | School Name | In State Avg. Undergrad Tuition | % Receiving Financial Aid | Retention Rate |
| --- | --- | --- | --- | --- |
| 1 | Southwest Wisconsin Technical College | $4,066 | 84% | 69% |
| 2 | Marquette University | $41,290 | 100% | 87% |
| 3 | Chippewa Valley Technical College | $4,026 | 76% | 61% |
| 4 | Northcentral Technical College | $3,221 | 74% | 63% |
| 5 | Fox Valley Technical College | $4,026 | 68% | 70% |
| 6 | Beloit College | $49,564 | 100% | 78% |
| 7 | Concordia University-Wisconsin | $29,180 | 100% | 76% |
| 8 | University of Wisconsin-Milwaukee | $8,091 | 83% | 73% |
| 9 | Moraine Park Technical College | $4,065 | 62% | 73% |
| 10 | Northeast Wisconsin Technical College | $4,026 | 70% | 58% |
Source: Integrated Postsecondary Education Data System (IPEDS) 2018-19, National Center for Education Statistics, http://nces.ed.gov/ipeds/
Spotlight on Computer Science Schools in Wisconsin
Here's a closer look at some of the noteworthy educational programs offered by computer science schools in Wisconsin:
University of Wisconsin-Madison: At UW-Madison, students who pursue a Bachelor of Science in Computer Sciences can gain access to the university's annual computer science career fair. This fair can provide opportunities for students to connect with prospective employers as well as participate in technical talks and information sessions.
Wisconsin Lutheran College: Students in the computer science major program at WLC may benefit from the school's small class sizes and one-on-one time with their professors. In addition to the core computer science curriculum, they can expect special course topics such as computer gaming and robotics.
University of Wisconsin Platteville: The UW-Platteville offers a Bachelor of Science in Applied Computing. It is a 61-credit hour program and one of the only entirely online computer science degree programs in the state.
University of Wisconsin-Eau Claire: At UW-Eau Claire, students may participate in the computer science honors program and enjoy exciting opportunities such as collaborative research with a faculty member.
IT Salaries and Career Outlook in Wisconsin
According to the Job Center of Wisconsin, occupations such as computer and information systems managers, software developers, and computer systems analysts are showing significant growth in the state.
Many large companies in the Badger State are searching for these types of IT professionals. A few examples of these companies include Johnson Controls, a leader in HVAC technology; Regal Beloit, a manufacturer of electric motors; Epic Systems Corp., an electronic health records company; and Rockwell Automation, an industrial automation provider.
| Career | Annual Median Wage |
| --- | --- |
| Information Security Analysts | $82,180 |
| Database Administrators and Architects | $88,020 |
| Computer Network Architects | $96,280 |
| Web Developers and Digital Interface Designers | $59,710 |
| Computer Programmers | $78,730 |
| Computer Network Support Specialists | $67,210 |
| Software Developers and Software Quality Assurance Analysts and Testers | $89,610 |
| Computer Systems Analysts | $78,550 |
| Network and Computer Systems Administrators | $69,790 |
2019 Occupational Employment Statistics and 2018-28 Employment Projections, Bureau of Labor Statistics, BLS.gov.
Computer Science Scholarships for Wisconsin Students
Scholarships can make computer science degree programs in Wisconsin more affordable. Here's an example of some state-specific computer science scholarship available to eligible students. Some scholarships are specific to certain schools, but others are not.
Wisconsin Professional Organizations and Resources
There are numerous professional organizations that may benefit technology professionals and students enrolled in IT degree programs in Wisconsin. Members can take part in learning and networking opportunities, as well as other resources that make help those who are pursuing careers in the tech field. Let's look at a few of the Wisconsin organizations.
Wisconsin Technology Association: The WTA aims to educate members on the latest concepts in telecom and technology, focus on the professional advancement of the field of telecom and technology, and provide a forum for members to discuss ideas and experiences.
Wisconsin Technology Council: A variety of events such as the Wisconsin Tech Summit, Wisconsin Entrepreneurs' Conference, and the Wisconsin Early Stage Symposium are all hosted by the Tech Council. There's also a strong emphasis on providing both both in-state and out-of-state networking opportunities.
Wisconsin Educational Media & Technology Association: The goal of the WEMTA is to embrace individuals involved in the support, utilization, and integration of information, communication, and technology. It also strives to advance their efforts to improve student growth and achievement through a number of initiatives.
Article Sources
Article Sources
Sources
Computer Sciences, University of Wisconsin-Madison, Accessed December 2018, http://guide.wisc.edu/undergraduate/letters-science/computer-sciences/computer-sciences-bs/#advisingandcareerstext
Computer Science, University of Wisconsin Platteville, Accessed December 2018, https://www.uwplatt.edu/ems/computer-science
Computer Science, Wisconsin Lutheran College, Accessed December 2018, https://www.wlc.edu/Computer-Science/
Computer Science Honors, University of Wisconsin-Eau Claire, Accessed December 2018, https://www.uwec.edu/academics/college-arts-sciences/departments-programs/computer-science/honors-program/
Computer Science Standards, Wisconsin Department of Public Instruction, Accessed December 2018, https://dpi.wi.gov/sites/default/files/imce/computer-science/ComputerScienceStandardsFINALADOPTED.pdf
Hot Job Projections, Wisconomy, Job Center of Wisconsin, Accessed December 2018, https://jobcenterofwisconsin.com/wisconomy/pub/hotjobs
Scholarship Database, Schools.com, Accessed December 2018, https://www.schools.com/scholarships-database
Stem Forward, Accessed December 2018, http://www.stemforward.org/
STEM Initiatives, University of Wisconsin-Madison, Accessed December 2018, https://posseprogram.wisc.edu/stem-initiatives/
Tech Talent Soars in Madison, Report Says, Madison.com, Accessed December 2018, https://madison.com/wsj/business/tech-talent-soars-in-madison-report-says/article_9dbec71f-4ddd-587d-9216-d53d52f4a27a.html
Wisconsin Technology Association, Accessed July 2019, https://wtawi.org/
Wisconsin Technology Council, Accessed July 2019, https://wisconsintechnologycouncil.com/
Wisconsin Educational Media & Technology Association, Accessed December 2018, https://www.wemta.org
Wisconsin School District Makes STEM a Priority, Center for Digital Education, Accessed December 2018, http://www.govtech.com/education/k-12/Wisconsin-School-District-Makes-STEM-a-Priority.html
Wisconsin Science Festival: Area Students Explore STEM fields Oct. 12, University of Wisconsin-Stout, Accessed December 2018, https://www.uwstout.edu/about-us/news-center/wis-science-festival-area-students-explore-stem-fields-oct-12
X
Methodology
To be included in the rankings, all colleges had to meet the following criteria:
Be an accredited U.S. institution
Offer either 2 or 4-year degree programs
Be active in the 2016-17 school year
Offer a degree in a technology-related subject
Have awarded at least one degree in that subject in 2015-16
Have reported data for all ranking variables listed below
Ranking variables:
Related subjects, based on the number of relevant programs that are offered at any level
Flexibility, based on number of relevant programs that are offered at any level via distance education
Average in-state undergraduate tuition
Percent of undergraduate students awarded federal, state, local, institutional or other sources of grant aid
Average amount of federal, state, local, institutional, or other sources of grant aid awarded to undergraduate students
Graduation rate
Retention rate
Methodology Sources:
Integrated Postsecondary Education Data System (IPEDS) 2016-17, National Center for Education Statistics, http://nces.ed.gov/ipeds/
X