South Dakota's agricultural sector continues its shift in operational style by turning more often to technology to allow for greater farming efficiency. The need for data-focused functions like seed and agronomic analytics is evidenced by the presence of companies like the Farmers Business Network. While FBN is based in California, its largest office — Farmer Experience — is based in Sioux Falls.
In addition, one of Governor Kristin Noem's priorities is to grow the state's cybersecurity industry — to create or attract companies to the state and to keep well-qualified tech graduates at home where they can continue to enjoy the state's quality of life.
This is great news for students enrolled in IT degree programs in South Dakota as it shows just how valued technology is in the Mount Rushmore State. Upon graduation, students are likely to find employment helping the agriculture industry or other industries succeed through technology.
South Dakota's Technology Education Initiatives
Education, government, and community leaders in the state have worked together to implement a number of initiatives that promote technology education at the secondary and post-secondary levels. Here's a brief overview of a few of them.
Encouraging computer science in high schools: In 2018, the State Board of Education approved changes to the diploma requirements in South Dakota. These changes allow students who earn a regular diploma to substitute an advanced computer science course for a science requirement.
Funding tech education: Build Dakota is a scholarship program that helps make information technology education more affordable to students in the state. Those who receive this scholarship need to commit to working in an IT position in South Dakota for at least three years.
Adding AP computer science courses: The state has been focused on adding AP computer science courses to more high schools so that students can get exposed to the field while earning college credit.
Southern New Hampshire University
Some of the nation's most affordable tuition rates, from a private, nonprofit, NEASC accredited university
Qualified students with 2.5 GPA and up may receive up to $20K in grants & scholarships
Multiple term start dates throughout the year. 24/7 online classroom access
Offering over 200 online degree programs
Purdue University Global
Experience world-class education online with more than 175 programs at associate's, bachelor's, master's and doctoral levels.
Apply eligible work experience and prior college credits toward up to 75% of your undergraduate degree.
You have the option of trying out a Purdue Global undergraduate program for an introductory 3-week period. There's no cost beyond the application fee.
Competency-based ExcelTrack™ programs may allow you to earn your degree faster and for less money
Best Colleges for Computer Science and IT in South Dakota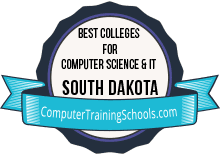 For a successful technology industry in South Dakota to continue, it's essential to develop an educated workforce. Prospective students who are interested in computer science or information technology-related careers can choose from a number of educational institutions in the state in which to earn their degree — including those that offer online computer science programs. Here's a list of the best IT schools in South Dakota.
| Ranking | School Name | In State Avg. Undergrad Tuition | % Receiving Financial Aid | Retention Rate |
| --- | --- | --- | --- | --- |
| 1 | Lake Area Technical Institute | $2,784 | 92% | 81% |
| 2 | Augustana University | $32,488 | 100% | 85% |
| 3 | Southeast Technical Institute | $3,016 | 88% | 73% |
| 4 | Sinte Gleska University | $2,640 | 82% | 100% |
| 5 | Western Dakota Technical Institute | $3,451 | 91% | 57% |
| 6 | Oglala Lakota College | $2,016 | 99% | 63% |
| 7 | Dakota State University | $7,299 | 95% | 67% |
| 8 | University of Sioux Falls | $17,980 | 100% | 73% |
Source: Integrated Postsecondary Education Data System (IPEDS) 2018-19, National Center for Education Statistics, http://nces.ed.gov/ipeds/
Spotlight on Computer Sciences Schools in South Dakota
There are a number of computer science schools in South Dakota that offer unique programs. Here are three examples:
Augustana University: At Augustana, students may enroll in a program that culminates in a Bachelor of Science in Computer Information Systems. This program focuses on the commercial and human aspects of computing and can prepare students for careers that involve the business applications of computing. It also incorporates hands-on learning through hardware and software labs.
Lake Area Technical Institute: Lake Area Tech's networking and cybersecurity specialist program is designed to give students the opportunity to spend 80% of their time performing the actual responsibilities of a security specialist. The program also requires the completion of a 180-hour internship.
Dakota State University: Students pursuing the Bachelor of Science in Computer Science at DSU can participate in the Computer Club or Gaming Club, programming contests, research opportunities, and an honors program. Also available through the Beacom College of Computer and Cyber Science are master's programs in computer science and cyber defense as well as Ph.D. programs in cyber operations and cyber defense.
IT Salaries and Career Outlook in South Dakota
Information security analysts, software developers, and computer network support specialists are fast-growing occupations in South Dakota, according to the Bureau of Labor Statistics.
3M, the adhesive paper product provider that makes Post-it Notes, Avera Medical, and the Citigroup banking firm in Sioux Falls usually hire these types of professionals.
2019 Occupational Employment Statistics and 2018-28 Employment Projections, Bureau of Labor Statistics, BLS.gov.
Computer Science Scholarships for South Dakota Students
Many different types of scholarships exist that can help defray the cost of college for eligible students. Here are a few program- and state-specific awards that can help make computer science degree programs in South Dakota more affordable.
Marjorie H. Beaty Math/Computer Science Scholarship: Offered through the University of South Dakota, this award is available to students who are majoring in math or computer science. Students must be thriving academically and need some financial assistance.
Computer Science Annual Scholarship: This award was established by Stephen Krebsbach, Associate Professor of Computer Science at Dakota State University, for students who are majoring in computer science at Dakota State with a 3.0 GPA or higher.
South Dakota Professional Organizations and Resources
South Dakota Telecommunications Association: SDTA brings together telecommunications companies in the state. It hosts special events, posts career opportunities, and even offers scholarships to students enrolled in IT degree programs in South Dakota.
Association for Computing Machinery: ACM's main goal is to promote computing as a science through literature, career services, and conferences that are available to its members. There are student chapters at the University of South Dakota, the South Dakota School of Mines and Tech, Dakota State University, and South Dakota State University.
Upsilon Pi Epsilon: UPE is an honor society that recognizes students who are excelling in computing and information technology. Students at University of South Dakota, the South Dakota School of Mines and Tech, and South Dakota State University can join as long as they meet the GPA and curriculum requirements.
Article Sources
Article Sources
Sources
2019 State of Computer Science Education, CODE Advocacy Coalition, Accessed September 2019, https://advocacy.code.org/2019_state_of_cs.pdf
About FBN, Farmers Business Network, Accessed December 2019, https://www.fbn.com/about#farmer-experience
Annual Scholarships, Dakota State University, Accessed September 2019, https://dsu.edu/about-dsu/foundation/scholarships/annual-scholarships-college-of-computing
Association for Computing Machinery, Accessed September 2019, https://www.acm.org/
Betting big on tech: State, city leaders focus on 'next generation' of jobs, Sioux Falls Argus Leader, November 22, 2019, https://www.argusleader.com/story/news/business-journal/2019/11/22/south-dakota-sioux-falls-tech-industry-job-growth/4258814002/
Build Dakota Scholarships, Accessed September 2019, https://www.builddakotascholarships.com/
Computer Science, Augustana University, Accessed September 2019, http://www.augie.edu/computer-sciencecis
Computer Science, Dakota State University, Accessed September 2019, https://dsu.edu/academics/degrees-and-programs/computer-science-bs
Leading the Way in Cybersecurity, Office of the Governor, State of South Dakota, Accessed December 2019, https://sd.gov/governor/priorities/cybersecurity.aspx
May 2018 State Occupational Employment and Wage Estimates South Dakota, Bureau of Labor Statistics, Accessed September 2019, https://www.bls.gov/oes/current/oes_sd.htm
Networking and Cybersecurity Specialist, Lake Area Technical Institute, Accessed September 2019, https://www.lakeareatech.edu/academics/computer-information-systems/networking-and-cyber-security-specialist/
Scholarships, University of South Dakota, Accessed September 2019, https://www.usd.edu/arts-and-sciences/computer-science/scholarships
South Dakota Industry Employment Trends to 2024, South Dakota Department of Labor and Regulation, Accessed September 2019, https://dlr.sd.gov/lmic/lb/2016/lbart_july2016_industry_employment_trends_to_2024.pdf
South Dakota Telecommunications Association, Accessed September 2019, https://www.sdtaonline.com/
Upsilon Pi Epsilon, Accessed September 2019, http://upe.acm.org/
X
Methodology
To be included in the rankings, all colleges had to meet the following criteria:
Be an accredited U.S. institution
Offer either 2 or 4-year degree programs
Be active in the 2016-17 school year
Offer a degree in a technology-related subject
Have awarded at least one degree in that subject in 2015-16
Have reported data for all ranking variables listed below
Ranking variables:
Related subjects, based on the number of relevant programs that are offered at any level
Flexibility, based on number of relevant programs that are offered at any level via distance education
Average in-state undergraduate tuition
Percent of undergraduate students awarded federal, state, local, institutional or other sources of grant aid
Average amount of federal, state, local, institutional, or other sources of grant aid awarded to undergraduate students
Graduation rate
Retention rate
Methodology Sources:
Integrated Postsecondary Education Data System (IPEDS) 2016-17, National Center for Education Statistics, http://nces.ed.gov/ipeds/
X