While Pennsylvania has a deep history, it also focuses on the future, as its tech sector ushers in innovation, progress and employment. In 2018 alone, more than 6,000 new tech-related jobs were added in the Keystone State, CompTIA reports. And job postings for emerging tech fields like smart cities, blockchain, or artificial intelligence increased by 70 percent. Overall, Pennsylvania employs more than 435,000 people in the tech industry — more than seven percent of all jobs in the state.
Pennsylvania students interested in starting careers in the state's IT and computer science fields can find campus-based and online IT programs to help prepare for those jobs — to learn the skills needed for work in the tech industry. For adults who want to take their current career in tech to the next level, more advanced online degree programs can help to pave the way.
Pennsylvania's Technology Education Initiatives
The development of a highly qualified workforce in Pennsylvania's educational system is a major reason why tech companies may be attracted to the state. Here are some of the programs in place developed by state government, education, business, and community-based organizations.
Supporting professional development for educators: Pennsylvania's Department of Education partners with multiple organizations, including Code.org, to host an annual Pennsylvania Computer Science for All Summit. This event is designed to help school leaders, educators, and other stakeholders expand their knowledge and skills so they can support and provide students with computer science experiences.
Creating STEM learning ecosystems: Pennsylvania is home to 10 nationally recognized STEM ecosystems — collaborations that aim to grow and nurture learning opportunities in science technology, engineering, and math for preK-16 students. Through their experiences inside and outside the classroom, students may be inspired to pursue STEM-related careers. The state also has more than a dozen informal ecosystems in place.
Preparing for future STEM workforce needs: PAsmart focuses on preparing a STEM-ready workforce that can compete in an increasingly knowledge-based and tech-driven economy. On the agenda: Expanding apprenticeship programs related to technical STEM jobs — jobs in IT, for example, which only need some education beyond high school, such as a two-year degree, license, or certification.
Fostering technology-based start-ups: Ben Franklin Technology Partners and Innovation Partnership are two Pennsylvania organizations that work to help early-stage technology companies access funding, networking opportunities, and technical expertise.
Southern New Hampshire University
Some of the nation's most affordable tuition rates, from a private, nonprofit, NEASC accredited university
Qualified students with 2.5 GPA and up may receive up to $20K in grants & scholarships
Multiple term start dates throughout the year. 24/7 online classroom access
Offering over 200 online degree programs
Purdue University Global
Experience world-class education online with more than 175 programs at associate's, bachelor's, master's and doctoral levels.
Apply eligible work experience and prior college credits toward up to 75% of your undergraduate degree.
You have the option of trying out a Purdue Global undergraduate program for an introductory 3-week period. There's no cost beyond the application fee.
Competency-based ExcelTrack™ programs may allow you to earn your degree faster and for less money
Best Computer Science and IT Colleges in Pennsylvania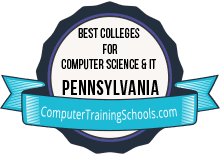 If you're looking for IT schools in Pennsylvania, you have dozens and dozens of choices. More than 150 higher education institutions in the state — public community colleges, private technical schools, and four-year universities — offer IT programs. Whether you're looking to earn a bachelor's degree from one of the computer science schools in Pennsylvania or an associate degree to prepare for an entry-level IT job, you can find multiple options to help you prepare for your career.
| Ranking | School Name | In State Avg. Undergrad Tuition | % Receiving Financial Aid | Retention Rate |
| --- | --- | --- | --- | --- |
| 1 | Carnegie Mellon University | $54,244 | 59% | 97% |
| 2 | Pennsylvania State University-Main Campus | $17,416 | 65% | 93% |
| 3 | University of Pennsylvania | $49,220 | 58% | 98% |
| 4 | Lehigh University | $52,480 | 70% | 94% |
| 5 | University of Pittsburgh-Pittsburgh Campus | $18,130 | 78% | 93% |
| 6 | Temple University | $16,080 | 90% | 89% |
| 7 | Saint Joseph's University | $44,794 | 98% | 89% |
| 8 | Pennsylvania College of Technology | $14,250 | 89% | 80% |
| 9 | Drexel University | $50,874 | 100% | 89% |
| 10 | Duquesne University | $38,178 | 100% | 84% |
Source: Integrated Postsecondary Education Data System (IPEDS) 2018-19, National Center for Education Statistics, http://nces.ed.gov/ipeds/
Spotlight on Computer Sciences Schools in Pennsylvania
You can make a start on your IT education through a two-year associate degree or a bachelor's degree program instead. More advanced students — and adults looking to advance their current tech career — might choose a master's program that allows for specialization. Here's a sampling of the types of computer science degree programs in Pennsylvania:
Keystone College: Students at Keystone can choose between an associate degree in information technology or a bachelor's degree in same field. Bachelor's students can complement their IT program with minors in accounting, project management, or criminal justice, among other fields. Internships and co-op experiences are encouraged as well as research opportunities.
Point Park University: The bachelor of science in information technology degree available through this university allows students to pick a concentration in data analytics, mobile development or software development. You can even develop your own concentration based on your desired career path. Students also can complete a fully online degree.
Penn State World Campus: Among Penn State's online computer science programs include a bachelor of science degree in information science and technology. This degree is designed for students who already have an associate degree and want to advance their skills and for students who don't have a two-year degree in IT, but are working in the field.
Pennsylvania College of Technology: Penn College offers a bachelor of science degree in numerous IT fields, including information technology with a concentration in networking or software development; information assurance and cybersecurity; or game and simulation programming. Students can complete up to two minors in areas such as applied innovation, digital marketing or web technology.
IT Salaries and Career Outlook in Pennsylvania
In the Philadelphia region of the state, tech growth has proved strong. Overall, the area has seen the development of 460-plus funded IT companies since 2010. However, you may be able to look for jobs in cities such as Erie, Harrisburg, Lancaster, Pittsburgh and State College, which the Pennsylvania Department of Community and Economic Development describes as optimal locations for launching a tech company.
Major tech employers in the state include Comcast Corp, SAP America, Accenture, Computer Aid Inc., and The Judge Group. Graduates of IT degree programs in Pennsylvania might be able to find positions in software development, web development and technology and IT services in companies like these.
| Career | Annual Median Wage |
| --- | --- |
| Information Security Analysts | $97,300 |
| Database Administrators and Architects | $83,040 |
| Computer Network Architects | $104,890 |
| Web Developers and Digital Interface Designers | $69,030 |
| Computer Programmers | $86,350 |
| Computer Network Support Specialists | $63,480 |
| Software Developers and Software Quality Assurance Analysts and Testers | $96,530 |
| Computer Systems Analysts | $93,010 |
| Network and Computer Systems Administrators | $77,070 |
2019 Occupational Employment Statistics and 2018-28 Employment Projections, Bureau of Labor Statistics, BLS.gov.
Computer Science Scholarships for Pennsylvania Students
Students interested in computer science schools in Pennsylvania may find program- and state-specific scholarships to help offset costs along the way. There are many scholarships available, with a few mentioned directly below:
Pennsylvania Professional Organizations and Resources
Joining an IT association in Pennsylvania could be beneficial and allow you to network with other professionals, learn about education and training or discover new job or career opportunities. Here are some of Pennsylvania's IT and computer science organizations:
Article Sources
Article Sources
Sources
About, Technology Council of Central Pennsylvania, Accessed September 2019, http://www.tccp.org/about/
About Us, Technology & Engineering Education Association of Pennsylvania, Accessed September 2019, https://www.teeap.org/about
Bachelor of Science in Information Sciences and Technology, Penn State World Campus, Accessed September 2019, https://www.worldcampus.psu.edu/degrees-and-certificates/information-sciences-and-technology-bachelors/overview
Information Technology, Point Park University, Accessed September 2019, https://pointpark.edu/Academics/Schools/Business/UndergraduateProgram/InformationTechnology
Information and Technology, Select Greater Philadelphia Council, Accessed December 2018, http://selectgreaterphl.com/information-technology/
Information Technology, Pennsylvania College of Technology, Accessed September 2019, https://www.pct.edu/academics/icet/information-technology
Information Technology Degree, Keystone College, Accessed September 2019, https://www.keystone.edu/academics/majors/information-technology/
Innovation Partnership, Accessed September 2019, https://innovationpartnership.net/
Move Over Silicon Valley, Pennsylvania is on the Rise, Pennsylvania Department of Economic and Community Development, March 26, 2019, https://www.pa.gov/who-we-are/move-over-silicon-valley-pennsylvania-is-on-the-rise/
Pennsylvania Computer Science for All Summit, Pennsylvania Department of Education, Accessed September 2019, https://www.education.pa.gov/Pages/Pennsylvania-Computer-Science-for-All-Summit.aspx
Philadelphia Area Computing Society, Accessed September 2019, https://pacsnet.org/
Pittsburgh Technology Council, Accessed September 2019, http://www.pghtech.org/
Scholarships for Currently Enrolled Students in Business and Information Technology, Indiana University of Pennsylvania, Accessed December 2018, https://www.iup.edu/financialaid/types-of-financial-aid/scholarships/business/for-currently-enrolled-students/
STEM Ecosystems in Pennsylvania, Pennsylvania Department of Education, Accessed September 2019, https://www.education.pa.gov/Pages/STEMEcosystems.aspx
Tech Employers with the most employees in the Philadelphia region, Biz Journals, Accessed September 2019, https://www.bizjournals.com/philadelphia/subscriber-only/2019/04/19/largest-tech-employers-in-metro.html
Technology Employment Expands Its Presence in Pennsylvania's Workforce, CompTIA, March 26, 2019, https://www.comptia.org/about-us/newsroom/press-releases/2019/03/26/technology-employment-expands-its-presence-in-pennsylvania-s-workforce
What is PAsmart, Commonwealth of Pennsylvania, Accessed September 2019, https://www.pasmart.gov/what-is-pasmart/
X
Methodology
To be included in the rankings, all colleges had to meet the following criteria:
Be an accredited U.S. institution
Offer either 2 or 4-year degree programs
Be active in the 2016-17 school year
Offer a degree in a technology-related subject
Have awarded at least one degree in that subject in 2015-16
Have reported data for all ranking variables listed below
Ranking variables:
Related subjects, based on the number of relevant programs that are offered at any level
Flexibility, based on number of relevant programs that are offered at any level via distance education
Average in-state undergraduate tuition
Percent of undergraduate students awarded federal, state, local, institutional or other sources of grant aid
Average amount of federal, state, local, institutional, or other sources of grant aid awarded to undergraduate students
Graduation rate
Retention rate
Methodology Sources:
Integrated Postsecondary Education Data System (IPEDS) 2016-17, National Center for Education Statistics, http://nces.ed.gov/ipeds/
X