In 2018, Oregon's technology industry contributed $27.1 billion to the Beaver State's economy, according to a report by CompTIA. The state was also awarded the No. 13 spot for the percentage of its workforce in the tech industry and the No. 16th spot for innovation, based on the number of tech startups and venture capital investments in Oregon, among other factors.
All of this may be promising news for adults pursuing computer science degree programs in Oregon. Whether graduates plan to pursue careers in Portland's "the Silicon Forest" or in other cities like Salem, Beaverton, or Hillsboro, they are likely to find meaningful employment in their fields of study.
Oregon's Technology Education Initiatives
The state's business, education, government, and community leaders have created a number of initiatives designed to support and grow the IT sector in Oregon. Several of these programs start with a focus on K-12 students — students who eventually may pursue IT degree programs in Oregon. Let's take a look at a few of these initiatives.
Empowering STEM educators and students: Oregon's STEM Education Plan focuses on how to achieve desirable STEM education outcomes in Oregon. Its vision is to enable Oregonians of all races, economic statuses, and religions to develop the fundamental STEM skills necessary to contribute to a complex and technologically rich society and address high-demand workforce needs.
Engaging learners with fun STEM activities: The Oregon Coast STEM Hub works to connect high school students with exciting STEM-related afterschool programs, clubs, and public events.
Enhancing STEM education: The Central Oregon STEM Hub strives to bring together Pre-K-12 education systems, higher education, community organizations, and business partners to enhance and catalyze new exploration and opportunities in STEM.
Transforming STEM education in the Portland Metro region: The Portland Metro STEM Partnership is a collaboration of public and private organizations who all work together to transform STEM education for students in Portland and the surrounding areas.
Introducing STEM to students before college: Oregon MESA is Portland State University's pre-college academic program that is intended to equip underrepresented students with STEM, invention, and 21st-century skills.
Southern New Hampshire University
Some of the nation's most affordable tuition rates, from a private, nonprofit, NEASC accredited university
Qualified students with 2.5 GPA and up may receive up to $20K in grants & scholarships
Multiple term start dates throughout the year. 24/7 online classroom access
Offering over 200 online degree programs
Purdue University Global
Experience world-class education online with more than 175 programs at associate's, bachelor's, master's and doctoral levels.
Apply eligible work experience and prior college credits toward up to 75% of your undergraduate degree.
You have the option of trying out a Purdue Global undergraduate program for an introductory 3-week period. There's no cost beyond the application fee.
Competency-based ExcelTrack™ programs may allow you to earn your degree faster and for less money
Best Computer Science and IT Colleges in Oregon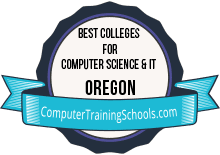 From large public four-year institutions to smaller private technical schools, there are plenty of opportunities for aspiring tech workers in Oregon to earn associate, bachelor's, and master's degree in computer science or information technology. Students who plan to work while attending college may want to consider online IT programs for the extra flexibility they can provide.
| Ranking | School Name | In State Avg. Undergrad Tuition | % Receiving Financial Aid | Retention Rate |
| --- | --- | --- | --- | --- |
| 1 | Southwestern Oregon Community College | $4,208 | 91% | 49% |
| 2 | Mt Hood Community College | $4,815 | 72% | 61% |
| 3 | Oregon State University | $9,390 | 86% | 84% |
| 4 | Portland State University | $6,156 | 84% | 76% |
| 5 | University of Portland | $45,564 | 99% | 90% |
| 6 | Lewis & Clark College | $50,574 | 93% | 82% |
| 7 | Willamette University | $49,750 | 100% | 83% |
| 8 | Linfield College-McMinnville Campus | $42,700 | 100% | 79% |
| 9 | Pacific University | $43,288 | 100% | 78% |
| 10 | Clackamas Community College | $4,500 | 74% | 58% |
Source: Integrated Postsecondary Education Data System (IPEDS) 2018-19, National Center for Education Statistics, http://nces.ed.gov/ipeds/
Spotlight on Computer Sciences Schools in Oregon
While there are a variety of computer science schools in Oregon, students should consider closely the specific program options available at each school. Most programs are likely to provide a solid foundation in the field, but some schools go the extra mile to offer especially interesting or challenging options for students. Here are a couple of particularly noteworthy ones:
University of Oregon: Undergrads in computer science have the opportunity to participate in a range of research projects at institutes like the Neuroinformatics Center, the Institute of Ecology and Evolution, and at National Science Foundation sites. Computer and information science majors who complete a B.S. or B.A. degree can apply for OU's accelerated master's program, where available course clusters include data science, user interfaces, and parallel and distributed computing, among others.
Southern Oregon University: Since many tech sectors require employees with strong backgrounds in both computer science and mathematics, SOU offers a co-major in computer science and mathematics. It can prepare students for careers as data scientists, operation research analysts, or computer systems analysts.
Eastern Oregon University: Students at EOU may earn a bachelor's degree in computer science and join PiBot, a unique organization that gives them the opportunity to design and build their own computer-controlled projects. Campus-based and online computer science programs are available.
Reed College: Computer science students at this private college can participate in several group activities outside of the classroom. Reed hosts a student chapter of the Association for Computing Machinery; STEMGeMs, a faculty and student group that promotes gender minorities in STEM fields; and Mindstorm, an annual gathering in which leading tech companies visit the campus to connect with students.
IT Salaries and Career Outlook in Oregon
Web developers, information security analysts, database administrators, and computer network support specialists are expected to be in high demand in Oregon, according to the Bureau of Labor Statistics.
A number of well-known companies in the state need these types of professionals to keep their businesses running and growing. For example, companies in Oregon who are likely to be on the lookout for IT professionals include Intel, Electro Scientific Industries, Cloudability, SurveyMonkey and Techtronix.
| Career | Annual Median Wage |
| --- | --- |
| Information Security Analysts | $98,300 |
| Database Administrators and Architects | $96,070 |
| Computer Network Architects | $110,060 |
| Web Developers and Digital Interface Designers | $0 |
| Computer Programmers | $80,140 |
| Computer Network Support Specialists | $56,970 |
| Software Developers and Software Quality Assurance Analysts and Testers | $102,310 |
| Computer Systems Analysts | $94,110 |
| Network and Computer Systems Administrators | $84,110 |
2019 Occupational Employment Statistics and 2018-28 Employment Projections, Bureau of Labor Statistics, BLS.gov.
Computer Science Scholarships for Oregon Students
Scholarships can make attending computer science schools in Oregon more affordable. Here are examples of some state- or school-specific scholarships for students pursuing a tech-related major:
Oregon Professional Organizations and Resources
There are several organizations and resources that IT professionals as well as those attending IT schools in Oregon may find valuable. Here's a close look at a few of them:
Technology Association of Oregon: The purpose of TAO is to unite the region's technology industry and help shape and grow technology communities throughout the state. It compiles tech industry data, assists with tech recruitment, promotes the tech industry, and hosts various networking events.
Oregon Computer Science Teachers Association: Oregon CSTA trains, prepares, and empowers computer science teachers in Oregon. It helps them implement hands-on technology learning in their classrooms or after school programs.
Portland Tech Jobs: Portland Tech Job compiles a list of all of the available tech jobs in the Portland area. It's a great resource for adults who have graduated from computer science programs in Oregon.
Article Sources
Article Sources
Sources
About Oregon's Industry Clusters, Oregon Business Plan, Accessed August 2019, https://oregonbusinessplan.org/
Central Oregon STEM Hub, Accessed August 2019, https://centraloregonstem.org/
Computer and Information Science, University of Oregon, Accessed August 2019, https://cs.uoregon.edu/undergraduate/cis-major
Computer Science, Eastern Oregon University, Accessed August 2019, https://www.eou.edu/wp-content/ua_downloads/grabsheets/Computer-Science.pdf
Engaging Students in STEM Since 1985, Oregon MESA, Accessed August 2019, https://oregonmesa.org/
Mathematics-Computer Science, BA/BS Co-Major, Southern Oregon University, Accessed August 2019, https://sou.edu/academics/mathematics/programs/mathematics-computer-science-ba-bs/
Oregon Coast STEM Hub, Oregon State University, Accessed August 2019, https://oregoncoaststem.oregonstate.edu/k-12
Oregon Computer Science Teachers Association, Accessed August 2019, http://oregoncsta.org/
Oregon High Wage Occupations, Quality Info, Accessed February 2019, https://www.qualityinfo.org/documents/10182/91597/Oregon+High-Wage,+High-Demand,+High-Skill+Occupations?version=1.0
Portland Metro STEM Partnership, Accessed February 2019, https://www.pdxstem.org/
Portland Tech Jobs, Accessed February 2019, http://portlandtech.org/
Related Programs, Computer Science, Reed College, Accessed August 2019, https://www.reed.edu/computer-science/student-programs.html
Scholarships Database, Schools.com, Accessed February 2019, https://www.schools.com/scholarships-database
Silicon Forest 25: Regional Tech Finally Getting Younger, larger, Oregon Live, Accessed February 2019, https://www.oregonlive.com/silicon-forest/2014/09/silicon_forest_25_regional_tec.html
STEM Education Plan, Oregon.gov, Accessed February 2019, http://education.oregon.gov/wp-content/uploads/2016/11/STEM-Education-Plan-Final_CEdO_Nov_2016.pdf
Technology Association of Oregon, Accessed February 2019, http://www.techoregon.org
Technology Employment Expands its Presence in Oregon's Workforce, CompTIA, Accessed August 2019, https://www.comptia.org/about-us/newsroom/press-releases/2019/03/26/technology-employment-expands-its-presence-in-oregon-s-workforce
X
Methodology
To be included in the rankings, all colleges had to meet the following criteria:
Be an accredited U.S. institution
Offer either 2 or 4-year degree programs
Be active in the 2016-17 school year
Offer a degree in a technology-related subject
Have awarded at least one degree in that subject in 2015-16
Have reported data for all ranking variables listed below
Ranking variables:
Related subjects, based on the number of relevant programs that are offered at any level
Flexibility, based on number of relevant programs that are offered at any level via distance education
Average in-state undergraduate tuition
Percent of undergraduate students awarded federal, state, local, institutional or other sources of grant aid
Average amount of federal, state, local, institutional, or other sources of grant aid awarded to undergraduate students
Graduation rate
Retention rate
Methodology Sources:
Integrated Postsecondary Education Data System (IPEDS) 2016-17, National Center for Education Statistics, http://nces.ed.gov/ipeds/
X