While Oklahoma is known for its energy, retail, services, and manufacturing industries, it has recently been recognized for its growth in the technology sector, especially in the emerging technologies like drones, blockchain, and smart cities. A 2019 report by CompTIA discovered the tech sector is responsible for an estimated $6.6 billion of Oklahoma's overall economy.
The Sooner State is home to more than 4,000 tech companies. Fortune 500 companies, which hire tech employees such as Chesapeake Energy, OGE Energy, Devon Energy, and Paycom are also located in Oklahoma. Students who graduate from IT degree programs in Oklahoma are likely to find jobs in their fields of study throughout the state.
Oklahoma's Technology Education Initiatives
Several state initiatives are in place to spark interest in technology's advantages, to increase its usage, and to support computer science degree programs in Oklahoma. Here's a closer look at a few of them:
Encouraging tech innovation throughout the state: Innovative Oklahoma is a program that aims to bring citizens, entrepreneurs, and state governors together to help solve challenges by creating new startup companies. Citizens can submit their ideas online and wait for teams of technologists and entrepreneurs to respond with their solutions, which can be shared and voted on via social media. Teams with top ideas can come together with state government IT professionals to collaborate and develop the ideas into actionable solutions in Oklahoma.
Advancing technology across Oklahoma: OneNet leverages local, national, public and private partnerships to provide broadband connectivity to Oklahoma institutions that sustain communities and enrich lives. It hopes to improve technology throughout the state and encourage Oklahomans to embrace it.
Building digital skills of students, teachers, job seekers, and businesses: The Google.org Impact Challenge of Oklahoma City gives nonprofits the opportunity to submit innovative ideas for economic development and the creation of new jobs. A panel of local advisors selects four winners, and each can receive $50,000 in funding in addition to training from Google employees.
Southern New Hampshire University
Some of the nation's most affordable tuition rates, from a private, nonprofit, NEASC accredited university
Qualified students with 2.5 GPA and up may receive up to $20K in grants & scholarships
Multiple term start dates throughout the year. 24/7 online classroom access
Offering over 200 online degree programs
Purdue University Global
Experience world-class education online with more than 175 programs at associate's, bachelor's, master's and doctoral levels.
Apply eligible work experience and prior college credits toward up to 75% of your undergraduate degree.
You have the option of trying out a Purdue Global undergraduate program for an introductory 3-week period. There's no cost beyond the application fee.
Competency-based ExcelTrack™ programs may allow you to earn your degree faster and for less money
Best Computer Science and IT Colleges in Oklahoma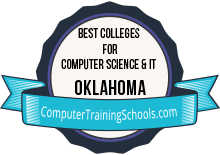 More than a dozen schools in Oklahoma offer degree programs at the associate, bachelor's or graduate levels. While most are public institutions, several are private, nonprofit, and faith-based schools. Based on an analysis of data, these are our picks for the top IT schools in Oklahoma.
| Ranking | School Name | In State Avg. Undergrad Tuition | % Receiving Financial Aid | Retention Rate |
| --- | --- | --- | --- | --- |
| 1 | University of Tulsa | $40,484 | 98% | 88% |
| 2 | University of Oklahoma-Norman Campus | $4,788 | 95% | 90% |
| 3 | Oklahoma State University-Main Campus | $5,366 | 91% | 82% |
| 4 | Cameron University | $4,740 | 85% | 60% |
| 5 | Seminole State College | $2,970 | 90% | 54% |
| 6 | Oklahoma Christian University | $22,460 | 100% | 75% |
| 7 | Northern Oklahoma College | $2,850 | 60% | 57% |
| 8 | Northeastern State University | $5,528 | 94% | 64% |
| 9 | University of Central Oklahoma | $6,482 | 83% | 65% |
| 10 | Oklahoma City Community College | $3,025 | 63% | 48% |
Source: Integrated Postsecondary Education Data System (IPEDS) 2018-19, National Center for Education Statistics, http://nces.ed.gov/ipeds/
Spotlight on Computer Sciences Schools in Oklahoma
In addition to our ranking of the best Oklahoma computer science schools, here's a bit more detail about some of the most noteworthy offerings at computer science schools in the state.
University of Central Oklahoma: At UCO, students may enroll in the computer science – information science major. This program may be ideal for those who are specifically interested in business applications and internship opportunities.
Oklahoma Christian University: Students who opt for OC's Bachelor of Science in Computer Science with Cybersecurity can expect to take courses such as network security, cloud architecture, and network forensics. CS majors can also earn their master's degree at the same time through a dual degree program.
The University of Oklahoma: Students admitted into the accelerated dual degree program at OU may simultaneously satisfy the requirements of both a bachelor's and master's degree in computer science.
Oklahoma City University: OKCU's bachelor's program in computer science grants students access to various computers and technologies such as the PC and Apple labs, LittleFe and Raspberry Pi systems, and remote access to a supercomputer system.
IT Salaries and Career Outlook in Oklahoma
The projected need for web developers, software developers, and information technology managers is showing significant growth in Oklahoma. Fortunately, there are a number of large companies in the state that have the need for these types of professionals.
A few of these companies include Dell Technologies, which is a multinational information technology corporation that employs about 1,500 individuals in Oklahoma; IBM, a technology provider with offices in Tulsa and Oklahoma City; and The Williams Company, a Fortune 500 energy company headquartered in Tulsa.
| Career | Annual Median Wage |
| --- | --- |
| Information Security Analysts | $77,840 |
| Database Administrators and Architects | $67,620 |
| Computer Network Architects | $81,840 |
| Web Developers and Digital Interface Designers | $56,830 |
| Computer Programmers | $78,740 |
| Computer Network Support Specialists | $58,860 |
| Software Developers and Software Quality Assurance Analysts and Testers | $85,130 |
| Computer Systems Analysts | $75,090 |
| Network and Computer Systems Administrators | $72,140 |
2019 Occupational Employment Statistics and 2018-28 Employment Projections, Bureau of Labor Statistics, BLS.gov.
Computer Science Scholarships for Oklahoma Students
In addition to the sampling of school-specific awards noted below, students may also want to explore scholarships or grants that are posted in the Scholarships Database of our sister site, Schools.com.
East Central University: The Charles and Lila Acker Centennial Computer Science Endowment, Briles Scholarship, and Chickasaw Nation Endowment for Computer Science are just a few of the awards available to eligible students at ECU.
Oklahoma State University: Scholarships available to freshman, current students, and transfers students include the Fisher Computer Science Scholarship, the Devon Computer Science Scholarship, and the Charles B. Brown Endowed Scholarship in Computer Science.
University of Oklahoma's School of Computer Science: Multiple scholarships may be available to both prospective students as well as current ones who are majoring in this field.
Oklahoma Professional Organizations and Resources
There are various professional organizations and resources that IT professionals as well as those attending IT schools in Oklahoma may find valuable. Here's a preview of a few of them.
Article Sources
Article Sources
Sources
Accelerated Degree Program, University of Oklahoma, Accessed December 2018, http://www.ou.edu/coe/cs/academics/graduate/accelerated
All Things are Possible: Grow with Google and Google.org Impact Challenge Come to OKC, Google, Accessed December 2018, https://blog.google/outreach-initiatives/grow-with-google/all-things-are-possible-grow-google-and-googleorg-impact-challenge-come-okc/
B.S. Degree in Computer Science with Cybersecurity, Accessed December 2018, https://oc.edu/academics/b-s-degree-in-computer-science-with-cybersecurity
Computer Science, Oklahoma City University, Accessed December 2018, https://www.okcu.edu/artsci/departments/computer-science
Computer Science-Information Science, University of Central Oklahoma, Accessed December 2018, https://www.uco.edu/programs/cms/program-computer-science-information-science-major
Information Technology Council, University of Oklahoma, Accessed July 2019, http://www.ou.edu/itc
Mission, Vision, & Values Statements, OneNet, Accessed December 2018, https://onenet.net/about-us/mission/
New Report Details Impact of Oklahoma Tech Industry, CompTIA, Accessed August 2019, https://www.comptia.org/about-us/newsroom/press-releases/2019/03/26/new-report-details-impact-of-oklahoma-tech-industry
Oklahoma CareerTech, Accessed July 2019, https://www.okcareertech.org
Oklahoma Launches Innovation Initiative to Boost Its Tech Economy, State Scoop, Accessed December 2018, https://statescoop.com/oklahoma-launches-innovation-initiative-to-boost-its-tech-economy/
Oklahoma Technology Association, Accessed July 2019, https://www.oktech.org/
Techlahoma, Accessed July 2019, https://www.techlahoma.org/
X
Methodology
To be included in the rankings, all colleges had to meet the following criteria:
Be an accredited U.S. institution
Offer either 2 or 4-year degree programs
Be active in the 2016-17 school year
Offer a degree in a technology-related subject
Have awarded at least one degree in that subject in 2015-16
Have reported data for all ranking variables listed below
Ranking variables:
Related subjects, based on the number of relevant programs that are offered at any level
Flexibility, based on number of relevant programs that are offered at any level via distance education
Average in-state undergraduate tuition
Percent of undergraduate students awarded federal, state, local, institutional or other sources of grant aid
Average amount of federal, state, local, institutional, or other sources of grant aid awarded to undergraduate students
Graduation rate
Retention rate
Methodology Sources:
Integrated Postsecondary Education Data System (IPEDS) 2016-17, National Center for Education Statistics, http://nces.ed.gov/ipeds/
X