New Hampshire's technology scene is growing so significantly that the state's governor proclaimed November 2018 to be the state's first annual technology month. CompTIA's 2019 Cyberstates report found New Hampshire's tech sector to be responsible for $11 billion of the state's overall economy; the Granite State is also one of the top states for net tech employment.
This healthy tech landscape can be an exciting proposition for new students or career changers pursuing computer science degree programs in New Hampshire. With a degree in hand, you're likely to find job opportunities in your field of study. Careers related to the Internet of Things, artificial intelligence, virtual reality, and other emerging technologies may be especially appealing to new grads, as there was a 15 percent increase from 2017 and 2018 in those types of New Hampshire job postings.
New Hampshire's Technology Education Initiatives
Industry and education leaders in New Hampshire have implemented a number of strategies to support and grow technology in the state. Several of these initiatives include:
Supporting tech entrepreneurs, business leaders and investors: The New Hampshire Tech Alliance has formed a Startup Committee to provide education and resources to entrepreneurs, business leaders and investors who are dedicated to strengthening New Hampshire's growing startup and tech ecosystem.
Developing strategies to overcome technology challenges: The Technology Talent Partnership brings together industry leaders, businesses, educators and state agencies to solve problems and meet the ever-evolving demands of the tech sector in New Hampshire.
Strengthening the tech knowledge of STEM teachers: STEM Teachers' Collaborative by the University of New Hampshire is designed to increase teachers' expertise in computing, engineering and technology. It strives to create excellent STEM teachers for students throughout the state.
Encouraging women to pursue STEM careers: New Hampshire High Tech Council's Tech Women's Ambassador Program hopes to inspire more women to attend IT schools in New Hampshire and eventually work in STEM fields. The program believes that bringing women to STEM positions can stimulate innovation and lead to impressive results.
Southern New Hampshire University
Some of the nation's most affordable tuition rates, from a private, nonprofit, NEASC accredited university
Qualified students with 2.5 GPA and up may receive up to $20K in grants & scholarships
Multiple term start dates throughout the year. 24/7 online classroom access
Offering over 200 online degree programs
Purdue University Global
Experience world-class education online with more than 175 programs at associate's, bachelor's, master's and doctoral levels.
Apply eligible work experience and prior college credits toward up to 75% of your undergraduate degree.
You have the option of trying out a Purdue Global undergraduate program for an introductory 3-week period. There's no cost beyond the application fee.
Competency-based ExcelTrack™ programs may allow you to earn your degree faster and for less money
Best Computer Science and IT Colleges in New Hampshire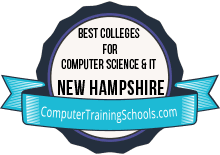 The Granite State is home to public and private schools that offer degree programs in computer science, IT, or closely related fields. Several New Hampshire community colleges offer opportunities to earn associate degrees in the IT field, while four-year institutions award bachelor's degrees in the computer science field. A handful of schools in the state also offer graduate-level programs. Based on our analysis of data from the National Center for Education Statistics, these are the best colleges and universities in New Hampshire for computer science.
| Ranking | School Name | In State Avg. Undergrad Tuition | % Receiving Financial Aid | Retention Rate |
| --- | --- | --- | --- | --- |
| 1 | Dartmouth College | $53,496 | 58% | 97% |
| 2 | University of New Hampshire-Main Campus | $15,140 | 88% | 86% |
| 3 | Saint Anselm College | $39,900 | 99% | 91% |
| 4 | Rivier University | $31,040 | 100% | 72% |
| 5 | Plymouth State University | $11,580 | 99% | 69% |
| 6 | Franklin Pierce University | $33,900 | 100% | 60% |
| 7 | Manchester Community College | $6,880 | 70% | 68% |
| 8 | Great Bay Community College | $6,880 | 69% | 49% |
| 9 | River Valley Community College | $6,880 | 64% | 69% |
| 10 | Nashua Community College | $6,880 | 62% | 64% |
Source: Integrated Postsecondary Education Data System (IPEDS) 2018-19, National Center for Education Statistics, http://nces.ed.gov/ipeds/
Spotlight on Computer Sciences Schools in New Hampshire
Beyond specific coursework, what else might the different computer science programs in New Hampshire offer to students? Here's a deeper look at some of the options students may want to explore.
University of New Hampshire: At UNH students may enroll in a Bachelor of Science in Computer Science program. This program grants them access to UNH InterOperability Lab, where they can work alongside tech companies to test their equipment before it hits the market. Students can also join organizations such as Cyber Security Club, the Linux Club, and Wildcat Women in Computer Science.
Keene State College: The Bachelor of Science in Computer Science program at Keene State gives students the opportunity to specialize in cybersecurity, software development and engineering, or computational mathematics. Computer science students may also participate in collaborative research options through the biology department's bioinformatics initiative.
Southern New Hampshire University: Online bachelor of science programs are available at SNHU in computer science, cybersecurity, information technologies, game programming and development, and management information systems. Online master's programs are also available in cybersecurity and information technology.
Manchester Community College: An associate degree in computer science from MCC may be a good option for students who would like technical preparation for a career in computer science or those who hope to pursue a bachelor's degree in computer science down the road.
IT Salaries and Career Outlook in New Hampshire
Information security analysts, web developers, software developers and database administrators are among the fastest-growing IT jobs in New Hampshire.
A wide range of companies are likely to hire these types of professionals. Infosys, which is considered one of the largest technology services and consulting companies in the world, hires IT professionals to help their clients solve a variety of technology challenges. DataServ, Inc. in Nashua offers a plethora of technology services to clients. They, too, typically employ software and web developers to assist their clients in improving the way they do business online.
2019 Occupational Employment Statistics and 2018-28 Employment Projections, Bureau of Labor Statistics, BLS.gov.
Computer Science Scholarships for New Hampshire Students
Statewide and field-focused awards exist to make computer science programs in New Hampshire more affordable. Let's take a closer look at one of these scholarships.
Unitil Scholarship Fund: This award is designed for high school seniors in Unitil service territories, including New Hampshire who plan to major in a STEM field. Academic merit, financial need, and outside student activities are taken into consideration when candidates are evaluated for this award.
In addition to checking with your target school to see what awards may be available, you can also search Schools.com's scholarship database for "New Hampshire" and/or "computer science" or "information technology." (Schools.com is a sister sister site of ComputerTrainingSchools.com.)
New Hampshire Professional Organizations and Resources
There are several professional organizations and resources technology professionals and students enrolled in IT degree programs in New Hampshire may find useful. Some of these include:
New Hampshire Tech Alliance: The NH Tech Alliance offers programs, events, and initiatives to unite tech professionals and stakeholders in New Hampshire. Its goal is to encourage collaborations and partnerships.
New Hampshire CTO Council: The mission of this organization is to communicate and provide the operational and educational technology resources necessary for thriving 21st-century school districts.
New Hampshire User Experience Professionals Association: Technology and user experience professionals who join NH UXPA may network, collaborate, and gain professional development opportunities. This organization works to enhance technology across the state.
Article Sources
Article Sources
Sources
50 Fastest Growing Jobs in New Hampshire, Owl Guru, Accessed January 2019, https://www.owlguru.com/career/50-fastest-growing-jobs-in-new-hampshire-nh/
Computer Science, Keene State College, Accessed August 2019, https://www.keene.edu/academics/programs/cs/
Computer Science, Manchester Community College, Accessed January 2019, https://www.mccnh.edu/academics/programs/computer-science
Computer Science, Southern New Hampshire University, Accessed August 2019, https://www.snhu.edu/online-degrees/bachelors/bs-in-computer-science
Computer Science, University of New Hampshire, Accessed January 2019, https://ceps.unh.edu/computer-science/program/bs/computer-science
Cyberstates 2019, CompTIA, Accessed August 2019, https://www.cyberstates.org/pdf/CompTIA_Cyberstates_2019.pdf
Live Free and Start to Become an Initiative of the New Hampshire High Tech Council, New Hampshire Tech Alliance, Accessed January 2019, https://nhtechalliance.org/live-free-and-start-to-become-an-initiative-of-the-new-hampshire-high-tech-council/
New Hampshire CTO Council, Accessed August 2019, http://www.nhcto.org/
New Hampshire Tech Alliance, Accessed August 2019, https://nhtechalliance.org/
New Hampshire Tech Women Encourage Girls to Pursue STEM Careers, Center for Digital Education, Accessed January 2019, http://www.govtech.com/education/New-Hampshire-Tech-Women-Encourage-Girls-to-Pursue-STEM-Careers.html
New Hampshire UXPA, Accessed August 2019, http://www.nhuxpa.org/
New Report Offers Insights into New Hampshire Technology Industry, CompTIA, Accessed January 2019, https://www.comptia.org/about-us/newsroom/press-releases/2018/03/27/new-report-offers-insights-into-new-hampshire-technology-industry
Scholarship Database, Schools.com, Accessed January 2019, https://www.schools.com/scholarships-database
STEM Teachers' Collaborative, University of New Hampshire, Accessed January 2019, https://www.unh.edu/stem/stem-teachers-collaborative
Talking Tech: Launching the NH Tech Talent Partnership, New Hampshire Economic Development, Accessed January 2019, http://blog.nheconomy.com/talking-tech-launching-the-nh-tech-talent-partnership/
Technology Month Events, New Hampshire Sector Partnerships Initiative, Accessed January 2019, https://nhsectorpartners.org/nh-technology-month-events/
X
Methodology
To be included in the rankings, all colleges had to meet the following criteria:
Be an accredited U.S. institution
Offer either 2 or 4-year degree programs
Be active in the 2016-17 school year
Offer a degree in a technology-related subject
Have awarded at least one degree in that subject in 2015-16
Have reported data for all ranking variables listed below
Ranking variables:
Related subjects, based on the number of relevant programs that are offered at any level
Flexibility, based on number of relevant programs that are offered at any level via distance education
Average in-state undergraduate tuition
Percent of undergraduate students awarded federal, state, local, institutional or other sources of grant aid
Average amount of federal, state, local, institutional, or other sources of grant aid awarded to undergraduate students
Graduation rate
Retention rate
Methodology Sources:
Integrated Postsecondary Education Data System (IPEDS) 2016-17, National Center for Education Statistics, http://nces.ed.gov/ipeds/
X