According to CompTIA, Missouri ranks in the top half of all states in terms of tech employment. A 2018 report also notes that the state's technology industry expanded by 3,620 jobs and contributed $19.5 billion to Missouri's economy. In 2017, there were nearly 8,330 tech establishments in the state. Additionally, Missouri saw more than 50 percent increase in job postings related to the Internet of Things, artificial intelligence, virtual reality, blockchain, and other emerging technologies.
This upward trend is very good news for those who are considering a career in computer science in the state. Adults who graduate from computer science degree programs in Missouri — with an associate, bachelor's or master's degree in hand — are likely to find meaningful employment in the tech industry.
Missouri's Technology Education Initiatives
In an effort to support and grow the IT sector as well as IT degree programs in Missouri, the state has created several education-related initiatives. Let's take a closer look at what they are.
Connecting Missouri residents in STEM: The STEM Summit, hosted by The Missouri Mathematics and Science Coalition, brings together STEM educators, business professionals and STEM-focused organizations. It gives them the opportunity to discuss and share best practices and learn about STEM talent development at a regional, state and national level.
Promoting STEM to Girls and Women: Million Women Mentors strives to help girls and women choose, persist and succeed in STEM programs and careers. The Missouri Mathematics and Science Coalition leads the Million Women Mentors program in Missouri.
Putting future STEM educators on the fast track: The University of Missouri has created We Teach MO to address the critical need for secondary science and math teachers in the area. It allows students to earn credentials to teach STEM in a way that may save them time and money.
Improving STEM education: The St. Louis Science Center has partnered with the Carnegie Science Center to create the Carnegie STEM Excellence Pathway, which strives to improve STEM education in Missouri school districts. It includes an assessment tool for STEM programming and recognizes schools that are embracing and taking steps toward effective STEM education.
Southern New Hampshire University
Some of the nation's most affordable tuition rates, from a private, nonprofit, NEASC accredited university
Qualified students with 2.5 GPA and up may receive up to $20K in grants & scholarships
Multiple term start dates throughout the year. 24/7 online classroom access
Offering over 200 online degree programs
Purdue University Global
Experience world-class education online with more than 175 programs at associate's, bachelor's, master's and doctoral levels.
Apply eligible work experience and prior college credits toward up to 75% of your undergraduate degree.
You have the option of trying out a Purdue Global undergraduate program for an introductory 3-week period. There's no cost beyond the application fee.
Competency-based ExcelTrack™ programs may allow you to earn your degree faster and for less money
Best Computer Science and IT Colleges in Missouri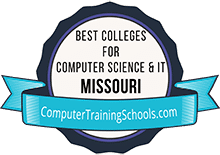 | Ranking | School Name | In State Avg. Undergrad Tuition | % Receiving Financial Aid | Retention Rate |
| --- | --- | --- | --- | --- |
| 1 | Missouri University of Science and Technology | $8,637 | 97% | 83% |
| 2 | State Technical College of Missouri | $5,040 | 96% | 85% |
| 3 | Moberly Area Community College | $4,470 | 89% | 61% |
| 4 | Washington University in St Louis | $52,400 | 52% | 97% |
| 5 | Truman State University | $7,425 | 100% | 83% |
| 6 | Lindenwood University | $16,900 | 99% | 70% |
| 7 | Ozarks Technical Community College | $3,840 | 94% | 61% |
| 8 | Saint Louis University | $43,160 | 96% | 90% |
| 9 | University of Missouri-St Louis | $10,491 | 95% | 76% |
| 10 | University of Central Missouri | $6,770 | 94% | 70% |
Spotlight on Computer Sciences Schools in Missouri
There are many computer science degree programs in Missouri. However, these programs are especially noteworthy.
Southeast Missouri State University: This school's bachelor of science in cybersecurity program — the first one to be offered in Missouri — is designed to prepare students to become leaders in the protection of cyber-enabled systems. The school also helps students in their computer science and cybersecurity connect to intership opportunities.
Truman State University: Computer science students at Truman may participate in a capstone project their senior year. They may select from a software development project, original research, an in-depth academic project, or a professional internship.
Westminster College: At Westminster, computer science majors take most of their courses in a laboratory setting so they can apply the theoretical concepts they learn. They are also given presentation opportunities that can enable them to hone their communication skills. Additionally, computer science students may participate in hack-a-thons with other students.
Washington University in St. Louis: Computer science students at this institution's McKelvey School of Engineering can choose from multiple bachelor's or master's programs. Their five-year BS/MS major in computer science allows students to combine undergraduate and graduate studies in an integrated curriculum.
IT Salaries and Career Outlook in Missouri
According to Projections Central, several computer science-related occupations are projected to experience significant growth in the coming years.
| Career | Annual Median Wage |
| --- | --- |
| Information Security Analysts | $84,880 |
| Database Administrators and Architects | $79,560 |
| Computer Network Architects | $93,420 |
| Web Developers and Digital Interface Designers | $66,140 |
| Computer Programmers | $80,630 |
| Computer Network Support Specialists | $52,860 |
| Software Developers and Software Quality Assurance Analysts and Testers | $91,210 |
| Computer Systems Analysts | $81,090 |
| Network and Computer Systems Administrators | $83,290 |
2019 Occupational Employment Statistics and 2018-28 Employment Projections, Bureau of Labor Statistics, BLS.gov.
There are a number of companies in Missouri that may hire these types of professionals, including C2FO, an online marketplace for corporate buyers and suppliers; AutoAlert, a marketing automation software for auto dealerships; FitBark, a company that sells wearable fitness trackers for dogs; and Veriship, a cloud platform for the logistic industry. Many of these companies can be found in the Kansas City area.
Computer Science Scholarships for Missouri Students
Scholarships can make computer science programs in Missouri more affordable. Here are some examples that are specific both to the state of Missouri and to computer science or technology.
Kris Paper Legacy Scholarship For Women In Technology: This annual scholarship is available to graduating female high school or returning female college students from the greater Kansas City area who plan to attend IT degree programs in Missouri.
Missouri State University's Computer Science Department: A number of different scholarships may be available to eligible computer science students, some of which are renewable, such as the Dr. Eric Shade Memorial Scholarship and the Rich and Cindy Miller Scholarship.
Missouri University of Science and Technology: Both freshmen and current Missouri S&T computer science majors can apply for one of several program-specific scholarships, such as the CS majors, such as the Computer Science Alumni Scholarship Fund, the Accenture Scholarship, and the Ellen M. Hodges Memorial Scholarship.
Missouri Professional IT Organizations and Resources
Missouri offers a number of professional organizations and resources to working IT professionals as well as students enrolled in IT schools in Missouri. Let's take a look at several of them.
Article Sources
Article Sources
Sources
10 Fast Growing Tech Companies to Work for in Kansas City, Accessed December 2018, https://www.findingkansascity.com/lists/kansas-city-tech-companies
Code Missouri, Accessed December 2018, https://www.codemissouri.com/
Computer Science, Southeast Missouri State University, Accessed December 2018, https://semo.edu/csdept/
Computer Science, Westminster College, Accessed December 2018, https://www.westminster-mo.edu/academics/majorsminors/majors/computerscience/default.html
Computer Science & Engineering, Washington University in St. Louis, Accessed December 2018, https://cse.wustl.edu/graduate/programs/Pages/default.aspx
Computer Science Research, Truman State University, Accessed December 2018, https://www.truman.edu/majors-programs/majors-minors/computer-science-major/computer-science-research/
Kris Paper Legacy Scholarship, Accessed December 2018, http://krispaperlegacy.com/
Long Term Occupational Projections, Projections Central, Accessed December 2018, http://www.projectionscentral.com/Projections/LongTerm
Million Women Mentors, Missouri Chamber of Commerce and Industry, Accessed December 2018, https://mochamber.com/workforce/missouri-math-and-science-coalition/million-women-mentors/
Missouri Technology Corporation, Accessed December 2018, https://www.missouritechnology.com/about-us
Missouri Technology Industry Added More than 3,600 Jobs in 2017, Tech Contributes Nearly $20 billion in Economic Impact to State, CyberStates, Accessed December 2018, https://www.cyberstates.org/pdf/press_releases/CompTIA_Cyberstates_2018_Missouri_PR.pdf
STEM Excellence Pathway, Saint Louis Science Center, Accessed December 2018, https://www.slsc.org/connections/educators/stem-excellence-pathway/
STEM Summit, Missouri Chamber of Commerce and Industry, Accessed December 2018, https://mochamber.com/stem-summit/
Technology Education Association of Missouri, Accessed December 2018, https://www.moteam.org/
We Teach MO Stem, University of Missouri, Accessed December 2018, https://coe.umsl.edu/mycoe/index.cfm?event=p2_pe:viewTag&tag=weteach
Young Women in Computer Science, Missouri Epscor, Accessed December 2018, https://missouriepscor.org/education/young-women-computer-science
X
Methodology
To be included in the rankings, all colleges had to meet the following criteria:
Be an accredited U.S. institution
Offer either 2 or 4-year degree programs
Be active in the 2016-17 school year
Offer a degree in a technology-related subject
Have awarded at least one degree in that subject in 2015-16
Have reported data for all ranking variables listed below
Ranking variables:
Related subjects, based on the number of relevant programs that are offered at any level
Flexibility, based on number of relevant programs that are offered at any level via distance education
Average in-state undergraduate tuition
Percent of undergraduate students awarded federal, state, local, institutional or other sources of grant aid
Average amount of federal, state, local, institutional, or other sources of grant aid awarded to undergraduate students
Graduation rate
Retention rate
Methodology Sources:
Integrated Postsecondary Education Data System (IPEDS) 2016-17, National Center for Education Statistics, http://nces.ed.gov/ipeds/
X