With tech boot camps like the Summit Academy and Prime Digital Academy and a job training partnership known as Minnesota Job Skills, Minnesota is doing its part to help ensure adults have access to skill development in the state. Short-term programs have their merits, but investing in one of the associate, bachelor's, or master's computer science degree programs in Minnesota can help students to build a stronger skill base for high-demand fields.
The state's tech sector employs more than eight percent of all adults there, accounting for more than 145,000 people working in tech industry jobs. As a prospective student of one of the IT or computer science schools in Minnesota, you could plan for employment in an occupation such as computer systems analysis, computer user support, software application development or a similar field.
Minnesota's Technology Education Initiatives
Because Minnesota is home to more than 17,000 high-tech businesses — and is poised for growth — business, civic and community leaders want to do their best to prepare students for potential career opportunities in the field. Various programs are in place to focus on STEM learning in the K-12 grades and to support the path to higher education at IT schools in Minnesota. Here are a few examples of these initiatives:
GetSTEM: Minnesota's Department of Education and the Minnesota High Technology Council have collaborated to create an online tool to help connect more than 1,000 K-12 educators and business professionals. This sharing network allows schools to request — and business to provide — STEM-related materials, speakers and presentations.
Silicon North Stars: This organization seeks to inspire future tech leaders by working with high-potential ninth graders from underserved communities in Minnesota. Students participate in a week-long tech camp, tour local tech companies, and hear inspiring speakers talk about their work and career path.
Minnesota STEM Network: This grassroots initiative works to connect stakeholders like business leaders, educators, government, and community leaders in order to promote overall STEM awareness as well as improvements in STEM-related teaching and learning.
The Minnesota Innovation Park: This research and technology area, located between the University of Minnesota campuses of Saint Paul and Minneapolis, is intended for use by high tech and science-based organizations. The goal is to support the region's technology-led economic development.
High-tech cities: Minneapolis was designated the No. 3 Top Tech City in 2019, according to a PC Magazine article, due to its higher wages and lower cost of living. The City of St. Cloud, nicknamed "Minnesota's Silicon Prairie," is another place job seekers could look for employment. This high-tech haven has more than a dozen tech businesses located within a five-block area.
Southern New Hampshire University
Some of the nation's most affordable tuition rates, from a private, nonprofit, NEASC accredited university
Qualified students with 2.5 GPA and up may receive up to $20K in grants & scholarships
Multiple term start dates throughout the year. 24/7 online classroom access
Offering over 200 online degree programs
Purdue University Global
Experience world-class education online with more than 175 programs at associate's, bachelor's, master's and doctoral levels.
Apply eligible work experience and prior college credits toward up to 75% of your undergraduate degree.
You have the option of trying out a Purdue Global undergraduate program for an introductory 3-week period. There's no cost beyond the application fee.
Competency-based ExcelTrack™ programs may allow you to earn your degree faster and for less money
Best Computer Science and IT Colleges in Minnesota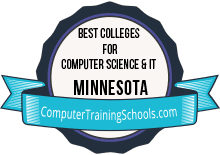 Prospective students thinking about computer science or IT schools can choose from more than 50 different universities and colleges in the state — public, private and for-profit — at both the two-year and four-year level. How do you decide which school and program are right for you? Start by checking our list of the best IT and computer science schools in Minnesota. Our rankings are based on an analysis of data from the National Center for Education Statistics (NCES).
| Ranking | School Name | In State Avg. Undergrad Tuition | % Receiving Financial Aid | Retention Rate |
| --- | --- | --- | --- | --- |
| 1 | University of Minnesota-Twin Cities | $13,058 | 81% | 93% |
| 2 | Minnesota State University-Mankato | $7,179 | 89% | 74% |
| 3 | Minnesota State Community and Technical College | $4,821 | 86% | 62% |
| 4 | University of St Thomas | $41,792 | 98% | 86% |
| 5 | Minneapolis Business College | $15,120 | 98% | 83% |
| 6 | Metropolitan State University | $6,826 | 94% | 66% |
| 7 | Minnesota West Community and Technical College | $5,146 | 90% | 63% |
| 8 | St Olaf College | $47,840 | 97% | 91% |
| 9 | Carleton College | $54,438 | 80% | 97% |
| 10 | University of Minnesota-Duluth | $12,016 | 90% | 79% |
Source: Integrated Postsecondary Education Data System (IPEDS) 2018-19, National Center for Education Statistics, http://nces.ed.gov/ipeds/
Spotlight on Computer Sciences Schools in Minnesota
From St. Cloud to Mankato and from the Twin Cities to Winona students can find a variety of degree options in Minnesota to learn more about the IT and computer science field. One of the state's online IT programs may be a good match for those who want flexibility with their education program. Here's a look at what four schools are providing in terms of IT degrees in Minnesota:
Minnesota State University, Mankato: Undergraduate and graduate degrees can be earned in a variety of IT fields, including bachelor's degrees in computer information technology and management information science as well as master's degrees in data science and information technology. Courses for their Information Security and Risk Management PSM program include information warfare and global business strategy.
Saint Mary's University, Twin Cities and Winona: This private, nonprofit institution offers a range of IT degree programs — on campus, online and blended. Students who have earned prior credit elsewhere can consider the B.S. in Information Technology, available as a bachelor's completion program. Another program, which culminates in an M.S. in Data Intelligence and GeoAnalytics, allows students to work through the university's GeoSpatial Services affiliate to gain applied learning experience.
University of Minnesota Online: If you are interested in a career as an information manager, network administration or systems engineer, you could find their fully online Bachelor of Science program in information technology management to be a good fit. The school is transfer friendly and has no out-of-state tuition for online learners.
St. Cloud State University, St. Cloud: A Master of Science degree in computer science is available at St. Cloud University on both a full-time and part-time basis. Students have access to the Integrated Engineering Science and Laboratory Facility Visualization Lab and supercomputing facilities in the Twin Cities. Related programs in information assurance, information media-technology integration and software engineering also are offered.

IT Salaries and Career Outlook in Minnesota
Jobs for information security analysts, software application developers and other IT occupations could see solid growth in Minnesota in upcoming years, according to the U.S. Bureau of Labor Statistics. Companies like Bankers Financial Corporation, The Judge Group, Inc., General Mills and Polaris Industries — all with locations in Minnesota — have hired for security analysts, cybersecurity engineers or network security analyst positions in the past.
Graduates of IT degree programs in Minnesota might look for jobs in Minnesota cities as varied at Brooklyn Park, Eden Prairie, Minneapolis, Saint Paul and other locations. In fact, it's expected that about 75,000 new tech jobs may be need to be filled in the next 10 years in the state, according to the Minnesota Department of Employment and Economic Development.
| Career | Annual Median Wage |
| --- | --- |
| Information Security Analysts | $101,410 |
| Database Administrators and Architects | $98,750 |
| Computer Network Architects | $114,120 |
| Web Developers and Digital Interface Designers | $77,150 |
| Computer Programmers | $84,480 |
| Computer Network Support Specialists | $63,100 |
| Software Developers and Software Quality Assurance Analysts and Testers | $102,700 |
| Computer Systems Analysts | $92,700 |
| Network and Computer Systems Administrators | $84,860 |
2019 Occupational Employment Statistics and 2018-28 Employment Projections, Bureau of Labor Statistics, BLS.gov.
Computer Science Scholarships for Minnesota Students
Scholarships could provide a way to help cover some of the costs association with tuition in a degree program at one of the computer sciences schools in Minnesota. You can research your own scholarships using the scholarship database on our sister site, Schools.com, or take a look at the suggestions listed below:
Minnesota's Professional IT Organizations and Resources
Membership in a professional association can be a helpful way to make industry connections and meet other tech professionals at work in the area. Below are a few of the IT associations that could provide training and networking opportunities in Minnesota.
Article Sources
Article Sources
Sources
20 High-Tech Cities You'll Want to Call Home, 20 May 2019, PC Magazine, https://www.pcmag.com/feature/323932/20-high-tech-cities-you-ll-want-to-call-home/20
Bachelor of Science in Information Technology Management, University of Minnesota Online, Accessed August 2019, https://online.umn.edu/degrees-certificates/bachelor-science-information-technology-management
B.S. in Information Technology, Saint Mary's University, Accessed August 2019, https://www.smumn.edu/academics/bachelors-completion/programs/b.s.-in-information-technology
Computer Information Science Department, Minnesota State University, Mankato, Accessed August 2019, http://cset.mnsu.edu/cis/
Computer Science, M.S., St. Cloud University, Accessed August 2019, https://www.stcloudstate.edu/graduate/computer-science/default.aspx
GetSTEM of Minnesota, Accessed August 2019, https://getstem-mn.com/
High Tech Industries, Industry Sectors and Detail Industries, Minnesota Employment and Economic Development, Accessed August 2019, https://mn.gov/deed/data/data-tools/compare-mn/industries-companies/industry-sectors.jsp
High-Tech and Advanced Manufacturing, City of St. Cloud, Minnesota, Accessed August 2019, http://www.ci.stcloud.mn.us/1339/High-Tech-and-Advanced-Manufacturing
"Key Advantage #3 – High-Tech and Advanced Manufacturing," City of St. Cloud, Minnesota, Accessed December 2018, http://www.ci.stcloud.mn.us/1339/High-Tech-and-Advanced-Manufacturing
Minnesota, Cyberstates 2019, CompTIA, Accessed August 2019, https://www.cyberstates.org/
Minnesota STEM Network, Accessed August 2019, https://www.scimathmn.org/mnstemnet/
"MSU business-IT students help area companies on new tech projects," Fox 47 News, Dec. 11, 2018, https://www.fox47news.com/news/local-news/msu-business-it-students-help-area-companies-on-new-tech-projects
Overview, Silicon North Starts, Accessed August 2019, http://www.siliconnorthstars.org/overview/
"Tech jobs are key to shrinking Minnesota's income gap — and growing our economy," Minnesota Post, Steve Grove, September 5, 2018, https://www.minnpost.com/community-voices/2018/09/tech-jobs-are-key-to-shrinking-minnesotas-income-gap-and-growing-our-economy/
The Minnesota Innovation Park, Minnesota Innovation Park, Accessed August 2019, https://www.stpaul.gov/DocumentCenter/View5/76444.pdf
X
Methodology
To be included in the rankings, all colleges had to meet the following criteria:
Be an accredited U.S. institution
Offer either 2 or 4-year degree programs
Be active in the 2016-17 school year
Offer a degree in a technology-related subject
Have awarded at least one degree in that subject in 2015-16
Have reported data for all ranking variables listed below
Ranking variables:
Related subjects, based on the number of relevant programs that are offered at any level
Flexibility, based on number of relevant programs that are offered at any level via distance education
Average in-state undergraduate tuition
Percent of undergraduate students awarded federal, state, local, institutional or other sources of grant aid
Average amount of federal, state, local, institutional, or other sources of grant aid awarded to undergraduate students
Graduation rate
Retention rate
Methodology Sources:
Integrated Postsecondary Education Data System (IPEDS) 2016-17, National Center for Education Statistics, http://nces.ed.gov/ipeds/
X