Forbes Magazine in 2018 published an article detailing the reasons Michigan should be known as "The Silicon Valley of Mobile Tech." The article notes that the state has the highest number of automated and connected vehicle projects. This, coupled with an industry already well-versed in automation, may bring whole new opportunities to places like Motor City, Grand Rapids and even Ypsilanti. That's bound to be great news for those who are considering one of the IT or computer science schools in Michigan.
Beyond mobile tech, there are plenty of other reasons that computer science and IT degree programs in Michigan could give career seekers ways to become part of the state's technology workforce. In fact, the state ranks ninth in the nation in terms of net tech employment, according to a 2018 article published on dbusiness.com.
Michigan's Technology Education Initiatives
Leaders in Michigan are also working hard to increase the number of people who pursue careers in the technology industry. Here are a couple of examples of what Michiganders are doing to grow opportunities in the state's tech sector.
Nurturing tech start-ups: Michigan's TechTown initiative, launched in 2000 in Detroit, is designed to help accelerate start-up businesses. TechTown offers resources and support to help people move their ideas forward, but also a student accelerator program that is geared at college students and graduates who want to launch their own tech start-ups.
PlanetM: This program brings together academics, industry, the government and the workforce to align the state as a mobility capital. Indeed, Switch is adding a $5 billion data center in Grand Rapids that should help to handle the data needs of companies like Amazon, eBay and Google.
The "Marshall Plan for Talent": The governor created this program as a partnership between educators, employers and other professionals to help change how the state develops needed talented. Part of this plan is to fill in gaps in the workforce, including in the computer science and IT field.
Southern New Hampshire University
Some of the nation's most affordable tuition rates, from a private, nonprofit, NEASC accredited university
Qualified students with 2.5 GPA and up may receive up to $20K in grants & scholarships
Multiple term start dates throughout the year. 24/7 online classroom access
Offering over 200 online degree programs
Purdue University Global
Experience world-class education online with more than 175 programs at associate's, bachelor's, master's and doctoral levels.
Apply eligible work experience and prior college credits toward up to 75% of your undergraduate degree.
You have the option of trying out a Purdue Global undergraduate program for an introductory 3-week period. There's no cost beyond the application fee.
Competency-based ExcelTrack™ programs may allow you to earn your degree faster and for less money
Best Computer Science and IT Colleges in Michigan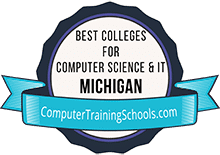 Whether a prospective student is interested in a public research university, a state college, a community college or a private college in Michigan, there are various options for people interested in pursuing a career in computer programming or a related information technology field. IT degree programs in Michigan can found at the undergraduate to graduate level and on a part-time and full-time basis — even online or on-campus, too.
| Ranking | School Name | In State Avg. Undergrad Tuition | % Receiving Financial Aid | Retention Rate |
| --- | --- | --- | --- | --- |
| 1 | Baker College | $9,600 | 97% | 49% |
| 2 | Michigan Technological University | $16,500 | 97% | 84% |
| 3 | Central Michigan University | $12,093 | 95% | 77% |
| 4 | University of Michigan-Ann Arbor | $15,897 | 63% | 97% |
| 5 | Lawrence Technological University | $32,370 | 97% | 81% |
| 6 | Oakland Community College | $4,272 | 44% | 60% |
| 7 | Jackson College | $7,334 | 87% | Unknown |
| 8 | Davenport University | $17,544 | 97% | 73% |
| 9 | Ferris State University | $11,984 | 97% | 76% |
| 10 | Western Michigan University | $11,560 | 89% | 80% |
Source: Integrated Postsecondary Education Data System (IPEDS) 2018-19, National Center for Education Statistics, http://nces.ed.gov/ipeds/
Spotlight on Computer Sciences Schools in Michigan
Whether you seek an undergraduate education or a more advanced degree, you can find different options through IT and computer sciences schools in Michigan. Here are highlights about interesting programs offered by four of these schools.
Davenport University, Davenport: It's your choice whether to complete a Bachelor of Science in Computer Science online or on-campus at DU. Students can even choose between unique specialties such as artificial intelligence, gaming and simulation or computer architecture and algorithms.
Central Michigan University, Mount Pleasant: Complete a major in information technology at CMU and have an internship and a customized track be part of the experience. The school's software engineering and information technology institute is connected with Japanese and Korean institutes, giving students the opportunity to collaborate internationally.
University of Michigan, Dearborn: This school features a Master of Science in Information Systems that can be completed entirely online, on-campus or through a combination of both. To accommodate part-time learners, most of the on-campus classes are offered in the late afternoon or in the evening. Five areas of specialization are also available in this 30-credit degree program.
Michigan Tech, Houghton: The school recently received a $35,000 gift from Google to support a 3-day workshop for women interested in research in the field. The school also offers a bachelor's of science degree program and a minor program in the computer science field. A master's and Ph.D. program are other options for advancing in the computer science field.
IT Salaries and Career Outlook in Michigan
Southeast Michigan could be a key place to look for jobs in the Great Lake state. According to a survey done by MLive, (Michigan Live), tech executives predicted this region of the state would experience:
New hiring
Revenue growth
Increased spending in research and development
Take a look at our table below to discover more about occupational growth and salary details regarding IT occupations in Michigan.
| Career | Annual Median Wage |
| --- | --- |
| Information Security Analysts | $88,290 |
| Database Administrators and Architects | $83,290 |
| Computer Network Architects | $104,520 |
| Web Developers and Digital Interface Designers | $62,240 |
| Computer Programmers | $72,800 |
| Computer Network Support Specialists | $59,850 |
| Software Developers and Software Quality Assurance Analysts and Testers | $89,460 |
| Computer Systems Analysts | $82,880 |
| Network and Computer Systems Administrators | $76,400 |
2019 Occupational Employment Statistics and 2018-28 Employment Projections, Bureau of Labor Statistics, BLS.gov.
Computer Science Scholarships for Michigan Students
Scholarships can help to offset tuition costs or to pay for the costs of books and other fees. A few of the scholarships in Michigan that could be of particular interest to students wanting to enroll in IT or computer science programs in Michigan include:
Be sure to also check your target IT schools in Michigan to see whether they have specific scholarships available to qualified students who are pursuing computer science or IT programs. Here are a few examples of what may be available:
Michigan's Professional IT Organizations and Resources
You may be able to broaden your professional opportunities by joining an information technology association in Michigan — some organizations are for working professionals and others have student chapters. Networking, training, news and updates could be potential benefits of membership or participation. A few association resources for Michigan are listed directly below.
Article Sources
Article Sources
Sources
5 Reasons Michigan Has Become The "Silicon Valley Of Mobility Tech, June 25, 2018, Forbes, https://www.forbes.com/sites/puremichigan/2018/06/25/5-reasons-michigan-has-become-the-silicon-valley-of-mobility-tech/#2e2333303bfa
5 Things to Know about Tech Jobs in Michigan, MLive, March 24, 2016, https://www.mlive.com/business/index.ssf/2016/03/5_things_to_know_about_tech_jo.html
Associations, Eastern Michigan University, Accessed December 2018, https://guides.emich.edu/c.php?g=187899&p=1241210
Computer Science, Michigan Tech, Accessed December 2018, https://www.mtu.edu/cs/
Computer Science BS, Davenport University, Accessed December 2018, https://www.davenport.edu/programs/technology/bachelors-degree/computer-science-bs
Information Technology, Central Michigan University, Accessed December 2018, https://go.cmich.edu/academics/Undergraduate/Find_Program/Pages/Information_Technology.aspx
Michigan Ranked Third Nationally in Tech Job Growth After Adding 13K+ Jobs in 2017, Grace Turner, March 28, 2018, http://www.dbusiness.com/daily-news/Annual-2018/Michigan-Ranked-Third-Nationally-in-Tech-Job-Growth-After-Adding-13K-Jobs-in-2017/
MS in Information Systems, University of Michigan, Dearborn, Accessed December 2018, https://umdearborn.edu/cecs/departments/industrial-and-manufacturing-systems-engineering/graduate-programs/ms-information-systems-and-technology
New Report Pegs Michigan 3rd in the Nation For Tech Job Growth in 2017, Pat Moody, March 28, 2018, https://www.moodyonthemarket.com/new-report-pegs-michigan-3rd-in-the-nation-for-tech-job-growth-in-2017/
Scholarships, Engineer Girl, Accessed December 2018, https://www.engineergirl.org/9539/Scholarships
Search Scholarships Database, Schools.com, Accessed December 2018, https://www.schools.com/scholarships-database
Support for Tech Startups, TechTown Detroit, Accessed December 2018, https://techtowndetroit.org/small-business-startup-programs-detroit/
X
Methodology
To be included in the rankings, all colleges had to meet the following criteria:
Be an accredited U.S. institution
Offer either 2 or 4-year degree programs
Be active in the 2016-17 school year
Offer a degree in a technology-related subject
Have awarded at least one degree in that subject in 2015-16
Have reported data for all ranking variables listed below
Ranking variables:
Related subjects, based on the number of relevant programs that are offered at any level
Flexibility, based on number of relevant programs that are offered at any level via distance education
Average in-state undergraduate tuition
Percent of undergraduate students awarded federal, state, local, institutional or other sources of grant aid
Average amount of federal, state, local, institutional, or other sources of grant aid awarded to undergraduate students
Graduation rate
Retention rate
Methodology Sources:
Integrated Postsecondary Education Data System (IPEDS) 2016-17, National Center for Education Statistics, http://nces.ed.gov/ipeds/
X