Maryland's largest city, Baltimore, is also one of the fastest-growing technology markets in the country, according to Time magazine, which gathered data from the job search site, ZipRecruiter. ZipRecruiter also found the year-over-year growth in tech jobs in Baltimore to be 109 percent from 2016 to 2017. This growth is nurtured in part by companies such as JHU FastForward Accelerator and Betamore — both of which specifically support entrepreneurs in the tech space. All of this growth can be great news for adults who are interested in IT degree programs in Maryland.
Maryland's Technology Education Initiatives
In addition to business incubators and accelerators, there are a number of other initiatives in place that are designed to grow and support technology in the state, including motivating students to pursue IT degree programs in Maryland. Let's take a look at some of the most notable ones.
Promoting STEM to students:

The Maryland STEM Festival strives to inspire all students to take a greater interest in STEM and pursue careers related to it. Each year's festival highlights a particular area of STEM, such as STEM and military careers or STEM and agriculture. Organizations that participate in the festival include libraries, museums, private companies, and public and private schools throughout Maryland.

Strengthening STEM teaching and learning: STEMnet is an online platform developed by Maryland Business Roundtable that provides tools, resources, programs, and workforce connections to strengthen teaching and learning in STEM. Through STEMnet, STEM professionals can engage students in hands-on learning experiences, allowing them to explore potential STEM careers and opportunities.
Computer science classes in public schools: The Achieving Computer Science Collaborations for Employing Students Statewide (ACCESS) Act of 2018 requires public schools in Maryland to offer certain computer science and coding classes. The state expects to spend $80 million on this initiative over the next 10 years.
Encouraging women to pursue STEM careers: Part of the state's ACCESS plan includes partnering with the nonprofit Girls Who Code organization to expand clubs across Maryland. This initiative aims to increase ultimately gender diversity in the tech field. Since the challenge has been announced, the number of Girls Who Code clubs across Maryland has quadrupled.
Southern New Hampshire University
Some of the nation's most affordable tuition rates, from a private, nonprofit, NEASC accredited university
Qualified students with 2.5 GPA and up may receive up to $20K in grants & scholarships
Multiple term start dates throughout the year. 24/7 online classroom access
Offering over 200 online degree programs
Purdue University Global
Experience world-class education online with more than 175 programs at associate's, bachelor's, master's and doctoral levels.
Apply eligible work experience and prior college credits toward up to 75% of your undergraduate degree.
You have the option of trying out a Purdue Global undergraduate program for an introductory 3-week period. There's no cost beyond the application fee.
Competency-based ExcelTrack™ programs may allow you to earn your degree faster and for less money
Best Computer Science and IT Colleges in Maryland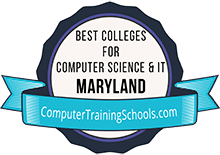 Prospective students considering a computer science education in Maryland can select from campus-based or online IT programs across the state. IT degree programs are available in Maryland at both the undergraduate and graduate level, along with computer science concentrations such as database systems, network administration, web development, cybersecurity, software development and more.
| Ranking | School Name | In State Avg. Undergrad Tuition | % Receiving Financial Aid | Retention Rate |
| --- | --- | --- | --- | --- |
| 1 | Towson University | $6,826 | 81% | 85% |
| 2 | Frostburg State University | $6,600 | 92% | 77% |
| 3 | University of Maryland-College Park | $8,651 | 74% | 95% |
| 4 | University of Maryland-Baltimore County | $8,534 | 90% | 87% |
| 5 | College of Southern Maryland | $5,328 | 49% | 65% |
| 6 | Loyola University Maryland | $47,520 | 92% | 88% |
| 7 | Johns Hopkins University | $53,740 | 70% | 97% |
| 8 | Capitol Technology University | $24,708 | 98% | 72% |
| 9 | Washington College | $45,888 | 97% | 84% |
| 10 | Montgomery College | $7,830 | 65% | 75% |
Source: Integrated Postsecondary Education Data System (IPEDS) 2018-19, National Center for Education Statistics, http://nces.ed.gov/ipeds/
Spotlight on Computer Science Schools in Maryland
Prospective students can choose from a variety of computer sciences schools in Maryland. Here are some of the schools with innovative degree programs and interesting, related activities:
Loyola University Maryland: Students enrolled in the computer science program at Loyola may qualify to be a part of the CPaMS Scholars Program. CPaMS students may benefit from cohort-style learning where they take all of their classes in sequence, and graduate together after completing their courses. In addition, they may gain access to internship opportunities.
Towson University: Towson University was one of the first IT schools in Maryland to offer a computer science bachelor's degree with a specialization in cybersecurity. Students who opt for this program can expect to take classes such as operating systems security, case studies in computer security, and reverse engineering and malware analysis.
Salisbury University: Computer science majors at Salisbury University may participate in the Cyber Security Study Abroad Program in Estonia, a country in Northern Europe that is home to NATO's Cyber Defense Center. The NATO Cyber Defense Center strives to serve as the main source of expertise in cyber defense.
Morgan State University: This public urban research university offers both a B.S. in computer science and a M.S. in Bioinformatics. A primary focus in their program is learning through collaboration. The school's computer science club, Society for the Advancement of Computer Science, established in 1964, is now a student affiliate of the Association for Computing Machinery.
IT Salaries and Career Outlook in Maryland
Graduates of IT degree programs in Maryland can look to start careers with a variety of companies in Baltimore and neighboring cities. Some of the largest ones include Merritt Companies, which consists of Merritt Properties, Merritt Construction Services, and Merritt Clubs; Bon Secours Baltimore Health System, a not-for-profit Catholic health system; KCI Technologies, Inc. an engineering, consulting and construction firm; and ICF, a strategic consulting company.
| Career | Annual Median Wage |
| --- | --- |
| Information Security Analysts | $104,980 |
| Database Administrators and Architects | $89,200 |
| Computer Network Architects | $121,800 |
| Web Developers and Digital Interface Designers | $73,180 |
| Computer Programmers | $91,620 |
| Computer Network Support Specialists | $69,600 |
| Software Developers and Software Quality Assurance Analysts and Testers | $112,490 |
| Computer Systems Analysts | $95,780 |
| Network and Computer Systems Administrators | $105,320 |
2019 Occupational Employment Statistics and 2018-28 Employment Projections, Bureau of Labor Statistics, BLS.gov.
Computer Science Scholarships for Maryland Students
Maryland offers a few state specific scholarships to students who are pursuing computer science degree programs in Maryland. Here's a brief list of some of them:
CPaMS Scholars Program:

This scholarship program awards up to $10,000 annually to qualified students who are pursuing computer science (or mathematics or physics) degrees at Loyola University in Maryland.
Maryland Professional Organizations and Resources
Becoming a member of a Maryland-specific professional organization can help students enrolled in computer science schools and professionals make connections and stay on top of the latest trends in the industry. These professional organizations include:
Article Sources
Article Sources
Sources
Baltimore Ranks Among 20 Hottest Cities for Tech Growth and Here's Why, Baltimore Business Journal, Accessed December 2018, https://www.bizjournals.com/baltimore/news/2017/06/19/baltimore-ranks-among-20-hottest-cities-for-tech.html?ana=RSS&s=article_search
Computer Science Major, Salisbury University, Accessed December 2018, https://www.salisbury.edu/explore-academics/programs/undergraduate-degree-programs/majors/computer-science-major.aspx
Computer Science Major, Towson University, Accessed December 2018, https://www.towson.edu/fcsm/departments/computerinfosci/undergrad/computersci.html
CPaMS Scholars Program, Loyola University Maryland, Accessed December 2018, https://www.loyola.edu/join-us/cpams-program
Girls Who Code Clubs Showcase Impact Project to Maryland Governor Larry Hogan, Girls Who Code, Accessed December 2018, https://girlswhocode.com/2018/03/16/girls-who-code-clubs-maryland-showcase/
Gov. Larry Hogan Announces Tech Education Initiatives for Maryland Public Schools, Baltimore Sun, Accessed December 2018, https://www.baltimoresun.com/news/maryland/politics/bs-md-hogan-education-20171102-story.html
Largest Incubators and Accelerators in Greater Baltimore, Baltimore Business Journal, https://www.bizjournals.com/baltimore/subscriber-only/2017/11/03/incubators-and-accelerators.html
Maryland STEM Festival, Accessed December 2018, http://marylandstemfestival.org/
Maryland Tech Council, Accessed December 2018, https://www.mdtechcouncil.com/
Northeast Maryland Technology Council, Accessed December 2018, https://nmtc.org/
Scholarships, AFCEA Washington DC, Accessed December 2018, https://dc.afceachapters.org/?q=content/chapter-scholarships
STEMnet, Accessed December 2018, https://thestemnet.com/
TEDCO, Accessed December 2018, https://www.tedcomd.com/
The Society for the Advancement of Computer Science, Morgan State University, Accessed December 2018, https://www.morgan.edu/school_of_computer_mathematical_and_natural_sciences/departments_and_programs/computer_science/sacs.html
X
Methodology
To be included in the rankings, all colleges had to meet the following criteria:
Be an accredited U.S. institution
Offer either 2 or 4-year degree programs
Be active in the 2016-17 school year
Offer a degree in a technology-related subject
Have awarded at least one degree in that subject in 2015-16
Have reported data for all ranking variables listed below
Ranking variables:
Related subjects, based on the number of relevant programs that are offered at any level
Flexibility, based on number of relevant programs that are offered at any level via distance education
Average in-state undergraduate tuition
Percent of undergraduate students awarded federal, state, local, institutional or other sources of grant aid
Average amount of federal, state, local, institutional, or other sources of grant aid awarded to undergraduate students
Graduation rate
Retention rate
Methodology Sources:
Integrated Postsecondary Education Data System (IPEDS) 2016-17, National Center for Education Statistics, http://nces.ed.gov/ipeds/
X