A 2017 report by Software.org discovered that Louisiana's software industry is among the fastest growing in the country. It also stated that the state's software industry employed more than 11,000 individuals and impacted the economy by $1.5 billion. In addition, software companies in the state have invested $22 million in research and development — an effort likely to have a positive impact on future career opportunities for graduates of one of Louisiana's campus-based or online IT programs.
Regardless of whether you are hoping to pursue a career in the software industry or another growing technology field in the state, all of these statistics can be great news for adults pursuing computer science programs in Louisiana — at the associate, bachelor's or master's level.
Louisiana's Technology Initiatives
Several initiatives have been implemented in Louisiana to support and grow interest in IT fields and careers. Here's a brief overview of a few of the most noteworthy ones:
Expanding the number of computer science degrees awarded: Louisiana is funding a $25 million dollar higher education initiative to increase the number of degrees awarded each year in computer science, management, and STEM-related fields. Computer science schools such as the Louisiana State University System, University of Louisiana System, Southern University System and the Louisiana Community and Technical College System are all participants.
Creating more IT jobs in New Orleans: DXC Technology, a global IT services provider announced in July 2018 that it plans to create 2,000 technology-related jobs in New Orleans over the next five years. This initiative, known as Louisiana's largest tech-centric economic development project, it likely to raise interest in IT degree programs in Louisiana.
Preparing students for IT programs in Louisiana: Louisiana STEM Pathways is a career and technical education program with a mission to better prepare students to seek STEM degrees in college. Secondary school students enrolled in this program may take courses such as Introduction to Robotics, Exploring Computer Science, Coding for the Web, and Introduction to Computational Thinking.
Promoting STEM education in schools: With ExxonMobil's $13 million dollar grant, awarded in 2016, Louisiana schools have received access to the resources they need to improve student performance in the core subjects of science and math so that students are better equipped to attend IT programs in Louisiana and pursue careers in STEM.
Southern New Hampshire University
Some of the nation's most affordable tuition rates, from a private, nonprofit, NEASC accredited university
Qualified students with 2.5 GPA and up may receive up to $20K in grants & scholarships
Multiple term start dates throughout the year. 24/7 online classroom access
Offering over 200 online degree programs
Purdue University Global
Experience world-class education online with more than 175 programs at associate's, bachelor's, master's and doctoral levels.
Apply eligible work experience and prior college credits toward up to 75% of your undergraduate degree.
You have the option of trying out a Purdue Global undergraduate program for an introductory 3-week period. There's no cost beyond the application fee.
Competency-based ExcelTrack™ programs may allow you to earn your degree faster and for less money
Best Computer Science and IT Colleges in Louisiana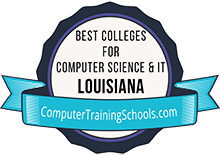 | Ranking | School Name | In State Avg. Undergrad Tuition | % Receiving Financial Aid | Retention Rate |
| --- | --- | --- | --- | --- |
| 1 | Louisiana State University and Agricultural & Mechanical College | $8,038 | 96% | 84% |
| 2 | Northwest Louisiana Technical College | $2,081 | 75% | 49% |
| 3 | University of Louisiana at Lafayette | $5,407 | 96% | 75% |
| 4 | South Louisiana Community College | $3,335 | 85% | 53% |
| 5 | Southern University and A & M College | $4,973 | 98% | 64% |
| 6 | South Central Louisiana Technical College | $2,202 | 84% | Unknown |
| 7 | Tulane University of Louisiana | $50,780 | 80% | 94% |
| 8 | Louisiana Tech University | $6,400 | 98% | 79% |
| 9 | SOWELA Technical Community College | $3,335 | 83% | 60% |
| 10 | Delgado Community College | $3,335 | 88% | 47% |
Source: Integrated Postsecondary Education Data System (IPEDS) 2018-19, National Center for Education Statistics, http://nces.ed.gov/ipeds/
Spotlight on Computer Sciences Schools in Louisiana
Although there are many computer science schools in Louisiana, the following schools feature programs that are particularly interesting.
The University of New Orleans: At UNO, students may earn a Bachelor of Science in computer science with a concentration in game development. The game development concentration is designed to build the knowledge and skills necessary to build interactive visual artifacts for education, training, and entertainment.
Tulane University: Tulane offers a computer science coordinate major, which requires students to complete a major in another discipline as well as a series of computer science courses and a two-semester senior capstone project. The capstone project should demonstrate their application of computer science to a related subject.
Xavier University of Louisiana: A Bachelor of Science in computer science with a dual degree in computer engineering program is available at Xavier. Upon completion of this program, students are awarded a Bachelor of Science in computer science as well as a Bachelor of Science in computer engineering.
Louisiana State University Shreveport: Students enrolled in an undergraduate computer science degree program at LSU Shreveport may transition directly into the accelerated Master of Science in Computer Systems Technology degree program called 4+1 MSCST. The 4+1 MSCST programs allow undergraduates with at least a 3.0 to take graduate classes toward their master's degree in computer science, biomedical informatics, or business administration during their senior year.
IT Salaries and Career Outlook in Louisiana
According to a career site called Zippia, web developers, software engineers, software developers are three of the fastest-growing jobs in Louisiana. Many of the companies that employ these types of professionals are located in New Orleans. See the chart below for more information about growth rates projected by the Bureau of Labor Statistics.
| Career | Annual Median Wage |
| --- | --- |
| Information Security Analysts | $70,980 |
| Database Administrators and Architects | $74,430 |
| Computer Network Architects | $77,370 |
| Web Developers and Digital Interface Designers | $55,310 |
| Computer Programmers | $68,950 |
| Computer Network Support Specialists | $53,210 |
| Software Developers and Software Quality Assurance Analysts and Testers | $81,880 |
| Computer Systems Analysts | $76,940 |
| Network and Computer Systems Administrators | $66,000 |
2019 Occupational Employment Statistics and 2018-28 Employment Projections, Bureau of Labor Statistics, BLS.gov.
Lucid, the world's largest programmatic platform for sourcing and understanding human answers; Zilen, a cloud-based payment platform for the construction industry; and Waldemar S. Nelson and Company, a design and project management consulting firm are all companies that are likely to need graduates from computer science programs in Louisiana.
Computer Science Scholarships for Louisiana Students
While a large number of general scholarships may be available to students in Louisiana, according to our partner site, Schools.com's scholarship database, a number of scholarships specific to computer science or IT students may be available through Louisiana school's computer science departments. Here are some examples.
Louisiana Professional Organizations and Resources
Students attending IT schools in Louisiana as well as working IT professionals may find value in the following professional organizations and resources:
Article Sources
Article Sources
Sources
20 Best Companies to Work for in New Orleans, Zippia, Accessed December 2018, https://www.zippia.com/research/best-companies-in-new-orleans-la/
American Society for Engineering Education, Accessed December 2018, http://www.aseegsw.com/
Computer Science B.S., University of New Orleans, Accessed December 2018, http://new.uno.edu/academics/cos/computer-science/computer-science
Coordinate Major, Tulane University, Accessed December 2018, http://www2.tulane.edu/sse/cs/academics/undergraduate/coordinate-major.cfm
Degree, Minor, and Certificate Programs, Louisiana State University Shreveport, Accessed December 2018, https://www.lsus.edu/academics/college-of-arts-and-sciences/school-of-mathematics-and-sciences/department-of-computer-science/degree-minor-and-certificate-programs/41-program
Department of Computer Science, Xavier University of Louisiana, Accessed December 2018, http://catalog.xula.edu/preview_entity.php?catoid=3&ent_oid=94
ExxonMobil Awards $13 Million to Expand Louisiana STEM Program, Philanthropy News Digest, Accessed December 2018, https://philanthropynewsdigest.org/news/exxonmobil-awards-13-million-to-expand-louisiana-stem-program
Greater New Orleans .Net User Group, Accessed December 2018, http://www.gnodnug.org/
IEEE Region 5, Accessed December 2018, http://ieeer5.org/areas/
Louisiana's Software Industry Among Country's Fastest Growing, Report Says, Government Technology, Accessed December 2018, http://www.govtech.com/products/Louisianas-Software-Industry-Among-Countrys-Fastest-Growing-Report-Says.html
LABI, Accessed December 2018, https://labi.org/issues/technology
Louisiana STEM Initiative, Louisiana Department of Education, Accessed December 2018, https://www.louisianabelieves.com/courses/louisiana-stem-initiative
Louisiana Technology Park, Accessed December 2018, https://www.latechpark.com/
Louisiana Women in Technology, Accessed December 2018, http://www.la-wit.org/
New Technology Centers Will Create Nearly 3,000 Jobs, Site Selection Magazine, Accessed December 2018, https://siteselection.com/issues/2018/jul/louisiana-new-technology-centers-will-create-nearly-3000-jobs.cfm
These are The 10 Fastest Growing Jobs in Louisiana in 2017, Zippia, Accessed December 2018, https://www.zippia.com/advice/fastest-growing-jobs-in-louisiana/
X
Methodology
To be included in the rankings, all colleges had to meet the following criteria:
Be an accredited U.S. institution
Offer either 2 or 4-year degree programs
Be active in the 2016-17 school year
Offer a degree in a technology-related subject
Have awarded at least one degree in that subject in 2015-16
Have reported data for all ranking variables listed below
Ranking variables:
Related subjects, based on the number of relevant programs that are offered at any level
Flexibility, based on number of relevant programs that are offered at any level via distance education
Average in-state undergraduate tuition
Percent of undergraduate students awarded federal, state, local, institutional or other sources of grant aid
Average amount of federal, state, local, institutional, or other sources of grant aid awarded to undergraduate students
Graduation rate
Retention rate
Methodology Sources:
Integrated Postsecondary Education Data System (IPEDS) 2016-17, National Center for Education Statistics, http://nces.ed.gov/ipeds/
X