Georgetown University's Center on Education and the Workforce projects that STEM occupations in Kentucky will grow 19 percent by 2020. They also predict that Kentucky will experience a serious shortage in skilled labor within seven years, making it important for its residents to focus on earning more than a high school diploma.
This growing need can be great news for adults pursuing computer science programs in Kentucky. New graduates are likely to land jobs in their fields of study in Louisville, Lexington, Bowling Green, Frankfort, and other cities throughout the state.
Kentucky's Technology Education Initiatives
The Bluegrass State has been making strides in recent years to foster the growth of its information technology industry. The state is also seeking to grow school-aged students' interest in STEM fields — students who eventually may pursue a college education at one of Kentucky's technology and computer science schools. Several examples of the most notable initiatives include:
Improving internet access throughout the state, including rural areas: A statewide program called KentuckyWired is working to bring internet to all areas of the state — serving not only businesses, but schools, government entities, and state residents. The state has prioritized this work in order to grow new job and education opportunities for its citizens.
Improving technology across Kentucky's schools: The Kentucky Education Technology Systems (KETS) program is requiring school districts in Kentucky to develop strategic technology plans. These plans are to focus on using technology to provide ongoing administrative and academic support to educational environments.
Implementing computer science classes: There are more than 494,000 unfilled computing positions in the U.S. and only 43,000 computer science graduates to fill these positions. To combat this, Kentucky is bringing computer science classes to high schools throughout the state. The state hopes that these classes can inspire students to attend computer science degree programs in Kentucky.
Training additional computer science teachers: An organization called AdvanceKentucky is collaborating with the Department of Education to provide training to teachers who would like to specialize in computer science. It is also offering Advanced Placement (AP) computer science classes to high school students.
Supporting future STEM majors: The Kentucky Technology Student Association is open to middle and high school students pursuing STEM education. It offers competitive events, leadership opportunities, and conferences.
Southern New Hampshire University
Some of the nation's most affordable tuition rates, from a private, nonprofit, NEASC accredited university
Qualified students with 2.5 GPA and up may receive up to $20K in grants & scholarships
Multiple term start dates throughout the year. 24/7 online classroom access
Offering over 200 online degree programs
Purdue University Global
Experience world-class education online with more than 175 programs at associate's, bachelor's, master's and doctoral levels.
Apply eligible work experience and prior college credits toward up to 75% of your undergraduate degree.
You have the option of trying out a Purdue Global undergraduate program for an introductory 3-week period. There's no cost beyond the application fee.
Competency-based ExcelTrack™ programs may allow you to earn your degree faster and for less money
Best Computer Science and IT Colleges in Kentucky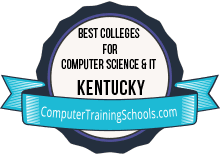 Kentucky has an expansive and diverse array of postsecondary institutions that offer IT-related degree programs, including online IT programs. Major universities and smaller, regionally focused colleges offer a variety of computer science programs at the undergraduate and graduate level. Based on an analysis of data from the National Center for Education Statistics, here are our picks for the best IT schools in Kentucky.
| Ranking | School Name | In State Avg. Undergrad Tuition | % Receiving Financial Aid | Retention Rate |
| --- | --- | --- | --- | --- |
| 1 | Murray State University | $7,884 | 97% | 79% |
| 2 | Centre College | $41,700 | 99% | 90% |
| 3 | Northern Kentucky University | $9,648 | 99% | 69% |
| 4 | University of Louisville | $11,460 | 97% | 80% |
| 5 | Bellarmine University | $40,250 | 100% | 79% |
| 6 | Eastern Kentucky University | $8,996 | 99% | 73% |
| 7 | Western Kentucky University | $10,512 | 96% | 71% |
| 8 | Thomas More College | $29,700 | 99% | 63% |
| 9 | Kentucky State University | $7,700 | 96% | 56% |
| 10 | Georgetown College | $38,650 | 100% | 63% |
Source: Integrated Postsecondary Education Data System (IPEDS) 2018-19, National Center for Education Statistics, http://nces.ed.gov/ipeds/
Spotlight on Computer Science Schools in Kentucky
Let's take a closer look at some of the most noteworthy computer science degree programs in Kentucky.
Western Kentucky University: At WKU, computer science students may choose from three options. The systems/scientific applications option requires students to take additional courses in mathematics and computer science. Those who opt for the any minor option may pair the computer science major with any minor available at WKU. The specialty option is designed for students who are interested in any area which does not have a minor or is interdisciplinary in nature.
Kentucky State University: KSU offers a unique Bachelor of Science in Digital Gaming, Entertainment, and Simulation. This degree program can prepare students for careers in computer gaming, computer animation, or other game development-related careers.
Eastern Kentucky University: Students can choose from six computer science degree programs including a general computer science degree or a degree which concentrates on computer technology, bioinformatics, interactive multimedia, computer forensics and security, or statistical computing.
Owensboro Community & Technical College: OCTC has five different options for their degree programs that culminate in an Associate in Applied Sciences. Tracks include business software and support; network administration (MS Windows or Cisco Network Associate); information security; internet technologies (web administration or web programming); and a programming option (software development or information systems).
IT Salaries and Career Outlook in Kentucky
The low cost-of-living and strong post-secondary educational system make Kentucky an attractive location for technology companies to set-up shop. CompTIA's 2019 report estimates that 4.1 percent of the state's economy can be attributed to the tech industry.
There is a significant need for software developers, computer support specialists, and web developers in Kentucky. GE's facility in Louisville; Humana, a health insurance company; Lexmark International, a global leader in printer products; and Haier, a consumer electronics company, typically hire these types of professionals. Smaller companies in the state may also offer appealing opportunities to new graduates, including those who have earned degrees through one of the online computer science programs.
| Career | Annual Median Wage |
| --- | --- |
| Information Security Analysts | $75,620 |
| Database Administrators and Architects | $84,740 |
| Computer Network Architects | $76,940 |
| Web Developers and Digital Interface Designers | $65,710 |
| Computer Programmers | $69,850 |
| Computer Network Support Specialists | $53,670 |
| Software Developers and Software Quality Assurance Analysts and Testers | $83,270 |
| Computer Systems Analysts | $69,660 |
| Network and Computer Systems Administrators | $63,560 |
2019 Occupational Employment Statistics and 2018-28 Employment Projections, Bureau of Labor Statistics, BLS.gov.
Computer Science Scholarships for Kentucky Students
Subject-specific scholarships may be available to IT students through individual education institutions. Here are a few examples:
Northern Kentucky University: Several different award options can be pursued by eligible computer science students, including the Christian Michael Thomas Memorial Scholarship, the Cinsam Scholarship, S3OAR Scholarship, the L.I.F.E. Foundation Fellowship, and others.
Kentucky State University: Computer-related scholarships may be available to qualified students who are new to the school, those who entering their sophomore or junior year, and those who wish to continue into graduate studies in the field.
Murray State University: The Department of Computer Science and Information Systems offers several awards to students who meet specific criteria. The CSIS Department Award and the CSIS Faculty Award are both funded by alumni; the Robert P. McCann Scholarship is a privately funded award.
If the school of your choice does not have scholarships funds available specifically for computer science students, you may want to explore the scholarship database on our sister site, Schools.com, to see what other options Kentucky students can pursue.
Kentucky Professional Organizations and Resources
Current professionals and students aspiring to become IT professionals — those attending computer science schools in Kentucky — may find the following organizations to be valuable resources.
Article Sources
Article Sources
Sources
About GAETC, Georgia Educational Technology Conference, Accessed August 2019, https://conference.gaetc.org/about/
Department of Computer Science, Kennesaw State University, Accessed August 2019, https://ccse.kennesaw.edu/cs/
"Georgia Tech grads make up chunk of Silicon Valley employees — more than any Ivy League schools," Fiza Parani, May 1, 2017, https://www.ajc.com/news/local/georgia-tech-grads-make-chunk-silicon-valley-employees-more-than-any-ivy-league-schools/BcSJPlkGXujTqj3kKuToaI/
Georgia Technology Sector Employment Growth – 2012 to 2017, Technology Association of Georgia, Accessed December 2018, http://tagstateoftheindustry.com/2018/talent/ga-tech-sector-employment-growth.html
Information Technology, Georgia Southern University, Accessed December 2018, https://cec.georgiasouthern.edu/it/
Information Technology Management, Georgia Tech, Accessed August 2019, https://www.scheller.gatech.edu/academics/information-technology.html
Long Term Occupational Professions, Projections Central, Accessed December 2018, http://www.projectionscentral.com/Projections/LongTerm
"New report details Georgia's growing lead in financial technology industry," David Allison, Biz Journals, May 8, 2018, https://www.bizjournals.com/atlanta/news/2018/05/08/new-report-details-georgias-growing-lead-in.html
Online BS in Information Technology, Middle Georgia State University, Accessed December 2018, https://www.mga.edu/information-technology/online.php
Overview, About TAG, Accessed August 2019, https://www.tagonline.org/about/
School of Information Technology, Accessed December 2018, https://www.mga.edu/information-technology/online.php
Scholarship Programs, Georgia State University, Accessed December 2018, https://www.cs.gsu.edu/undergraduate/b-s-in-computer-science/scholarship-programs/
STEM/STEAM in Georgia, Accessed August 2019, http://www.stemgeorgia.org/wp-content/uploads/2018/10/STEM_STEAM-in-Georgia.pdf
Technology Employment Expands its Presence in Georgia's Workforce, CompTIA, Accessed August 2019, https://www.comptia.org/about-us/newsroom/press-releases/2019/03/26/technology-employment-expands-its-presence-in-georgia-s-workforce
X
Methodology
To be included in the rankings, all colleges had to meet the following criteria:
Be an accredited U.S. institution
Offer either 2 or 4-year degree programs
Be active in the 2016-17 school year
Offer a degree in a technology-related subject
Have awarded at least one degree in that subject in 2015-16
Have reported data for all ranking variables listed below
Ranking variables:
Related subjects, based on the number of relevant programs that are offered at any level
Flexibility, based on number of relevant programs that are offered at any level via distance education
Average in-state undergraduate tuition
Percent of undergraduate students awarded federal, state, local, institutional or other sources of grant aid
Average amount of federal, state, local, institutional, or other sources of grant aid awarded to undergraduate students
Graduation rate
Retention rate
Methodology Sources:
Integrated Postsecondary Education Data System (IPEDS) 2016-17, National Center for Education Statistics, http://nces.ed.gov/ipeds/
X