Move aside Silicon Valley and make room for Atlanta. This Georgia city is home to companies like Better Cloud, Charter Global, Inc. and Abacus Solutions. These and other tech companies are providing IT employment in Georgia, helping the Peach State to become 12th in the nation in terms of net tech employment, according to a 2019 CompTIA report. From financial technology to health IT, Georgia has a diverse and burgeoning tech sector.
If you are considering a tech career, one of the computer science or IT schools in Georgia could be a fit for you. Students can choose between associate, bachelor's or master's degree programs at public and private institutions as well as campus-based and online IT degree options. Whether you are a new student, career changer, stay-at-home parent or professional seeking advancement, you can find many different study opportunities in the Peach State.
Georgia's Technology Education Initiatives
From the education sector to the state's business community, plenty of technology-centered activities are in place to prepare students for future careers and to support current growth in the tech industry. Here's a look at some of those efforts and opportunities.
STEM Georgia: The state's Department of Education has a special program in place to help students be prepared for 21st-century careers, with a STEM/STEAM curriculum that focuses on science, technology, engineering, arts, and mathematics. Almost 70 schools are now STEM/STEAM certified in the state.
Georgia Educational Technology Conference: The annual GaETC event focuses on helping educators learn more about the use of technology in education and to hear about the latest developments in the field. Anyone who is interested in topic can choose to attend.
An active tech community: The Technology Association of Georgia is the largest tech-focused organization in the state, with more than 35,000 individual members as well as 2,000 tech or tech-enabled companies. Additionally, it features up to 200 events a year.
Georgia's Cyber Center: This first-of-its-kind collaborative cybersecurity center is located in Augusta. The $100 million Georgia Cyber Center is the single largest investment in a cybersecurity facility by a state government to date, with the aim of strengthening the state of Georgia's position as a national leader in cybersecurity.
Southern New Hampshire University
Some of the nation's most affordable tuition rates, from a private, nonprofit, NEASC accredited university
Qualified students with 2.5 GPA and up may receive up to $20K in grants & scholarships
Multiple term start dates throughout the year. 24/7 online classroom access
Offering over 200 online degree programs
Purdue University Global
Experience world-class education online with more than 175 programs at associate's, bachelor's, master's and doctoral levels.
Apply eligible work experience and prior college credits toward up to 75% of your undergraduate degree.
You have the option of trying out a Purdue Global undergraduate program for an introductory 3-week period. There's no cost beyond the application fee.
Competency-based ExcelTrack™ programs may allow you to earn your degree faster and for less money
Best Computer Science and IT Colleges in Georgia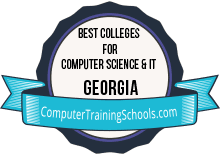 The state of Georgia has an expansive higher education system, with a wide variety of nationally recognized universities and colleges. Computer science schools in Georgia can provide a way to gain real skills and to finish a degree program, whether to seek a job in Atlanta, Columbus, Macon or Savannah — or beyond. Keep on reading to see which institutions are the state's best.
| Ranking | School Name | In State Avg. Undergrad Tuition | % Receiving Financial Aid | Retention Rate |
| --- | --- | --- | --- | --- |
| 1 | Georgia Piedmont Technical College | $2,136 | 90% | 59% |
| 2 | Albany Technical College | $2,136 | 93% | 57% |
| 3 | Coastal Pines Technical College | $2,136 | 84% | 60% |
| 4 | Wiregrass Georgia Technical College | $2,136 | 92% | 62% |
| 5 | Georgia Northwestern Technical College | $2,136 | 91% | 61% |
| 6 | Oconee Fall Line Technical College | $2,136 | 100% | 67% |
| 7 | Kennesaw State University | $4,341 | 91% | 79% |
| 8 | Ogeechee Technical College | $2,136 | 89% | 58% |
| 9 | Chattahoochee Technical College | $2,136 | 76% | 52% |
| 10 | Atlanta Technical College | $2,136 | 93% | 55% |
Source: Integrated Postsecondary Education Data System (IPEDS) 2018-19, National Center for Education Statistics, http://nces.ed.gov/ipeds/
Spotlight on Computer Sciences Schools in Georgia
Many different computer science and IT degree programs are available in the state of Georgia, including those that are campus-based and some that are online. Here's a look at some of the most-interesting degree options at four IT schools in Georgia.
Georgia Tech, Atlanta: If information technology management is your calling, then Georgia Tech may have plenty of solutions for you. The school features an undergraduate program, a full-time MBA, an executive MBA, an evening MBA, a graduate certificate program and even a doctoral program in the field.
Middle Georgia State University, Macon: The Bachelor's of Science in Information Technology can be earned completely online at this university. Six different concentrations, from cybersecurity to web applications development, are available. Students may be able to receive credit for prior learning.
Georgia Southern University: This school, with multiple campuses, offers a variety of degree options, from a bachelor's and master of science degree in information technology to a fully online bachelor's degree. An IT internship program is part of the educational experience through the Department of Information Technology, which also is a VMware Academy.
Kennesaw State University: Students at this institution can earn a bachelor's, master's or even Ph.D. in the computer science field. Both B.A. and B.S. programs are pathways that can lead to the school's Master of Science in Computer Science. Kennesaw's Ph.D. in Analytics and Data Science is aligned with the growing demand for those who can work with big data.
IT Salaries and Job Outlook in Georgia
What types of IT jobs could be in demand in the Peach State in upcoming years? According to ProjectionsCentral.com, computer support specialists and computer science teachers may find their skills to be in high demand. See the chart below for more details on salary and job growth information for a range of IT occupations in Georgia.
| Career | Annual Median Wage |
| --- | --- |
| Information Security Analysts | $98,000 |
| Database Administrators and Architects | $95,290 |
| Computer Network Architects | $113,920 |
| Web Developers and Digital Interface Designers | $87,220 |
| Computer Programmers | $85,020 |
| Computer Network Support Specialists | $67,020 |
| Software Developers and Software Quality Assurance Analysts and Testers | $103,350 |
| Computer Systems Analysts | $88,220 |
| Network and Computer Systems Administrators | $83,260 |
2019 Occupational Employment Statistics and 2018-28 Employment Projections, Bureau of Labor Statistics, BLS.gov.
Computer Science Scholarships for Georgia Students
While you can find different scholarship options at state and national levels, you might also check with your target school to see what institution-specific awards may be available. Here are a couple of field-specific scholarships available to students interested in IT degree programs in Georgia.
Georgia Professional Organizations and Resources
Joining a professional organization after completing one of the online IT programs in Georgia could be a beneficial move in terms of networking, career and leadership opportunities. Many professional organizations do charge membership fees, but membership could be well worth the cost. Below is a list of some of the IT associations in Georgia.
Article Sources
Article Sources
Sources
About GAETC, Georgia Educational Technology Conference, Accessed August 2019, https://conference.gaetc.org/about/
Department of Computer Science, Kennesaw State University, Accessed August 2019, https://ccse.kennesaw.edu/cs/
"Georgia Tech grads make up chunk of Silicon Valley employees — more than any Ivy League schools," Fiza Parani, May 1, 2017, https://www.ajc.com/news/local/georgia-tech-grads-make-chunk-silicon-valley-employees-more-than-any-ivy-league-schools/BcSJPlkGXujTqj3kKuToaI/
Georgia Technology Sector Employment Growth – 2012 to 2017, Technology Association of Georgia, Accessed December 2018, http://tagstateoftheindustry.com/2018/talent/ga-tech-sector-employment-growth.html
Information Technology, Georgia Southern University, Accessed December 2018, https://cec.georgiasouthern.edu/it/
Information Technology Management, Georgia Tech, Accessed August 2019, https://www.scheller.gatech.edu/academics/information-technology.html
Long Term Occupational Professions, Projections Central, Accessed December 2018, http://www.projectionscentral.com/Projections/LongTerm
"New report details Georgia's growing lead in financial technology industry," David Allison, Biz Journals, May 8, 2018, https://www.bizjournals.com/atlanta/news/2018/05/08/new-report-details-georgias-growing-lead-in.html
Online BS in Information Technology, Middle Georgia State University, Accessed December 2018, https://www.mga.edu/information-technology/online.php
Overview, About TAG, Accessed August 2019, https://www.tagonline.org/about/
School of Information Technology, Accessed December 2018, https://www.mga.edu/information-technology/online.php
Scholarship Programs, Georgia State University, Accessed December 2018, https://www.cs.gsu.edu/undergraduate/b-s-in-computer-science/scholarship-programs/
STEM/STEAM in Georgia, Accessed August 2019, http://www.stemgeorgia.org/wp-content/uploads/2018/10/STEM_STEAM-in-Georgia.pdf
Technology Employment Expands its Presence in Georgia's Workforce, CompTIA, Accessed August 2019, https://www.comptia.org/about-us/newsroom/press-releases/2019/03/26/technology-employment-expands-its-presence-in-georgia-s-workforce
X
Methodology
To be included in the rankings, all colleges had to meet the following criteria:
Be an accredited U.S. institution
Offer either 2 or 4-year degree programs
Be active in the 2016-17 school year
Offer a degree in a technology-related subject
Have awarded at least one degree in that subject in 2015-16
Have reported data for all ranking variables listed below
Ranking variables:
Related subjects, based on the number of relevant programs that are offered at any level
Flexibility, based on number of relevant programs that are offered at any level via distance education
Average in-state undergraduate tuition
Percent of undergraduate students awarded federal, state, local, institutional or other sources of grant aid
Average amount of federal, state, local, institutional, or other sources of grant aid awarded to undergraduate students
Graduation rate
Retention rate
Methodology Sources:
Integrated Postsecondary Education Data System (IPEDS) 2016-17, National Center for Education Statistics, http://nces.ed.gov/ipeds/
X