Tech employment in Connecticut continues to grow, with more than 1,000 jobs added during the 2016-17 year, according to CompTIA's Cyberstates 2018 report. Although this growth rate is slightly below the national average, Connecticut's tech industry wages are far above average: Connecticut ranked No. 11 of all states for its tech industry wages.
The state also has a dozen technology accelerators and business incubators that seek to grow the IT industry in Connecticut — efforts that could lead to additional career opportunities for graduates of computer science degree programs in Connecticut &mash; including online IT programs. Start-ups like Butterfly Network, Remedy Partners, and LogicSource were named the top three tech start-ups for 2019 by The Tech Tribune.
Connecticut's Technology Initiatives
Connecticut has a number of initiatives in place that are intended to support and grow interest in IT and computer science programs and careers in the state. Here's an overview of a few of them:
Filling STEM jobs in the immediate future: The town of Wallingford, Connecticut, is establishing a pipeline program that would offer a 10- to 12-week career development session for recent high school grads or others who wish to pursue STEM careers. The goal of this program is to develop candidates who can fill the 30,000 STEM vacancies in the state.
Promoting STEM to young women: The Connecticut Girls Collaborative Project brings together organizations throughout the state that are committed to informing and encouraging young women to pursue careers in STEM and attend computer science schools in Connecticut. Its mission is to strategically expand STEM opportunities for young women.
Helping educators teach and advocate for STEM: The Connecticut Center for Advanced Technology offers a variety of STEM workshops for educators who teach and advocate for STEM in their classrooms. "Foundations of STEM Education" and "STEM Careers: Preparing the 21st Century Workforce" are a few examples of these workshops.
Supporting companies in the tech sector: Connecticut Technology Council hosted its second annual ScaleUP CT in 2018 — a half-day event designed to support Connecticut-based companies in the tech sector at every stage of their growth and development. The event offered workshops, Q&A sessions, a keynote speaker, and networking opportunities.
Southern New Hampshire University
Some of the nation's most affordable tuition rates, from a private, nonprofit, NEASC accredited university
Qualified students with 2.5 GPA and up may receive up to $20K in grants & scholarships
Multiple term start dates throughout the year. 24/7 online classroom access
Offering over 200 online degree programs
Purdue University Global
Experience world-class education online with more than 175 programs at associate's, bachelor's, master's and doctoral levels.
Apply eligible work experience and prior college credits toward up to 75% of your undergraduate degree.
You have the option of trying out a Purdue Global undergraduate program for an introductory 3-week period. There's no cost beyond the application fee.
Competency-based ExcelTrack™ programs may allow you to earn your degree faster and for less money
Best Computer Science and IT Colleges in Connecticut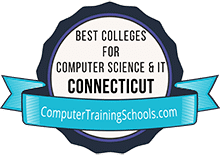 The starting point for computer science education in Connecticut can be the associate degree, as it is often the preferred choice for students looking for a shorter program. But the preferred standard for tech industry companies is the four-year bachelor's degree – either a B.A. or a B.S. in computer science. Bachelor of Arts programs tend to cover a broader slate of subjects and are less focused on engineering and more complex mathematics – subjects which are given higher priority in Bachelor of Science computer science programs.
Many computer science or IT schools offer students the ability to focus on certain specializations. Common ones include cybersecurity, software development and testing, database administration, and mobile applications.
| Ranking | School Name | In State Avg. Undergrad Tuition | % Receiving Financial Aid | Retention Rate |
| --- | --- | --- | --- | --- |
| 1 | University of Connecticut | $12,848 | 74% | 93% |
| 2 | Wesleyan University | $54,314 | 47% | 96% |
| 3 | Quinebaug Valley Community College | $3,912 | 74% | 63% |
| 4 | Manchester Community College | $3,912 | 71% | 62% |
| 5 | Connecticut College | $54,500 | 87% | 91% |
| 6 | Norwalk Community College | $3,912 | 77% | 63% |
| 7 | Central Connecticut State University | $5,642 | 87% | 74% |
| 8 | Naugatuck Valley Community College | $3,912 | 71% | 59% |
| 9 | Gateway Community College | $3,912 | 76% | 57% |
| 10 | University of Bridgeport | $30,750 | 99% | 67% |
Source: Integrated Postsecondary Education Data System (IPEDS) 2018-19, National Center for Education Statistics, http://nces.ed.gov/ipeds/
Spotlight on Computer Sciences Schools in Connecticut
Connecticut is home to a long list of computer science schools. However, the following IT degree programs in Connecticut are particularly noteworthy.
Connecticut College: The computer science degree program at Conn stands out from other computer science programs in Connecticut because it requires all students to spend two semesters on a research project related to computer science. Past projects have focused on music tempo tracking, learning systems for robots, the creation of avatars, and mobile app development for walking tours.
Central Connecticut State University: At CCSU, students enrolled in the bachelor's of science computer science honors program, accredited by the Computing Accreditation Commission, may also participate in the Cooperative Education program. This additional program allows students to receive college credit while working in a real-life, computer science environment.
Sacred Heart University: SHU offers a 5-year bachelor's-to-master's degree program for students interested in computer science, information technology, and cybersecurity. Students in this program can begin graduate-level courses once they've completed 120 undergraduate credits.
Fairfield University: Computer science students at Fairfield receive the opportunity to gain 20 months of real-world experience through a sophomore year service learning initiative, a junior year entrepreneurial experience, and senior capstone project.
IT Salaries and Career Outlook in Connecticut
According to the Connecticut Department of Labor, occupations such as computer and information systems managers, computer systems analysts, computer programmers, and computer user support specialists are growing quickly in the state.
| Career | Annual Median Wage |
| --- | --- |
| Information Security Analysts | $97,180 |
| Database Administrators and Architects | $106,030 |
| Computer Network Architects | $112,230 |
| Web Developers and Digital Interface Designers | $81,100 |
| Computer Programmers | $91,970 |
| Computer Network Support Specialists | $74,980 |
| Software Developers and Software Quality Assurance Analysts and Testers | $101,800 |
| Computer Systems Analysts | $94,430 |
| Network and Computer Systems Administrators | $91,890 |
2019 Occupational Employment Statistics and 2018-28 Employment Projections, Bureau of Labor Statistics, BLS.gov.
Hospitality provider, Starwood Resorts and Hotels Worldwide; manufacturer of industrial tools and household hardware, Stanley Black and Decker; logistics company, XPO Logistics; and cable, television, and phone provider Spectrum are all in Connecticut and are likely to need graduates from IT schools in Connecticut.
Computer Science or IT Scholarships for Connecticut Students
There are several Connecticut-specific scholarships that can make attending one of the IT schools in Connecticut more affordable. Some awards are not specific to a certain college, but others are. Here are a few examples:
Connecticut STEM Foundation Scholarship: This $1,000 award is for eligible high school seniors who are pursuing STEM degrees. It can be used towards freshmen year college expenses.
Project Lead the Way Scholarships: These awards, offered through the University of New Haven, are for freshman who meet certain eligibility requirements. For example, students must have been admitted to certain academic programs, such as computer science or information technology.
Computer Science, Mathematics, and Physics Scholarship Program of Central Connecticut: The National Science Foundation has chosen to fund this renewable scholarship program, which includes dollars as well as mentoring, participation in research projects, internships, and more. Qualified students must be enrolled at Central Connecticut State University, Manchester Community College, or Tunxis Community College.
Connecticut Professional Organizations and Resources
Students who attend computer science schools in Connecticut as well as IT professionals may find value in several professional organizations and resources such as:
Connecticut Technology Council: CTC is the only organization in the state that exclusively focuses on technology and companies in the technology sector. It provides leadership, guidance, and support to current and future IT professionals.
Greater Hartford Open Source Developers: This meetup group is for enthusiastic software developers as well as project and marketing managers who are working on open source projects. Members who have expertise in GIT, GraphQL, Bootstrap, or other applications are encouraged to host training sessions.
Connecticut STEM Foundation: This organization strives to engage pre-college Connecticut students from diverse backgrounds in various STEM activities, provide opportunities for them to interact with like-minded students, mentors and STEM professionals and support them and their teachers.
Article Sources
Article Sources
Sources
5-Year Bachelor to Master's Degree, Sacred Heart University, Accessed December 2018, https://www.sacredheart.edu/academics/schoolofcomputerscienceengineering/undergraduateprograms/5-yearbachelortomastersdegree/
2019 Best Tech Startups in Connecticut, The Tech Tribune, Accessed February 2019, http://thetechtribune.com/10-best-tech-startups-in-connecticut/
Computer Science, Fairfield University, Accessed December 2018, https://www.fairfield.edu/undergraduate/academics/schools-and-colleges/school-of-engineering/programs/bs-computer-science/
Computer Science B.S. Honors Program, Central Connecticut State University, Accessed December 2018, http://www.ccsu.edu/cs/ugCSHonors.html
Computer Systems Analysts, Connecticut Department of Labor, Accessed December 2018, http://www1.ctdol.state.ct.us/jcc/profile.asp?strMethod=keyword&sstrOccupationCode=151121
Connecticut Girls Collaborative Project, National Girls Collaborative, Accessed December 2018, https://ngcproject.org/collaborative/connecticut-girls-collaborative-project
Cyberstates 2018, CompTIA, https://www.cyberstates.org/pdf/CompTIA_Cyberstates_2018.pdf
Connecticut Technology Council, Accessed December 2018, https://www.ct.org/
Department of Computer Science, Connecticut College, Accessed December 2018, https://www.conncoll.edu/academics/majors-departments-programs/departments/computer-science/
Greater Hartford Open Source Developers, Meetup, Accessed December 2018, https://www.meetup.com/CT-OpenSource-Developers/
Labor Market Information, Connecticut Department of Labor, Accessed December 2018, http://www1.ctdol.state.ct.us/lmi/hotnot_results.asp
Largest Companies in Connecticut, Zippa, Accessed December 2018, https://www.zippia.com/advice/largest-companies-in-connecticut/
List of Startup Accelerators, Incubators, and Venture Capital Firms in Connecticut, USA, October 13, 2010, Ideagist, https://ideagist.com/list-of-startup-accelerators-and-incubators-in-connecticut-usa/
ScaleUp CT Encourages Tech Businesses, Innovation Hartford, Accessed December 2018, https://www.innovationhartford.com/tag/connecticut-technology-council/
Scholarship, Connecticut STEM Foundation, Accessed December 2018, http://ctstemfoundation.org/students/scholarship/
State's Per Capita Income Remains Highest in U.S., Hartford Courant, Accessed December 2018, https://www.courant.com/business/hc-per-capita-income-connecticut-20170328-story.html
STEM and Next Generation Science Standards, Connecticut Center for Advanced Technology, Accessed December 2018, https://www.ccat.us/education-workforce/educator-professional-development/stem-and-next-gen-science-standards/
Wallingford Embraces STEM Learning Initiative, My Record Journal, Accessed December 2018, http://www.myrecordjournal.com/News/Wallingford/Wallingford-News/Wallingford-Mayor-signs-proclamation-declaring-town-as-STEM-town-announces-initiative-to-help-stude.html
X
Methodology
To be included in the rankings, all colleges had to meet the following criteria:
Be an accredited U.S. institution
Offer either 2 or 4-year degree programs
Be active in the 2016-17 school year
Offer a degree in a technology-related subject
Have awarded at least one degree in that subject in 2015-16
Have reported data for all ranking variables listed below
Ranking variables:
Related subjects, based on the number of relevant programs that are offered at any level
Flexibility, based on number of relevant programs that are offered at any level via distance education
Average in-state undergraduate tuition
Percent of undergraduate students awarded federal, state, local, institutional or other sources of grant aid
Average amount of federal, state, local, institutional, or other sources of grant aid awarded to undergraduate students
Graduation rate
Retention rate
Methodology Sources:
Integrated Postsecondary Education Data System (IPEDS) 2016-17, National Center for Education Statistics, http://nces.ed.gov/ipeds/
X