According to a study by the Arizona Technology Council, technology employment growth in 2017 Arizona outpaced California and other states in the southwest. In 2017, more than 8,000 tech companies in Arizona supported over 168,000 jobs and paid more than $16 billion in wages. The Grand Canyon State has also seen new tech companies emerge, such as Vector Launch, a rocket maker and small-satellite launch company, and AccessibiliBuddy, which focuses on helping websites be more accessible to those with visual, hearing, or physical impairments.
This is all great news for adults pursuing computer science degree programs in Arizona. Once you graduate, you're likely to find plenty of interesting career opportunities.
Arizona's Technology Initiatives
Arizona is home to a number of initiatives that are intended to support and grow the IT sector and IT degree programs in the state. Let's take a closer look at several of them.
Boosting the tech economy: invisionAZ is designed to create an ideal capital, regulatory, and policy space for tech businesses in the state. It hosts an annual tech summit to explore new economic opportunities in Arizona's growing tech industry.
Spreading new tech knowledge to Arizonans: The Arizona Blockchain Initiative strives to educate state residents on blockchain technology and cybersecurity. It offers a variety of resources and workshops for communities across the state.
Strengthening computer science in K-12 schools: The Arizona Computer Science Initiative, the Governor's Partnership for K-12 Computer Science, and Code.org, are working together to develop new computer science standards and fund programs that can offer high-quality, rigorous training for new computer science teachers.
Promoting STEM outside of classrooms: The Arizona Science Center offers STEM programs to encourage students and teachers to engage in STEM-related activities after school. There are STEM after-school clubs as well as STEM club instructor training sessions.
Southern New Hampshire University
Some of the nation's most affordable tuition rates, from a private, nonprofit, NEASC accredited university
Qualified students with 2.5 GPA and up may receive up to $20K in grants & scholarships
Multiple term start dates throughout the year. 24/7 online classroom access
Offering over 200 online degree programs
Purdue University Global
Experience world-class education online with more than 175 programs at associate's, bachelor's, master's and doctoral levels.
Apply eligible work experience and prior college credits toward up to 75% of your undergraduate degree.
You have the option of trying out a Purdue Global undergraduate program for an introductory 3-week period. There's no cost beyond the application fee.
Competency-based ExcelTrack™ programs may allow you to earn your degree faster and for less money
Best Colleges for Computer Science and IT in Arizona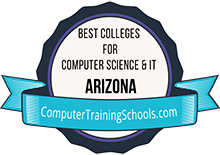 The success of Arizona's technology industry remains dependent on developing an educated workforce. Prospective students can choose from more than 40 public and private institutions earn a degree in computer science or information technology-related field. How do you know which school to pick? Here's a list of the best IT colleges in the state.
| Ranking | School Name | In State Avg. Undergrad Tuition | % Receiving Financial Aid | Retention Rate |
| --- | --- | --- | --- | --- |
| 1 | University of Phoenix-Arizona | $9,552 | 81% | 33% |
| 2 | Arizona State University-Tempe | $10,104 | 96% | 88% |
| 3 | South Mountain Community College | $2,040 | 90% | 60% |
| 4 | Estrella Mountain Community College | $2,040 | 75% | 72% |
| 5 | Cochise County Community College District | $2,040 | 73% | 63% |
| 6 | University of Arizona | $10,467 | 92% | 81% |
| 7 | Scottsdale Community College | $2,040 | 57% | 64% |
| 8 | Pima Community College | $1,980 | 70% | 59% |
| 9 | Paradise Valley Community College | $2,040 | 65% | 65% |
| 10 | Chandler-Gilbert Community College | $2,040 | 59% | 69% |
Source: Integrated Postsecondary Education Data System (IPEDS) 2018-19, National Center for Education Statistics, http://nces.ed.gov/ipeds/
Spotlight on Computer Sciences Schools in Arizona
Computer sciences schools in Arizona can help students prepare for fulfilling careers in IT. Here's a look at some schools with particularly interesting programs:
Arizona State University: Computer science students at ASU may participate in an accelerated 4+1 degree. This can allow them to combine undergraduate and graduate coursework so they can earn a bachelor's and master's degree in computer science within five years.
Northern Arizona University: A doctorate in informatics and computing with an emphasis in cyber and software systems, ecological and environmental informatics, or health and bioinformatics are available at NAU.
Grand Canyon University: GCU offers a bachelor's of science in computer science degree program with an emphasis in game and simulation development. This innovative program aims to prepare students for careers in game development, graphic visualization, and computer modeling.
Collin College: At Collin College, students may earn an associate degree in computer science and select from two tracks: C++ or Java. Although both of these tracks discuss the same fundamental theories, their languages differ.
IT Salaries and Career Outlook in Arizona
IT professionals such as network administrators, telecommunications support technicians, as well as desktop support staff are in high demand in Arizona, according to the Bureau of Labor Statistics. Bishop Fox, a cybersecurity company, Acronis, a global data protection provider, GoDaddy, an internet domain registrar, and Gainsight, a customer success provider may all be potential employers for these types of professionals in Arizona. Many of these companies are located in the Phoenix area.
| Career | Annual Median Wage |
| --- | --- |
| Information Security Analysts | $96,700 |
| Database Administrators and Architects | $98,780 |
| Computer Network Architects | $103,360 |
| Web Developers and Digital Interface Designers | $63,470 |
| Computer Programmers | $0 |
| Computer Network Support Specialists | $52,150 |
| Software Developers and Software Quality Assurance Analysts and Testers | $99,330 |
| Computer Systems Analysts | $89,290 |
| Network and Computer Systems Administrators | $79,800 |
2019 Occupational Employment Statistics and 2018-28 Employment Projections, Bureau of Labor Statistics, BLS.gov.
Computer Science Scholarships for Arizona Students
Going to college is an investment, and up-front costs can be intimidating. Scholarships and grants may be available to help qualified IT students reduce expenses. Here are some school-specific ones at two of the major Arizona universities.
University of Arizona's Computer Science Department: Several different program-specific scholarships may be available to qualified students. Students need to register on the school's website in order to see which ones are open to applicants during the current school year.
APS/ASU Scholarship: This renewable scholarship is available to state residents who plan to major in an information technology-related field such as computer and information sciences.
Students who want to attend one of Arizona's campus-based or online IT programs can also search the scholarship database on our partner site, Schools.com, for more general state-related scholarships.
Arizona Professional Organizations and Resources
There are several professional organizations and resources for IT professionals and students enrolled in IT degree programs in Arizona. Both working professionals and students may find the following valuable.
Arizona Technology Council: AZTC is on a mission to connect, empower, and engage tech companies across Arizona. It has offices in Phoenix and Tucson and offers networking events, lobbying, and educational seminars.
Arizona Technology in Education: AzTEA hosts "unconferences" and symposiums to help educators understand how to use technology in innovative ways to inspire and help students learn. It has active regions in West and East Phoenix as well as Northern and Southern Arizona.
Association for Computing Machinery: Northern Arizona University hosts Arizona's student chapter of the ACM, a educational and scientific computing society. Students meet weekly during the school year to share knowledge, experiences, and to learn about resources.
Article Sources
Article Sources
Sources
Arizona Adopts Computer Science Standards, Arizona Governor Doug Ducey Office of Education, Accessed December 2018, https://education.azgovernor.gov/edu/csforaz-computer-science-initiative
Arizona Blockchain Initiative, Accessed December 2018, https://azblockchain.org/
Arizona Forms invisionAZ Initiative to Boost Tech Economy, State Scoop, Accessed December 2018, https://statescoop.com/arizona-forms-invisionaz-initiative-to-boost-tech-economy/
Arizona Technology Council, Accessed December 2018, https://www.aztechcouncil.org/
Arizona Technology in Education Association, Accessed December 2018, http://aztea.org/
Association for Computing Machinery, Accessed December 2018, https://www.acm.org/
AZTC Industry Impact Report, Accessed January 2019, http://aztc.eimpactv2.report/reports/embed/5b1a9ee7397e2633006a2de9
Bachelor of Science in Computer Science with an Emphasis in Game and Simulation Development, Grand Canyon University, Accessed December 2018, https://www.gcu.edu/degree-programs/bachelor-science-computer-science-game-development
Code.org, Accessed December 2018, https://code.org/about
Computer Science, Arizona State University, Accessed December 2018, https://explore.engineering.asu.edu/computer-science/
Computer Science, Collin College, Accessed December 2018, http://www.collin.edu/academics/programs/FOS_CS_1Overview.html
Graduate Programs, Northern Arizona University, Accessed December 2018, https://nau.edu/school-of-informatics-computing-and-cyber-systems/graduate/
STEM Clubs, Arizona Science Center, Accessed December 2018, https://www.azscience.org/educators/outreach/stem-clubs/
Tech Firms, Employment Rising in Arizona, Tucson.com, Accessed December 2018, https://tucson.com/business/tech-firms-employment-rising-in-arizona/article_16c6121b-b1c7-5bb4-9778-69890dae4435.html
Tech Workers in High Demand in Metro Phoenix as Companies Expand, AZ Central, Accessed December 2018, https://www.azcentral.com/story/money/business/jobs/2017/12/21/tech-workers-high-demand-metro-phoenix-companies-expand/955476001/
X
Methodology
To be included in the rankings, all colleges had to meet the following criteria:
Be an accredited U.S. institution
Offer either 2 or 4-year degree programs
Be active in the 2016-17 school year
Offer a degree in a technology-related subject
Have awarded at least one degree in that subject in 2015-16
Have reported data for all ranking variables listed below
Ranking variables:
Related subjects, based on the number of relevant programs that are offered at any level
Flexibility, based on number of relevant programs that are offered at any level via distance education
Average in-state undergraduate tuition
Percent of undergraduate students awarded federal, state, local, institutional or other sources of grant aid
Average amount of federal, state, local, institutional, or other sources of grant aid awarded to undergraduate students
Graduation rate
Retention rate
Methodology Sources:
Integrated Postsecondary Education Data System (IPEDS) 2016-17, National Center for Education Statistics, http://nces.ed.gov/ipeds/
X