According to the Economic Development Partnership of Alabama, the state is an emerging hub for the IT industry, as companies can access talent — including graduates of Alabama IT schools — forge partnerships with higher education institutions, and can benefit from lower costs of living than in other states. Alabama's IT companies employ about 15,000 people and generate over $1 billion in annual revenue. In addition, the Bureau of Labor Statistics discovered that out of all 50 states, in 2018 Alabama had one of the highest concentrations of computer programming jobs and location quotients.
These can be exciting statistics for adults enrolled in computer science degree programs in Alabama. Upon graduation, they are likely to find meaningful employment in Alabama's competitive IT sector, in industries like finance and insurance, healthcare and defense, among others, which are located in the state's larger cities like Huntsville, Birmingham, Montgomery, and Tuscaloosa.
Alabama's Technology Education Initiatives
Alabama is home to a number of government and nonprofit education initiatives that are designed to promote and support the growth of IT sector as well as IT degree programs in Alabama. Here's a look at several of them:
State law to require the availability of computer science courses: In 2019 Alabama legislators enacted HB216, which requires that every middle and high school offer at least one computer science course. Alabama has now aligned its high school graduation requirements with higher education admission requirements so that computer science can count toward both.
Raising awareness of the importance of STEM education: Alabama STEM Education, Inc. is a nonprofit organization that hosts seminars, events, and educational forums to raise awareness of the importance of STEM education in the state. Its "Raise the Bar" program allows underserved, low-income high school students to participate in a 10-week basic engineering and computer programming training curriculum, which incorporates robotics.
Increasing the number of students graduating from STEM disciplines: STEM Forward by the University of Alabama strives to provide K-16 STEM education resources, remove barriers to equitable access to STEM opportunities, and encourage participation in STEM on and off campus. It works to increase the number of STEM graduates so that the local and national workforce needs can be met.
Introducing young people to STEM: Southern Research's STEM Education Outreach Center is designed to inspire creativity and innovation in students and educators. Through activities like field trips and summer learning programs like the Drone Academy, students can become exposed to STEM careers they may have never considered before. Teachers can enjoy professional development workshops and summer internships.
Southern New Hampshire University
Some of the nation's most affordable tuition rates, from a private, nonprofit, NEASC accredited university
Qualified students with 2.5 GPA and up may receive up to $20K in grants & scholarships
Multiple term start dates throughout the year. 24/7 online classroom access
Offering over 200 online degree programs
Purdue University Global
Experience world-class education online with more than 175 programs at associate's, bachelor's, master's and doctoral levels.
Apply eligible work experience and prior college credits toward up to 75% of your undergraduate degree.
You have the option of trying out a Purdue Global undergraduate program for an introductory 3-week period. There's no cost beyond the application fee.
Competency-based ExcelTrack™ programs may allow you to earn your degree faster and for less money
Best Computer Science and IT Colleges in Alabama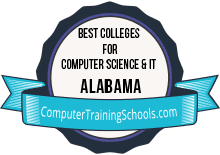 More than 40 higher education institutions in Alabama offer associate, bachelor's, or advanced degrees in computer science and information technology fields. Students seeking education programs to prepare for a new career in technology — or to grow in their current tech job — can find both campus-based and online computer science programs in Alabama. Based on our analysis of the data, here are the best colleges and universities in Alabama that offer tech-related degree programs.
Spotlight on Computer Sciences Schools in Alabama
Computer science schools can be found throughout Alabama. A few schools with noteworthy programs include:
University of Alabama at Birmingham: At the UAB, students may pursue a Bachelor of Science in Digital Forensics. This new degree is offered by the Department of Computer Science and the Department of Criminal Justice. It focuses on helping students understand the procedures and processes necessary to discover, recover, and present information that has been stored in all types of digital devices and used during illegal activities.
University of Alabama in Huntsville: UAH offers a Bachelor of Science in Computer Science with a concentration in Entertaining Computing. This unique degree involves courses such as Game Engines and Level Development, Artificial Intelligence for Games and Stimulation, and Mobile Computing Apps.
University of North Alabama and University of Alabama: Students at UNA and UA may earn bachelor's degrees in computer science as well as engineering in five years through the schools' Dual Degree Engineering program. Computer science students can pair their C.S. degree with mechanical engineering, aerospace engineering or computer engineering.
Tuskegee University: This institution, one of the Historically Black Colleges and Universities, offers a graduate-level opportunity through their master's program in information systems and security management. Students with a background in the law, social sciences, or business can tailor this M.S. program to their individual backgrounds.
IT Salaries and Career Outlook in Alabama
Many companies are in need of employees who have graduated from IT programs in Alabama. Graduates who are able to work as information security analysts, web developers and computer user support specialists are expected to be in high-demand in the coming years.
Companies such as Equifax, a data solutions company, Diamond Fortress Technologies, an up-and-coming biometrics security company, and Google, with offices in Huntsville and Douglas, are all likely to be hiring these types of IT professionals.
| Career | Annual Median Wage |
| --- | --- |
| Information Security Analysts | $84,250 |
| Database Administrators and Architects | $81,130 |
| Computer Network Architects | $103,650 |
| Web Developers and Digital Interface Designers | $59,950 |
| Computer Programmers | $85,040 |
| Computer Network Support Specialists | $57,920 |
| Software Developers and Software Quality Assurance Analysts and Testers | $97,100 |
| Computer Systems Analysts | $81,860 |
| Network and Computer Systems Administrators | $74,220 |
2019 Occupational Employment Statistics and 2018-28 Employment Projections, Bureau of Labor Statistics, BLS.gov.
Computer Science Scholarships for Alabama Students
Paying for a campus-based or one of the online IT programs may be intimidating, but many state- and program-specific scholarships exist to help eligible students defray costs. Be sure to check your target school to see what might be available. Here are some examples of tech-related scholarships specifically for students at IT schools in Alabama:
Alabama Professional Organizations and Resources
IT professionals and students enrolled in computer science programs in Alabama may benefit from the networking and learning activities held by the following professional organizations and resources:
Alabama Information Technology Association: AITA is dedicated to growing and supporting the information technology industry in Alabama and raising awareness of IT issues. Its members are developers, computer hardware and software consultants, venture capital firms, and telecommunications companies.
Alabama Technology in Motion: ATiM provides training and modeling for educators on integrating digital literacy and computer science into the curriculum via the Alabama Course of Study.
Association for Computing Machinery: ACM known as the world's largest scientific and educational computing society. The ACM chapter at the University of Alabama holds meetings with guest speakers and an annual programming contest.
Article Sources
Methodology
To be included in the rankings, all colleges had to meet the following criteria:
Be an accredited U.S. institution
Offer either 2 or 4-year degree programs
Be active in the 2016-17 school year
Offer a degree in a technology-related subject
Have awarded at least one degree in that subject in 2015-16
Have reported data for all ranking variables listed below
Ranking variables:
Related subjects, based on the number of relevant programs that are offered at any level
Flexibility, based on number of relevant programs that are offered at any level via distance education
Average in-state undergraduate tuition
Percent of undergraduate students awarded federal, state, local, institutional or other sources of grant aid
Average amount of federal, state, local, institutional, or other sources of grant aid awarded to undergraduate students
Graduation rate
Retention rate
Methodology Sources:
Integrated Postsecondary Education Data System (IPEDS) 2016-17, National Center for Education Statistics, http://nces.ed.gov/ipeds/
X
Article Sources
Sources
2019 State of Computer Science Education, retrieved from https://advocacy.code.org/
A New Undergraduate Degree at UAB: the B.S. in Digital Forensics, University of Alabama at Birmingham, Accessed September 2019, https://www.uab.edu/cas/computerscience/undergraduate-programs/bs-digital-forensics
Alabama Information Technology Association, Accessed September 2019, http://www.netcentric-tech.com/aita.htm
Alabama's Most In Demand Jobs Ranked, Alabama.com, Accessed February 2019, https://www.al.com/business/index.ssf/2017/06/alabama_high_demand_jobs.html
Alabama STEM Education, Accessed September 2019, www.alabamastemeducation.org
Alabama Technology in Motion, Accessed February 2019, http://www.atim.us/
Computer Science Degree Programs, University of Alabama in Huntsville, Accessed September 2019, https://www.uah.edu/science/departments/computer-science/undergraduate-students/degree-programs
Computer Programmers, Bureau of Labor Statistics, Accessed February 2019, https://www.bls.gov/oes/current/oes151131.htm#st
Dual Degree Engineering Program, University of North Alabama, Accessed September 2019, https://www.una.edu/math/engineering.html
Information Technology, Alabama Industries, Economic Development Partnership of Alabama, Accessed August 2020, https://edpa.org/industries/information-technology-2/
Information Technology, Made in Alabama, Accessed September 2019, http://www.madeinalabama.com/industries/industry/information-technology/
Master of Science in Information Systems & Security Management, Tuskegee University, Accessed September 2019, https://www.tuskegee.edu/programs-courses/colleges-schools/cbis/computer-science/graduate-program
Organizations, University of Alabama, Accessed September 2019, https://students.eng.ua.edu/organizations/
STEM, Southern Research, Accessed September 2019, https://southernresearch.org/stem
STEM Forward, University of Alabama, Accessed September 2019, https://stem.ua.edu/
X