West Virginia's economy continues to expand as the state works to diversify its employment sectors and create new opportunities and prosperity for its communities. One area of growth has been in the information technology sector: According to a report by the West Virginia Department of Commerce, computer-related jobs have shown significant growth in West Virginia over the past decade. CompTIA, one of the world's leading technology association also found that in 2018 West Virginia's growing tech sector contributed $2.5 billion to the state's economy.
The Mountain State has more than 31,000 tech workers and nearly 2,100 businesses in the tech space. Those stats, plus the projected 26 percent increase in emerging technology job postings, may further inspire adults — including mid-career changers — to enroll in computer science degree programs in West Virginia. Their education is likely to help them land meaningful employment in Charleston, Morgantown, Wheeling, and other cities throughout the state.
West Virginia's Technology Education Initiatives
West Virginia has implemented numerous initiatives to promote interest in STEM across the state, in part, as a way to help grow West Virginia's IT sector. Some programs are designed to spark interest in technology in younger students, while others aim to encourage adults to attend computer science schools. Let's take a look at a few of the programs in place.
Building an effective computer science educator community: West Virginia University has partnered with Code.org, West Virginia Forward, the state's department of education, and others to ensure that K-12 students across West Virginia receive the opportunity to learn computer science. They are accomplishing this by offering professional development to computer science teachers.
Encouraging middle and high school students: The West Virginia Technology Student Association aims to provide technology students with opportunities to develop leadership skills, meet and work with business leaders, and compete on local, state, and national levels.
Declaring a computer science education week: During a monthly West Virginia Board of Education meeting, the governor declared one week in December to be computer science education week. Throughout the week, students at West Virginia schools participated in an Hour of Code, a global movement that promotes computer science schools and careers in IT.
Developing new technologies throughout the state: West Virginia has two research facilities that are focused on developing new technologies that can change the way we live our lives. West Virginia Regional Technology Park is located in South Charleston and the I-79 Technology Park can be found just south of Fairmont.
Southern New Hampshire University
Some of the nation's most affordable tuition rates, from a private, nonprofit, NEASC accredited university
Qualified students with 2.5 GPA and up may receive up to $20K in grants & scholarships
Multiple term start dates throughout the year. 24/7 online classroom access
Offering over 200 online degree programs
Purdue University Global
Experience world-class education online with more than 175 programs at associate's, bachelor's, master's and doctoral levels.
Apply eligible work experience and prior college credits toward up to 75% of your undergraduate degree.
You have the option of trying out a Purdue Global undergraduate program for an introductory 3-week period. There's no cost beyond the application fee.
Competency-based ExcelTrack™ programs may allow you to earn your degree faster and for less money
Best Computer Science and IT Colleges in West Virginia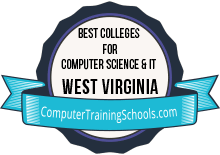 Almost three dozen West Virginia colleges, universities and technical schools offer certificate or degree program in computer science and related fields. Students can consider either attending a program on campus or enrolling in one of the school's online IT programs. Here are the institutions we think provide the best education opportunities for those planning careers in computer science and information technology.
| Ranking | School Name | In State Avg. Undergrad Tuition | % Receiving Financial Aid | Retention Rate |
| --- | --- | --- | --- | --- |
| 1 | American Public University System | $6,480 | 97% | 98% |
| 2 | West Virginia Junior College-Morgantown | $11,670 | 99% | 73% |
| 3 | West Virginia Junior College-Charleston | $11,250 | 100% | 53% |
| 4 | West Virginia University | $8,856 | 89% | 76% |
| 5 | Blue Ridge Community and Technical College | $408 | 90% | 64% |
| 6 | West Virginia Northern Community College | $3,312 | 92% | 48% |
| 7 | West Virginia Wesleyan College | $30,462 | 100% | 70% |
| 8 | Bethany College | $28,107 | 100% | 67% |
| 9 | Shepherd University | $5,584 | 94% | 69% |
| 10 | Southern West Virginia Community and Technical College | $3,672 | 95% | 49% |
Source: Integrated Postsecondary Education Data System (IPEDS) 2018-19, National Center for Education Statistics, http://nces.ed.gov/ipeds/
Spotlight on Computer Science Schools in West Virginia
Computer science degree programs can be found throughout West Virginia — at the associate, bachelor's and graduate levels. Here are a few schools with especially notable offerings:
Salem University: One of Salem's several tech programs is their online or hybrid program that culminates in an Associate of Science in Computer Science. This degree may be ideal for students interested in entry-level computer science positions or as a precursor to a bachelor's degree program in computer science.
Bethany College: This private liberal arts college, located in the foothills of the Allegheny Mountains, offers a dual bachelor's degree program in computer science and accounting — an option that can give students a strong foundation in both business and technology.
Marshall University: The master's in computer science program at Marshall includes electives like machine learning, AI principles and methods, digital image processing, and computing for bioinformatics. Students have opportunities to participate in internship programs in West Virginia or outside the state.
West Virginia University: Computer science students at WVU may enroll in dual degree bachelor's programs — in biometric systems engineering, computer engineering, or electrical engineering. They also have access to Linux, Windows, and cybersecurity laboratories. WVU
IT Salaries and Career Outlook in West Virginia
The U.S. Bureau of Labor Statistics projects a significant need in the coming years for software developers, information security analysts and computer network support specialists in West Virginia.
A wide variety of companies in the state are likely to be in search of these types of qualified professionals — those who have earned degrees from one of the IT schools in West Virginia. For example, West Virginia University Medicine requires IT professionals to help maintain patient records, manage software and hardware, and monitor data security. In addition, Mylan Pharmaceuticals in Morgantown, may be looking to hire IT professionals who can maintain a strong computer network.
2019 Occupational Employment Statistics and 2018-28 Employment Projections, Bureau of Labor Statistics, BLS.gov.
Computer Science Scholarships for West Virginia Students
Computer science degree programs in West Virginia can be more affordable when students apply for and earn scholarships. Here are examples of state- and program-specific scholarships that can help students fund their computer science degrees.
West Virginia Engineering, Science and Technology Scholarship: The purpose of this scholarship is to encourage academically talented individuals to pursue STEM careers in West Virginia. Awards are based on academic qualifications and interest in STEM. Recipients must agree to work full-time in a STEM field in West Virginia for each year they receive this award.
West Virginia State University's Scholarship Portal: Two scholarships specifically for computer science students are the BrickStreet Scholars program and the BB&T Scholarship. WVSU students can also search the school's scholarship portal to explore other options that might be available to them.
Students may also want to explore the scholarship database on our sister site, Schools.com, to see a wide range of award opportunities that are state specific, but not program specific.
West Virginia Professional Organizations and Resources
Students enrolled in IT degree programs in West Virginia as well as working technology professionals may find the following organizations to be valuable resources for staying on top of industry developments.
CompTIA Pro: This national organization for IT professionals, educators, and students has a Greater Wheeling Chapter. meets monthly and offers various educational and networking opportunities.
West Virginia Academy of Science: Since its inception in 1924, WVAS has held meetings and educational programs for science professionals across West Virginia. The organization also publishes peer-reviewed research and reviews.
Article Sources
Article Sources
Sources
About Us, CodeWV, accessed September 2019, https://codewv.wvu.edu/about-us
CompTIA Pro, Accessed September 2019, https://www.aitp.org/chapters/
Computer Science, Bethany College, Accessed September 2019, https://www.bethanywv.edu/academics/areas-of-study/computer-science/#1518539548791-323888d5-509d
Computer Science, Salem University, Accessed September 2019, https://www.salemu.edu/degrees/associate-computer-science/
Computer Science, West Virginia University, Accessed September 2019, https://admissions.wvu.edu/academics/majors/computer-science
M.S. in Computer Science, Marshall University, Accessed September 2019, https://www.marshall.edu/cite/computer-science-program/mscs/
New Report Details Employment and Economic Impact of West Virginia Tech Industry, CompTIA, Accessed September 2019, https://www.comptia.org/about-us/newsroom/press-releases/2019/03/26/new-report-details-employment-and-economic-impact-of-west-virginia-tech-industry
Proceedings of the West Virginia Academy of Science, Accessed January 2019, http://pwvas.org/index.php/pwvas/pages/view/WVAS
West Virginia Forward, Strategy for Economic Development and Job Growth, West Virginia Department of Commerce, Accessed September 2019, https://commerce.wv.gov/assets/files/wv-forward/West-Virginia-Forward-Summary-of-Findings.pdf
West Virginia Engineering, Science and Technology Scholarship Program, College Foundation of West Virginia, Accessed September 2019, https://secure.cfwv.com/Financial_Aid_Planning/Scholarships/Scholarships_and_Grants/WV_Engineering_Science_and_Tech_Scholarship_Program.aspx
West Virginia Officials Highlight STEM Education in Honor of Computer Science Education Week, West Virginia Department of Education, Accessed January 2019, https://wvde.us/west-virginia-officials-highlight-stem-education-in-honor-of-computer-science-education-week/
West Virginia TSA, Accessed September 2019, https://www.wvtsaweb.org
West Virginia's Two Technology Parks Paving the Way to the Future, Charleston Gazette-Mail, Accessed September 2019, https://www.wvgazettemail.com/dailymailwv/daily_mail_features/west-virginia-s-two-technology-parks-paving-the-way-to/article_88ebff25-a0a0-5a37-8e17-3f77c33c3a5d.html
X
Methodology
To be included in the rankings, all colleges had to meet the following criteria:
Be an accredited U.S. institution
Offer either 2 or 4-year degree programs
Be active in the 2016-17 school year
Offer a degree in a technology-related subject
Have awarded at least one degree in that subject in 2015-16
Have reported data for all ranking variables listed below
Ranking variables:
Related subjects, based on the number of relevant programs that are offered at any level
Flexibility, based on number of relevant programs that are offered at any level via distance education
Average in-state undergraduate tuition
Percent of undergraduate students awarded federal, state, local, institutional or other sources of grant aid
Average amount of federal, state, local, institutional, or other sources of grant aid awarded to undergraduate students
Graduation rate
Retention rate
Methodology Sources:
Integrated Postsecondary Education Data System (IPEDS) 2016-17, National Center for Education Statistics, http://nces.ed.gov/ipeds/
X