According to CompTIA, a leading technology industry association, employment in Washington's technology industry grew by more than 7,000 jobs in 2017 and contributed more than $68 billion to the state's economy. Washington also ranks 6th among all 50 states and the District of Columbia in tech job growth.
These statistics can be motivating to adults who are considering computer science programs in Washington. After graduation, you might find employment options through one of the well-known tech giants such as Amazon and Oracle, or at one of the tech startups throughout the state.
Washington's Technology Education Initiatives
Government and business leaders in the Evergreen State have created several initiatives designed to support and promote the state's IT sector. Here's a brief overview of them:
Funding for a major computer science program: Microsoft co-founder, Paul Allen donated $40 million in 2017 to the University of Washington's computer science program. This money is to be used for scholarships or fellowships to recruit outstanding students, participate in early stage research, and attract top faculty.
Providing high-quality after-school and summer STEM programs: School's Out Washington offers a variety of programs for secondary school students to help them gain hands-on knowledge and experience in STEM-related fields. The program aims to inspire students to pursue STEM-related careers in Washington.
Supplying nonprofits with the latest technologies: Microsoft's TechSpark program has partnered with the Community Foundation of North Central Washington to provide local nonprofits with technology tools that can help help them keep their data secure and improve efficiencies as they work toward their missions.
Promoting computer science: The Washington STEM organization collaborates with schools, policymakers, and community organizations to expand access to the opportunities that computer science can provide. They successfully advocated for Washington to count Advanced Placement Computer Science as a math or science credit towards graduation.
Southern New Hampshire University
Some of the nation's most affordable tuition rates, from a private, nonprofit, NEASC accredited university
Qualified students with 2.5 GPA and up may receive up to $20K in grants & scholarships
Multiple term start dates throughout the year. 24/7 online classroom access
Offering over 200 online degree programs
Purdue University Global
Experience world-class education online with more than 175 programs at associate's, bachelor's, master's and doctoral levels.
Apply eligible work experience and prior college credits toward up to 75% of your undergraduate degree.
You have the option of trying out a Purdue Global undergraduate program for an introductory 3-week period. There's no cost beyond the application fee.
Competency-based ExcelTrack™ programs may allow you to earn your degree faster and for less money
Best Computer Science and IT Colleges in Washington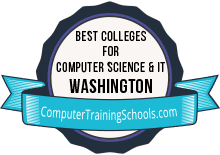 Whether a prospective student is interested in an IT program at a public research university like the University of Washington; a state college like Central Washington University; a community college like Big Bend Community College or Highline College; or a private college like Gonzaga University or Seattle Pacific University; there are many degree options available for those who want to pursue IT careers.
| Ranking | School Name | In State Avg. Undergrad Tuition | % Receiving Financial Aid | Retention Rate |
| --- | --- | --- | --- | --- |
| 1 | University of Washington-Seattle Campus | $10,127 | 61% | 94% |
| 2 | Central Washington University | $6,170 | 90% | 69% |
| 3 | Seattle University | $43,785 | 97% | 85% |
| 4 | Edmonds Community College | $3,782 | 62% | Unknown |
| 5 | Gonzaga University | $42,370 | 100% | 94% |
| 6 | South Puget Sound Community College | $3,958 | 53% | 59% |
| 7 | Seattle Pacific University | $42,480 | 99% | 80% |
| 8 | Bates Technical College | $4,257 | 59% | 62% |
| 9 | Washington State University | $9,720 | 90% | 79% |
| 10 | Big Bend Community College | $3,936 | 73% | 56% |
Source: Integrated Postsecondary Education Data System (IPEDS) 2018-19, National Center for Education Statistics, http://nces.ed.gov/ipeds/
Spotlight on Computer Sciences Schools in Washington
There are a number of computer science programs in Washington. Let's dive deeper into a few schools that offer particularly notable degrees.
Washington State University: Students enrolled in the computer science bachelor's degree program at WSU may specialize in artificial intelligence, security, human computer interaction, networks, or distributed systems. In addition, they can gain valuable hands-on experience through research projects, the senior design capstone courses, and student organizations.
Central Washington University: CWU is the first school in Washington to offer a computer science teaching endorsement. Students may earn a STEM degree and teaching certification simultaneously — something that may provide flexibility for potential career paths.
City University of Seattle: A master of science in computer science degree program can be completed entirely online at CityU. This program focuses on the theoretical and business knowledge necessary for IT professionals to take their careers to the next levels.
Eastern Washington University: At EWU, students may earn a bachelor's degree in computer science and focus on 3D animation. The program is designed to help students gain valuable knowledge about visual perception, lighting, and shape so they can create video games, movies, or other types of media.
IT Salaries and Career Outlook in Washington
According to the Washington State Employment Security Department, jobs for computer and information research scientists, computer programmers, software developers, web developers, and computer user support specialists are all growing in demand.
The largest employers in Washington of these types of professionals include Microsoft in Redmond, T-Mobile in Bellevue, Amazon in Seattle, Expedia in Bellevue, and Comcast NBCUniversal in Lynnwood.
| Career | Annual Median Wage |
| --- | --- |
| Information Security Analysts | $107,330 |
| Database Administrators and Architects | $113,280 |
| Computer Network Architects | $112,560 |
| Web Developers and Digital Interface Designers | $142,560 |
| Computer Programmers | $132,420 |
| Computer Network Support Specialists | $80,350 |
| Software Developers and Software Quality Assurance Analysts and Testers | $135,470 |
| Computer Systems Analysts | $97,590 |
| Network and Computer Systems Administrators | $90,790 |
2019 Occupational Employment Statistics and 2018-28 Employment Projections, Bureau of Labor Statistics, BLS.gov.
Computer Science Scholarships for Washington Students
Scholarships may be available to qualified students as a way to make IT degree programs in Washington more affordable. Here are a few examples.
Professional Organizations and Resources in Washington
Washington is home to numerous organizations and resources for professionals in the IT sector as well as students enrolled in campus-based or online computer science degree programs in Washington. Several of them include:
Article Sources
Article Sources
Sources
2019 ACPE Scholarships, ACPE Northwest, Accessed December 2018, http://www.acpenw.org/scholarships
Computer Science, Central Washington University, Accessed December 2018, https://www.cwu.edu/computer-science/
Computer Science, Eastern Washington University, Accessed December 2018, https://www2.ewu.edu/cstem/departments/computer-science/cs-degrees-learning-outcomes-statistics/bcs
Data Management Professionals in the Northwest, Accessed December 2018, https://dama-ps.org/
Largest Tech Employers in Washington State, Accessed December 2018, https://www.bizjournals.com/seattle/subscriber-only/2018/03/02/largest-tech-employers-in-washington.html
Learn About an Occupation, Washington State Employment Security Department, Accessed December 2018, https://esd.wa.gov/labormarketinfo/learn-about-an-occupation#/search
Master of Science in Computer Science, City University of Seattle, Accessed December 2018, https://www.cityu.edu/programs-overview/master-science-computer-science/
Microsoft TechSpark Technology Initiative, Community Foundation of North Central Washington, Accessed December 2018, https://cfncw.org/techspark/
Paul Allen gives $40 Million to UW Computer Science, Seattle Times, Accessed December 2018, https://www.seattletimes.com/seattle-news/education/paul-allen-gives-40-million-to-uw-computer-science-regents-name-school-after-billionaire/
STEM and Career Connected Learning, School's Out Washington, Accessed December 2018, https://www.schoolsoutwashington.org/pages/stem-learning
STEM Shapes the World Around Us, Washington STEM, Accessed December 2018, https://www.washingtonstem.org/focus_area/strengthening-k12-STEM/
Undergraduate Computer Science, Washington State University, Accessed December 2018, https://school.eecs.wsu.edu/academics/undergraduate-program/computer-science/
University of Washington, Advice From Students, Accessed December 2018, https://www.cs.washington.edu/academics/ugrad/resources/student-advice
Washington STEM Education Alliance, Washington State Opportunity Scholarship, Accessed December 2018, https://stem.wa.gov/annual-report-card/wsos/
Washington Technology Industry Added 7,100 Jobs in 2017, Boosted Contribution to State's Economy, CompTIA, Accessed December 2018, https://www.comptia.org/about-us/newsroom/press-releases/2018/03/27/washington-technology-industry-added-7-100-jobs-in-2017-boosted-contribution-to-state-s-economy
Washington Technology Industry Association, Accessed December 2018, https://www.washingtontechnology.org/
X
Methodology
To be included in the rankings, all colleges had to meet the following criteria:
Be an accredited U.S. institution
Offer either 2 or 4-year degree programs
Be active in the 2016-17 school year
Offer a degree in a technology-related subject
Have awarded at least one degree in that subject in 2015-16
Have reported data for all ranking variables listed below
Ranking variables:
Related subjects, based on the number of relevant programs that are offered at any level
Flexibility, based on number of relevant programs that are offered at any level via distance education
Average in-state undergraduate tuition
Percent of undergraduate students awarded federal, state, local, institutional or other sources of grant aid
Average amount of federal, state, local, institutional, or other sources of grant aid awarded to undergraduate students
Graduation rate
Retention rate
Methodology Sources:
Integrated Postsecondary Education Data System (IPEDS) 2016-17, National Center for Education Statistics, http://nces.ed.gov/ipeds/
X