Virginia added more than 6,400 new tech jobs in 2018, according to CompTIA's Cyberstates 2019 report. And it's currently sixth in the nation for overall tech employment, with more than 436,000 tech workers. In fact, almost 11 percent of the workforce in the Commonwealth of Virginia is employed in the tech industry.
These statistics indicate a positive outlook for those interested in starting a career in the industry — or in taking an existing tech career to the next level. High school graduates, adult learners, career changers and stay-at-home parents in Virginia who are interested in a computer science or IT career can find plenty of different education programs — from associate and bachelor's degrees to advanced degrees.
Virginia's Technology Education Initiatives
Virginia's tech industry is huge and the state's government, business, education and community leaders work together to support its health and growth. Here are a few examples of activities in place.
Establishing a unified statewide vision for STEM education: In July 2019, Governor Ralph Northam signed an executive order that created the Virginia Science, Technology, Engineering, and Math Education Commission. The commission is to make recommendations by July 2020 regarding ways to better prepare the state's students for 21st-century jobs.
Boosting access to computer science education: Computer science, part of state's K-12 Standards of Learning, is now required to be offered at all high schools. Computer science can also be used to meet core graduation requirements.
Accelerating workforce development and technology: Virginia Tech's planned Innovation Campus represents a $1 billion investment in the future. Its goal is to bring together graduate students in fields like computer science and software engineering with industry partners in order to nurture tech talent and research.
Driving innovation and growth in the tech industry: The Commonwealth Research Commercialization Fund, administered by the state's Center for Innovative Technology, provides grants to nonprofit research organizations, higher education, federal labs and businesses in the private sector as a way to boost Virginia's role in technological education and development.
Learning opportunities for students and professionals: Several of Virginia's tech membership organizations host events like the Capital Cybersecurity Summit and Autonomous Technology Summit. Professionals and students can take advantage of these opportunities to hear from industry leaders about the latest developments in these tech fields.
Southern New Hampshire University
Some of the nation's most affordable tuition rates, from a private, nonprofit, NEASC accredited university
Qualified students with 2.5 GPA and up may receive up to $20K in grants & scholarships
Multiple term start dates throughout the year. 24/7 online classroom access
Offering over 200 online degree programs
Purdue University Global
Experience world-class education online with more than 175 programs at associate's, bachelor's, master's and doctoral levels.
Apply eligible work experience and prior college credits toward up to 75% of your undergraduate degree.
You have the option of trying out a Purdue Global undergraduate program for an introductory 3-week period. There's no cost beyond the application fee.
Competency-based ExcelTrack™ programs may allow you to earn your degree faster and for less money
Best Computer Science and IT Colleges in Virginia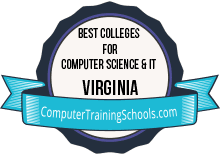 The large number of IT degree programs in Virginia can provide students with many undergraduate and graduate options and different areas of concentration. Online IT programs help to provide even more choices to students in Virginia. Here are the Virginia college and universities we think provide the best education opportunities to computer science and tech students, based on an analysis of data from the U.S. Department of Education.
| Ranking | School Name | In State Avg. Undergrad Tuition | % Receiving Financial Aid | Retention Rate |
| --- | --- | --- | --- | --- |
| 1 | George Mason University | $9,060 | 76% | 87% |
| 2 | University of Virginia-Main Campus | $14,509 | 59% | 97% |
| 3 | College of William and Mary | $15,864 | 57% | 95% |
| 4 | Marymount University | $30,990 | 98% | 72% |
| 5 | Virginia Military Institute | $9,284 | 94% | 89% |
| 6 | Liberty University | $15,837 | 97% | 82% |
| 7 | Washington and Lee University | $51,420 | 64% | 96% |
| 8 | Hampton University | $23,762 | 95% | 74% |
| 9 | Radford University | $7,922 | 86% | 71% |
| 10 | Christopher Newport University | $9,032 | 74% | 87% |
Source: Integrated Postsecondary Education Data System (IPEDS) 2018-19, National Center for Education Statistics, http://nces.ed.gov/ipeds/
Spotlight on Computer Sciences Schools in Virginia
There are a plethora of schools — more than 70 — that offer technology or computer science degree programs in Virginia. Here's a quick overview of some interesting options students can consider.
North Virginia Community College: At this multi-campus school, students can earn an associate of science degree in computer science or information technology. Both are designed to prepare students for transfer to a bachelor's program at a four-year institution. NOVA has transfer and articulation agreements in place with more than 40 schools.
Old Dominion University Online: A Bachelor's of Science in Computer Science can be completed entirely online at ODU. Students there can transfer in as many as 90 credits, but must complete at least 30 of them at ODU to qualify for a degree from the school.
George Mason University: Students interested in earning a B.S. and M.S. in computational and data sciences can pursue Mason's accelerated program. This dual option, designed to be completed within five years, allows students to take graduate courses during their final bachelor's year.
Virginia Tech Online: If you are looking for graduate online IT programs in Virginia, the master's degree in information technology available through Virginia Tech could be a fit. This fully online program offers 11 areas of study from big data to software engineering and cybersecurity.
University of Virginia, Charlottesville: Computer science programs available through UVA's School of Engineering and Applied Science include a bachelor's of art, bachelor's of science, master's and Ph.D. In 2018 the school was chosen to lead the building of a new Center for Research in Intelligent Storage and Processing in Memory, or CRISP, that would facilitate advancements in data storage and processing.
IT Salaries and Career Outlook in Virginia
What type of IT careers are showing growth in the state of Virginia? Occupations for computer hardware engineers, computer network architects and computer and information systems managers are all projected to increase in demand, according to the Bureau of Labor Statistics. Of course, graduates of computer science degree programs in Virginia may find many other occupations in the field to pursue, too.
One area where graduates of online computer science programs in Virginia can look for career leads is the Dulles Tech Corridor. Located in the state's Fairfax and Loundon counties, and near the federal government, the Corridor hosts big-name companies such as Cisco Systems, Dell, IBM, Lockheed Martin, Network Solutions and Oracle.
| Career | Annual Median Wage |
| --- | --- |
| Information Security Analysts | $111,560 |
| Database Administrators and Architects | $100,810 |
| Computer Network Architects | $126,930 |
| Web Developers and Digital Interface Designers | $78,700 |
| Computer Programmers | $95,650 |
| Computer Network Support Specialists | $68,940 |
| Software Developers and Software Quality Assurance Analysts and Testers | $110,550 |
| Computer Systems Analysts | $102,050 |
| Network and Computer Systems Administrators | $88,060 |
2019 Occupational Employment Statistics and 2018-28 Employment Projections, Bureau of Labor Statistics, BLS.gov.
Computer Science Scholarships for Virginia Students
Scholarships are just one way that students considering campus-based or online IT degree programs in Virginia may be able to make them more affordable. Scholarship requirements vary from program to program and the reward amount also can differ. Here are a few tech- and state-specific scholarships that may interest students in Virginia:
Glenn Fox Memorial Mathematics and Computer Science Scholarship: Students who meet the eligibility requirements can apply for this award, offered by the Virginia Mathematical Association of Two Year Colleges. Preference may be given to those who plan to seek teaching careers in computer science or math.
Virginia Tech's Department of Computer Science: Several awards are available specifically to computer science students who meet eligibility requirements. Qualified undergrads can apply for the CGI Computer Science Scholarship, the Anne and George Gorsline Memorial Scholarship, and the Griffith-Strader Christian Scholarship, among others.
George Mason University's Volgenau School of Engineering: Computer science and information technology majors at George Mason can find at least a half dozen awards specifically intended for those majors, while others are available to a broader range of students within the School of Engineering, including computer science and information technology students.
Virginia Professional Organizations and Resources
Becoming a member of an IT association in Virginia can be a great way to network, learn about new advancements in the field and discover up-and-coming career opportunities. A list of some of the professional IT organizations available in Virginia are provided below:
Article Sources
Article Sources
Sources
Computer Science Bachelor's Degree Program, Franklin University, Accessed December 2018, https://www.franklin.edu/transferring-credit/transfer-bachelors-credit
Computer Science, Case Western Reserve University, Accessed December 2018, https://engineering.case.edu/eecs/academics/undergraduate-program/computer_science
Computer Science Scholarship, University of Akron, Accessed December 2018, https://www.uakron.edu/computer-science/scholarships/index.dot
Cost of Living Data Series, Third Quarter 2018, Missouri Economic Research and Information Center, Accessed December 2018, https://www.missourieconomy.org/indicators/cost_of_living/
"It's On in Ohio," Jobs Ohio, Accessed December 2018, https://jobsohio.com/site/assets/files/2000/ohio_it_mini_brochure_2017.pdf
Long Term Occupational Professions, Projections Central, Accessed December 2018, http://www.projectionscentral.com/Projections/LongTerm
Majors, Department of Computer Science and Engineering, Ohio State University, Accessed December 2018, https://cse.osu.edu/current-students/undergraduate/majors
M.S. in Computer Science, Franklin University, Accessed December 2018, https://www.franklin.edu/degrees/masters/computer-science
Online Undergraduate Programs, Kent State University, Accessed December 2018, https://onlinedegrees.kent.edu/programs-courses/online-undergraduate-programs/
Search Scholarships Database, Schools.com, Accessed December 2018, https://www.schools.com/scholarships-database
Transfer credits toward a bachelor's degree, Franklin University, Accessed December 2018, https://www.franklin.edu/transferring-credit/transfer-bachelors-credit
"20 places you can get a great tech job outside of Silicon Valley," Business Insider, Kristen Bahler, July 14, 2018, https://www.businessinsider.com/20-places-you-can-get-a-great-tech-job-outside-of-silicon-valley-2018-3
X
Methodology
To be included in the rankings, all colleges had to meet the following criteria:
Be an accredited U.S. institution
Offer either 2 or 4-year degree programs
Be active in the 2016-17 school year
Offer a degree in a technology-related subject
Have awarded at least one degree in that subject in 2015-16
Have reported data for all ranking variables listed below
Ranking variables:
Related subjects, based on the number of relevant programs that are offered at any level
Flexibility, based on number of relevant programs that are offered at any level via distance education
Average in-state undergraduate tuition
Percent of undergraduate students awarded federal, state, local, institutional or other sources of grant aid
Average amount of federal, state, local, institutional, or other sources of grant aid awarded to undergraduate students
Graduation rate
Retention rate
Methodology Sources:
Integrated Postsecondary Education Data System (IPEDS) 2016-17, National Center for Education Statistics, http://nces.ed.gov/ipeds/
X