Between 2008 and 2017, tech industry employment in Vermont increased by more than 3,400. And the state expects to add a similar number of tech jobs between 2017 and 2026. Overall, more than 37,000-plus tech workers call Vermont "home," according to a report published in January 2019 by Vermont's Department of Labor.
The report also noted that Vermont's tech employees earn significantly more in annual wages than employees who work in other industries in the Green Mountain state.
All of this is positive news for students pursuing IT degree programs in Vermont. After graduation, they are likely to find opportunities to start or continue employment in their fields of study and at competitive wages.
Vermont's Technology Education Initiatives
The state is home to a number of government and community initiatives that strive to support technology education in Vermont. By fostering tech knowledge in K-12 students, more high school grads may be interested in enrolling in computer science degree programs in Vermont. A few of these initiatives include:
Allowing computer science to count toward graduation: The state passed a policy that now allows a computer science course to count as a high school graduation requirement as long as the school district approves it.
Providing STEM education opportunities: STEM Challenge Initiative, Inc. provides affordable and meaningful STEM education opportunities to students of all ages in various counties throughout Vermont. These include summer school classes and after school programs.
Fostering a collaborative STEM network: The Vermont STEM Collaborative's main mission is to bring together teachers, administrators, businesses, and state government representatives to advance STEM literacy and career opportunities for students in Vermont.
Southern New Hampshire University
Some of the nation's most affordable tuition rates, from a private, nonprofit, NEASC accredited university
Qualified students with 2.5 GPA and up may receive up to $20K in grants & scholarships
Multiple term start dates throughout the year. 24/7 online classroom access
Offering over 200 online degree programs
Purdue University Global
Experience world-class education online with more than 175 programs at associate's, bachelor's, master's and doctoral levels.
Apply eligible work experience and prior college credits toward up to 75% of your undergraduate degree.
You have the option of trying out a Purdue Global undergraduate program for an introductory 3-week period. There's no cost beyond the application fee.
Competency-based ExcelTrack™ programs may allow you to earn your degree faster and for less money
Best Colleges for Computer Science and IT in Vermont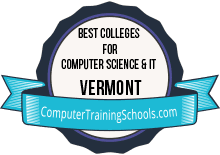 An educated workforce can help grow the technology sector in Vermont. If you are interested in pursuing computer science and online IT programs in the state, you have a number of school options from which to choose. Here is a list of the best computer science schools in Vermont.
| Ranking | School Name | In State Avg. Undergrad Tuition | % Receiving Financial Aid | Retention Rate |
| --- | --- | --- | --- | --- |
| 1 | Champlain College | $40,910 | 100% | 77% |
| 2 | University of Vermont | $15,936 | 97% | 87% |
| 3 | Saint Michael's College | $45,050 | 100% | 84% |
| 4 | Middlebury College | $54,032 | 48% | 96% |
| 5 | Norwich University | $37,834 | 100% | 79% |
| 6 | Bennington College | $53,160 | 95% | 73% |
| 7 | Vermont Technical College | $13,896 | 95% | 77% |
| 8 | Landmark College | $56,800 | 100% | 47% |
| 9 | Community College of Vermont | $6,970 | 72% | 53% |
Source: Integrated Postsecondary Education Data System (IPEDS) 2018-19, National Center for Education Statistics, http://nces.ed.gov/ipeds/
Spotlight on Computer Sciences Schools in Vermont
These schools offer IT degree programs in Vermont that are particularly interesting.
University of Vermont: At UVM, students can earn a Bachelor of Science in Computer Science and Information Systems. This degree pairs a traditional computer science curriculum with business courses. Several examples of these business courses include accounting, marketing management, and managerial finance.
Champlain College: Champlain's computer science and innovation program covers ongoing technological developments in addition to core computer science courses. The innovation aspect of this program helps keep students be aware of current trends and teaches them how to adapt to ever-evolving technologies and languages.
Vermont Technical College: Vermont Tech's bachelor of science program in computer software engineering focuses on the entire software development cycle. Toward the end of their studies, students are expected to design, develop, and evaluate a software system and present its results.
Landmark College: Students can pursue an associate or bachelor's degree in computer science at Landmark, which serves students who learn differently, such as those with dyslexia or ADHD. Landmark's A.S. in computer science curriculum was modeled after the Association for Computing Machinery and the International Game Developers Association guidelines. Their computer science bachelor's program culminates in a capstone experience where students can work in teams on applied or theory projects.
IT Salaries and Career Outlook in Vermont
Systems software developers, computer systems analysts, and computer network support specialists are several of the occupations that are projected to grow in the state, according to the Vermont Department of Labor.
IBM's facility in Junction, Jay Peak Resort, which is one of the largest employers in the state, and the University of Vermont's Medical Center often hire these types of professionals to help them operate and grow.
| Career | Annual Median Wage |
| --- | --- |
| Information Security Analysts | $82,020 |
| Database Administrators and Architects | $65,090 |
| Computer Network Architects | $92,290 |
| Web Developers and Digital Interface Designers | $48,890 |
| Computer Programmers | $81,360 |
| Computer Network Support Specialists | $49,850 |
| Software Developers and Software Quality Assurance Analysts and Testers | $100,630 |
| Computer Systems Analysts | $75,330 |
| Network and Computer Systems Administrators | $71,960 |
2019 Occupational Employment Statistics and 2018-28 Employment Projections, Bureau of Labor Statistics, BLS.gov.
Computer Science Scholarships for Vermont Students
The following subject-scholarship opportunities are available to students pursuing computer science programs in Vermont. Other award options can be explored using the scholarship database on our partner site, Schools.com.
S-STEM Scholarships: Offered through Saint Michael's College, these awards — funded by a grant from the National Science Foundation — are designed for students pursuing degrees in fields of study such as computer science, mathematics, data science, and biology.
Jimi Grant Scholarship: This endowed memorial scholarship, awarded through Vermont Tech, was created to help disadvantaged first-year students. In order to be eligible, students must be pursuing an associate or bachelor's degree in computer science, renewable energy, or civil engineering.
Access to Innovative Education in Science, Technology, Engineering, and Mathematics Scholarship Program: This award is for full-time students at Landmark College who are pursuing a computer science degree.
Vermont Professional Organizations and Resources
Computer science and information technology students may benefit from participating in industry-related organizations as a way to meet other people who are interested in — or who already work in — the tech sector. Here are a few options for Vermonters.
Vermont Technology Alliance: VyTA focuses on supporting, promoting, and growing technology businesses and jobs in Vermont. It offers various networking opportunities as well as career resources.
Vermont Technology Council: VTC aims to serve as a catalyst for the creation Vermont businesses in the science and technology sectors. Its internship program may be beneficial to students enrolled in IT programs in Vermont.
Women in Technology at Champlain College: Female students and minorities who are interested in technology careers may benefit from joining Champlain's Women in Technology group. The organization, which meets weekly, also offers professional development and social events.
Article Sources
Article Sources
Sources
2016-2026 Long Term Occupational Projections, Vermont Department of Labor, Accessed December 2019, http://www.vtlmi.info/projlt.pdf
2019 State of Computer Science Education, CODE Advocacy Coalition, Accessed September 2019, https://advocacy.code.org/2019_state_of_cs.pdf
A.S. in Computer Science, Landmark College, Accessed December 2019, https://www.landmark.edu/academics/degrees/associate-degrees/a.s.-in-computer-science
Access to Innovative Education in Science, Technology, Engineering, and Mathematics (AIE-STEM) Scholarship Program, Landmark College, Accessed December 2019, https://www.landmark.edu/admissions/tuition-and-financial-aid/grants-scholarships/aie-stem-scholarship-program
Bachelor of Science in Computer Science, Landmark College, Accessed December 2019, https://www.landmark.edu/academics/degrees/bachelors-degrees/b.s.-in-computer-science
Computer Science and Information Systems, University of Vermont, Accessed December 2019, https://www.uvm.edu/cems/cs/computer_science_and_information_systems_bs
Computer Science and Innovation, Champlain College, Accessed December 2019, https://www.champlain.edu/technology-degrees/computer-science-and-innovation
Computer Software Engineering, Vermont Technical College, Accessed December 2019, https://www.vtc.edu/academics/program/computer-software-engineering-bs
S-STEM Scholarships, Saint Michael's College, Accessed December 2019, https://www.smcvt.edu/pages/nsf-grant.aspx
Jimi Grant Scholarship, Vermont Tech College, Accessed December 2019, https://www.vtc.edu/scholarship/jimi-grant-scholarship
STEM Challenge Initiative, Accessed December 2019, https://scivt.org
Technology in Vermont, Vermont Department of Labor, Accessed September 2019, http://www.vtlmi.info/vttechstudy2018.pdf
Vermont STEM Collaborative, Science Education Resource Center at Carleton College, Accessed September 2019, https://serc.carleton.edu/StemEdCenters/profiles/137936.html
Vermont Technology Alliance, Accessed December 2019, https://www.vermonttechnologyalliance.org/
Vermont Technology Council, Accessed December 2019, http://vttechcouncil.org/
Women in Technology, Champlain College, Accessed December 2019, https://www.champlain.edu/student-life/campus-life/activities-and-clubs/student-organizations/women-in-technology
X
Methodology
To be included in the rankings, all colleges had to meet the following criteria:
Be an accredited U.S. institution
Offer either 2 or 4-year degree programs
Be active in the 2016-17 school year
Offer a degree in a technology-related subject
Have awarded at least one degree in that subject in 2015-16
Have reported data for all ranking variables listed below
Ranking variables:
Related subjects, based on the number of relevant programs that are offered at any level
Flexibility, based on number of relevant programs that are offered at any level via distance education
Average in-state undergraduate tuition
Percent of undergraduate students awarded federal, state, local, institutional or other sources of grant aid
Average amount of federal, state, local, institutional, or other sources of grant aid awarded to undergraduate students
Graduation rate
Retention rate
Methodology Sources:
Integrated Postsecondary Education Data System (IPEDS) 2016-17, National Center for Education Statistics, http://nces.ed.gov/ipeds/
X