Utah has firmly established itself as an attractive location for technology companies — established and start-ups alike. According to the Economic Development Corporation of Utah, the state has more than 8,500 individuals employed in IT and more than 7,000 tech-focused businesses that call the state "home." The state's information technology sector is also primed for growth. Adults who decide to pursue computer science degree programs in Utah are likely to find a variety of job options in their field following graduation.
While the stable and talented workforce plays a vital role in the growth of Utah's technology sector, the business-friendly environment paired with the low cost of living may make Utah a particularly attractive place for aspiring technology professionals.
Utah's Technology Education Initiatives
Utah has implemented a number of initiatives to grow interest in STEM-related education, including the IT and computer science fields. Let's dive deeper into what they are.
Developing STEM education: The Utah STEM Action Center aims to implement education best practices throughout the state by coordinating STEM-related activities and aligning public STEM education with higher-education STEM programs.
Providing hands-on experiences to students: Attendees of Utah's fall STEM Fest can enjoy interactive booths featuring industry and higher education exhibitors. These hands-on, engaging activities promote both the STEM field and the benefits of STEM careers.
Evaluating current education efforts: In late 2018, Boeing announced a $75,000 grant to launch the "Utah STEM Collective Impact" study conducted by Utah STEM Foundation's STEM Action Center. This study is designed to measure the impact of the state's education efforts in the areas of science, technology, engineering, and math.
Exposing students to STEM careers: Junior Achievement of Utah has implemented the Utah STEM and Career initiative in response to future workforce needs in the state. It hosts career fairs and in-class programs to help students understand the various STEM careers and encourage them to attend IT programs in Utah.
Southern New Hampshire University
Some of the nation's most affordable tuition rates, from a private, nonprofit, NEASC accredited university
Qualified students with 2.5 GPA and up may receive up to $20K in grants & scholarships
Multiple term start dates throughout the year. 24/7 online classroom access
Offering over 200 online degree programs
Purdue University Global
Experience world-class education online with more than 175 programs at associate's, bachelor's, master's and doctoral levels.
Apply eligible work experience and prior college credits toward up to 75% of your undergraduate degree.
You have the option of trying out a Purdue Global undergraduate program for an introductory 3-week period. There's no cost beyond the application fee.
Competency-based ExcelTrack™ programs may allow you to earn your degree faster and for less money
Best Computer Science and IT Colleges in Utah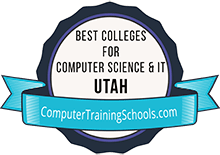 Although it's a relatively small state, Utah is home to several nationally recognized universities and colleges, including Brigham Young University and the University of Utah. The universities are known for graduating skilled and prepared students, which is one reason why tech companies are moving into the state.
| Ranking | School Name | In State Avg. Undergrad Tuition | % Receiving Financial Aid | Retention Rate |
| --- | --- | --- | --- | --- |
| 1 | Utah Valley University | $5,036 | 75% | 64% |
| 2 | Brigham Young University-Provo | $5,620 | 69% | 88% |
| 3 | Western Governors University | $6,380 | % | Unknown |
| 4 | University of Utah | $7,997 | 85% | 89% |
| 5 | Snow College | $3,326 | 89% | 64% |
| 6 | Weber State University | $4,892 | 89% | 65% |
| 7 | LDS Business College | $3,440 | 70% | 51% |
| 8 | Southern Utah University | $6,006 | 93% | 73% |
| 9 | Westminster College | $33,480 | 99% | 82% |
| 10 | Salt Lake Community College | $3,369 | 65% | 60% |
Source: Integrated Postsecondary Education Data System (IPEDS) 2018-19, National Center for Education Statistics, http://nces.ed.gov/ipeds/
Spotlight on Computer Science Schools in Utah
While there are a plethora of computer sciences schools in Utah, the ones with the most unique programs include:
University of Utah: Their School of Computing provides students with the opportunity to earn a bachelor's degree and master's degree in 5 years. Students can select from master's programs such as Masters of Computing Science, Masters of Computing with a specialization in Computer Engineering, and Masters of Computing with a specialization in Robotics.
Neumont College: This institution solely focuses on a variety of computer science-related degree programs, including some that specialize in game development, software development, or information systems. Certificate and associate-level programs are available online. Neumont strives to educate students in analytical, creative and coding skills.
Westminster College: Since Westminster is one of the smaller computer science schools in Utah, students can benefit from one-on-one mentoring with their professors. The schools offers majors in computer science and computer information systems, as well as a minor in the growing field of data science.
IT Salaries and Career Outlook in Utah
According to the Bureau of Labor Statistics, the fastest-growing occupations in Utah's IT sector include software developers, web developers, computer systems analysts, and computer and information systems managers.
A number of well-known companies throughout Utah employ these types of professionals, such as Boomsourcing, which helps companies scale by outsourcing professional services; Podium, a software solutions provider; Ancestry.com, which operates historical record and genetic genealogy websites; and Vivint, a smart home services provider.
| Career | Annual Median Wage |
| --- | --- |
| Information Security Analysts | $83,500 |
| Database Administrators and Architects | $92,670 |
| Computer Network Architects | $106,590 |
| Web Developers and Digital Interface Designers | $66,560 |
| Computer Programmers | $80,340 |
| Computer Network Support Specialists | $53,370 |
| Software Developers and Software Quality Assurance Analysts and Testers | $99,020 |
| Computer Systems Analysts | $74,840 |
| Network and Computer Systems Administrators | $77,840 |
2019 Occupational Employment Statistics and 2018-28 Employment Projections, Bureau of Labor Statistics, BLS.gov.
Utah IT and Computer Science-Related Scholarships
Students who wish to attend computer science degree programs in Utah may find program-specific scholarships at Utah colleges as well as state-specific ones. Here's a close look at two these scholarships:
Utah Energy Workforce Scholarship: The Utah Energy Workforce Scholarship is granted by the Governor's Office of Energy Development and Chevron to high school seniors who intend to pursue a STEM major at public or private higher learning institutions in Utah.
Northrop Grumman Engineering Scholars Program: While "engineering" is part of this scholarship's name, the award is also available to eligible students who wish to pursue computer science majors in Utah.
Professional Organizations and Resources in Utah
Working IT professionals in Utah as well as students who are enrolled in online computer science programs may find value in the following professional organizations:
Utah Technology Council: UTC members can play a role in expanding the talent pipeline for high-tech positions, ensuring a tech-friendly Utah, and fostering innovation with Utah's technology companies. This organization hosts executive forums for senior IT professionals as well as breakfasts and lunches to allow members to network and discuss crucial IT-related issues.
Women Tech Council:

The Utah chapter of WTC strives to provide mentoring and leadership to women in technology while supporting local businesses with top talent.

CompTIA Association of Information Technology Professionals: Utah CompTIA AITP, based in Salt Lake City, helps technology professionals grow through hands-on educational sessions and networking opportunities.
Article Sources
Article Sources
Sources
Boeing Grants Utah STEM Foundation $75K to Launch 'Utah STEM Collective Impact' Study, Utah Governor's Office of Economic Development, Accessed December 2018, https://business.utah.gov/news/boeing-grants-utah-stem-foundation-75k-to-launch-utah-stem-collective-impact-study/
BS/MS Program, University of Utah School of Computing, Accessed December 2018, http://www.cs.utah.edu/bsms/
Computer Science, Westminster College, Accessed December 2018, https://www.westminstercollege.edu/undergraduate/programs/computer-science
How Utah's Tech Industry is Churning Out Job Opportunities, KSL, Accessed December 2018, https://www.ksl.com/article/46388771/how-utahs-tech-industry-is-churning-out-job-opportunities
Neumont College, Accessed December 2018, https://www.neumont.edu/
Silicon Slopes, Leading the Nation in Information Technology Growth, EDCUtah, Accessed December 2018, https://edcutah.org/news/2017/10/20/silicon-slopes-leading-nation-information-technology-growth
STEM Utah, Accessed December 2018, https://stem.utah.gov/
STEM and Career Initiative, Junior Achievement of Utah, Accessed December 2018, http://ja-utah.org/programs/stemandcareer/
Top 10 Fastest Growing Occupations in Utah, KSL, Accessed December 2018, https://www.ksl.com/?sid=44114551&nid=1268
Utah CompTIA, Accessed December 2018, https://www.aitp.org/chapters/utah/
Utah Energy Workforce Scholarship Program, The Utah Energy and Minerals Education Initiative, Accessed December 2018, https://utahenergyed.org/scholarships/
Utah STEM Fest, Accessed December 2018, http://utahstemfest.com/
Utah Technology Council, Accessed December 2018, http://utahtech.org/
Women Tech Council, Accessed December 2018, http://www.womentechcouncil.com/
X
Methodology
To be included in the rankings, all colleges had to meet the following criteria:
Be an accredited U.S. institution
Offer either 2 or 4-year degree programs
Be active in the 2016-17 school year
Offer a degree in a technology-related subject
Have awarded at least one degree in that subject in 2015-16
Have reported data for all ranking variables listed below
Ranking variables:
Related subjects, based on the number of relevant programs that are offered at any level
Flexibility, based on number of relevant programs that are offered at any level via distance education
Average in-state undergraduate tuition
Percent of undergraduate students awarded federal, state, local, institutional or other sources of grant aid
Average amount of federal, state, local, institutional, or other sources of grant aid awarded to undergraduate students
Graduation rate
Retention rate
Methodology Sources:
Integrated Postsecondary Education Data System (IPEDS) 2016-17, National Center for Education Statistics, http://nces.ed.gov/ipeds/
X