A report by Middle Tennessee State University and the Nashville Technology Council shows that in the coming years, Middle Tennessee's technology sector is likely to add jobs nearly twice as quickly as any other sector in the region. In addition, research by CompTIA, a leading technology association, discovered that employment in the overall Tennessee tech sector expanded by more than 2,500 jobs in 2017 and contributed $14.3 billion to the economy in the state.
With these types of statistics, it's no surprise that adults are realizing that computer science degree programs in Tennessee — at the associate, bachelor's, or master's level — may be well worth the investment of time and money.
Tennessee's Technology Education Initiatives
Tennessee has developed numerous initiatives to support and grow the IT sector and IT degree programs in Tennessee. Several of these initiatives include:
Increasing student interest in STEM: The Tennessee STEM Innovation Network is on a mission to promote STEM to all students in Tennessee. It is dedicated to educating students on how society can benefit from STEM professionals.
Improving student training in computer information technology: AT&T donated $81,000 in 2018 to the Tennessee Colleges of Applied Technology in order to enhance student training programs in computer information technology. Each of these 26 college can expect to receive at least $3,000 to purchase new wireless network setups for teaching computer information technology.
Mentoring new tech employees: ApprentI Tennessee is the first technology-focused apprenticeship program in Tennessee. It aims to provide mentoring support for new employees in technology positions throughout their first year of employment. Although Apprenti Tennessee actively recruits women, minorities, and veterans to help diversify the tech industry, everyone qualifies and is encouraged to apply.
Supporting computer programming in classrooms: The Nashville Technology Council partners with Davidson, Rutherford, and Williamson County schools to implement the Hour of Code. During the Hour of Code, teachers spend one hour on coding activities in their classrooms. This initiative strives to promote computer science programs in Tennessee.
Southern New Hampshire University
Some of the nation's most affordable tuition rates, from a private, nonprofit, NEASC accredited university
Qualified students with 2.5 GPA and up may receive up to $20K in grants & scholarships
Multiple term start dates throughout the year. 24/7 online classroom access
Offering over 200 online degree programs
Purdue University Global
Experience world-class education online with more than 175 programs at associate's, bachelor's, master's and doctoral levels.
Apply eligible work experience and prior college credits toward up to 75% of your undergraduate degree.
You have the option of trying out a Purdue Global undergraduate program for an introductory 3-week period. There's no cost beyond the application fee.
Competency-based ExcelTrack™ programs may allow you to earn your degree faster and for less money
Best Computer Science and IT Colleges in Tennessee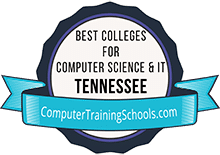 Prospective computer science students may want to explore the range of degree programs at major public research universities and smaller, private Tennessee IT colleges to see which one might be best suited to prepare them for a tech career. Here are our picks Tennessee's best colleges for the tech field.
| Ranking | School Name | In State Avg. Undergrad Tuition | % Receiving Financial Aid | Retention Rate |
| --- | --- | --- | --- | --- |
| 1 | Vanderbilt University | $48,600 | 72% | 97% |
| 2 | University of Memphis | $7,680 | 98% | 76% |
| 3 | The University of Tennessee-Knoxville | $11,110 | 94% | 87% |
| 4 | Middle Tennessee State University | $7,032 | 95% | 76% |
| 5 | Austin Peay State University | $6,576 | 99% | 67% |
| 6 | Trevecca Nazarene University | $24,698 | 100% | 77% |
| 7 | Rhodes College | $47,580 | 96% | 90% |
| 8 | Union University | $31,550 | 100% | 88% |
| 9 | The University of the South | $42,706 | 92% | 89% |
| 10 | Southern Adventist University | $21,100 | 99% | 76% |
Source: Integrated Postsecondary Education Data System (IPEDS) 2018-19, National Center for Education Statistics, http://nces.ed.gov/ipeds/
Spotlight on Computer Sciences Schools in Tennessee
Computer science schools can be found throughout East, Middle, and West Tennessee. The schools with the most notable programs include:
Tennessee Tech University: Tennessee Tech offers a fast-track program to allow students pursuing a computer science bachelor's degree to accumulate up to six credit hours of graduate coursework and seamlessly transition into the computer science graduate program.
The University of Tennessee at Martin: Computer science students at UT Martin may participate in the school's regional chapter of the Association of Computing Machinery. Through ACM, students can attend and present at academic conferences, compete at programming competitions, and view technical presentations.
Lipscomb University: At this private, faith-based institution, students may enroll in a bachelor's degree program in game development. This unique program involves courses such as competition programming, game development, and artificial intelligence.
Western Governors University Tennessee: The bachelor's degree program in computer science at WGU Tennessee incorporates several IT certifications including CIW Site Development Associate, CompTIA Project+, Oracle Database SQL, and Axelos ITIL Foundation.
IT Salaries and Career Outlook in Tennessee
Occupations such as computer systems analysts, information security analysts, and software developers are projected to grow in demand in Tennessee.
| Career | Annual Median Wage |
| --- | --- |
| Information Security Analysts | $79,100 |
| Database Administrators and Architects | $78,590 |
| Computer Network Architects | $95,880 |
| Web Developers and Digital Interface Designers | $58,870 |
| Computer Programmers | $84,070 |
| Computer Network Support Specialists | $55,010 |
| Software Developers and Software Quality Assurance Analysts and Testers | $90,910 |
| Computer Systems Analysts | $76,060 |
| Network and Computer Systems Administrators | $74,760 |
2019 Occupational Employment Statistics and 2018-28 Employment Projections, Bureau of Labor Statistics, BLS.gov.
A number of large companies are likely to be hiring for these types of professionals in the state. Examples of these companies include Envision Healthcare, an American healthcare company and hospital physician group, TransCore, a tolling and ITS solutions provider, Gibson, a manufacturer of guitars and other musical instruments, and HouseLens, a marketing company for agents and brokers.
Computer Science Scholarships for Tennessee Students
If you're worried about how to pay for your campus-based or online IT program, be sure to see what scholarships or grants may be available to you. Here are some specific to technology or computer science in Tennessee.
Tennessee Professional Organizations and Resources
There are numerous professional organizations and resources for IT professionals and students pursuing IT degree programs in Tennessee. Let's take a closer look at several of them.
Article Sources
Article Sources
Sources
Association for Computing Machinery, Accessed December 2018, https://www.acm.org/
AT&T donates $81,000 to Tennessee Colleges of Applied Technology, Tennessee College of Applied Technology Crossville, Accessed December 2018, https://tcatcrossville.edu/news/att-donates-81000-tennessee-colleges-applied-technology-2018-08
Bachelor of Science Computer Science, Western Governors University Tennessee, Accessed December 2018, https://tennessee.wgu.edu/online-it-degrees/computer-science
Computer Science Program, The University of Tennessee Martin, Accessed December 2018, https://www.utm.edu/departments/compsci/program.php
Game Development Major, Lipscomb University, Accessed December 2018, https://www.lipscomb.edu/technology/gamedev
Graduate Program, Tennessee Tech University, Accessed December 2018, https://www.tntech.edu/engineering/departments/csc/academics/graduate-program/
Hour of Code, Nashville Technology Council, Accessed December 2018, https://technologycouncil.com/hour-of-code/
Nashville Technology Council, Accessed December 2018, https://technologycouncil.com/
NTC Foundation, Nashville Technology Council, Accessed December 2018, https://technologycouncil.com/about-us/foundation/
Partners, Learning Blade, Accessed December 2018, http://learningblade.com/partners
Tech Growth to Keep Outpacing Local Economy, Nashville Post, Accessed December 2018, https://www.nashvillepost.com/business/technology/article/21025594/tech-growth-to-keep-outpacing-local-economy
Technical Society of Knoxville, Accessed December 2018, http://www.technicalsociety.net/
Tennessee Educational Technology Association, Accessed December 2018, https://www.teta.org
Tennessee's Hottest Jobs, Tennessee Ledger, Accessed December 2018, http://www.tnledger.com/editorial/ArticleEmail.aspx?id=109858&print=1
Tennessee Technology Industry Added More Than 2,500 Jobs in 2017, Boosted Contribution to State's Economy, CompTIA, Accessed December 2018, https://www.comptia.org/about-us/newsroom/press-releases/2018/03/27/tennessee-technology-industry-added-more-than-2-500-jobs-in-2017-boosted-contribution-to-state-s-economy
X
Methodology
To be included in the rankings, all colleges had to meet the following criteria:
Be an accredited U.S. institution
Offer either 2 or 4-year degree programs
Be active in the 2016-17 school year
Offer a degree in a technology-related subject
Have awarded at least one degree in that subject in 2015-16
Have reported data for all ranking variables listed below
Ranking variables:
Related subjects, based on the number of relevant programs that are offered at any level
Flexibility, based on number of relevant programs that are offered at any level via distance education
Average in-state undergraduate tuition
Percent of undergraduate students awarded federal, state, local, institutional or other sources of grant aid
Average amount of federal, state, local, institutional, or other sources of grant aid awarded to undergraduate students
Graduation rate
Retention rate
Methodology Sources:
Integrated Postsecondary Education Data System (IPEDS) 2016-17, National Center for Education Statistics, http://nces.ed.gov/ipeds/
X