In recent years, Ohio has seen an influx of big data companies, digital start-ups and IT infrastructure development. With low costs of living for housing, utilities and groceries, the state offers graduates of computer science schools in Ohio a significant bang for their buck.
In fact, Ohio's cost of living is significantly lower than California and many other states in the nation, making it an affordable place to seek an education and to look for a job as well. And, of course, there are a variety of IT degree programs in Ohio from which to choose. This includes bachelor's and graduate-level programs in addition to campus-based and online options. Students may even be able to pursue a specialization in one of the state's IT and computer science degree programs, allowing them to find a unique fit for their interests.
Ohio's Technology Initiatives
Exactly how is the IT industry performing in Ohio? According to a report from "Jobs Ohio," a private nonprofit geared toward job and economic development in the state, Ohio has become a hub for big-name businesses that include Amazon Web Services, Kroger, Teradata, IBM and Alliance Data. Additionally, the state is graduating about 5,000 IT students a year, sending them into a tech sector that employs about 270,000 people.
Digital start-ups are finding a home in the state, too. According to Jobs Ohio, the state helps to promote entrepreneurship through:
15 angel funds
15 venture capital funds
More than 25 business accelerators and incubators
The Jobs Ohio organization even supports business development by offering loan and grant programs, such as the Growth Fund Loan, Economic Development Grant and Workforce Grant. Cincinnati, Ohio, could be one of many places in the state that graduates of online computer science programs or online IT programs look for a job. In fact, the city made Business Insider's list of the top 20 places in the nation to find a job outside of Silicon Valley. According to Business Insider's list, the top tech jobs in Cincinnati are:
Project manager
Software engineer
Lead applications developer
Business Insider further estimates that in 2017 the median pay for early-career IT professionals in the state was $55,500 while the median home price in the state was $137,500 — a positive characteristic for up-and-coming graduates of IT schools in Ohio.
Southern New Hampshire University
Some of the nation's most affordable tuition rates, from a private, nonprofit, NEASC accredited university
Qualified students with 2.5 GPA and up may receive up to $20K in grants & scholarships
Multiple term start dates throughout the year. 24/7 online classroom access
Offering over 200 online degree programs
Purdue University Global
Experience world-class education online with more than 175 programs at associate's, bachelor's, master's and doctoral levels.
Apply eligible work experience and prior college credits toward up to 75% of your undergraduate degree.
You have the option of trying out a Purdue Global undergraduate program for an introductory 3-week period. There's no cost beyond the application fee.
Competency-based ExcelTrack™ programs may allow you to earn your degree faster and for less money
Best Computer Science and IT Colleges in Ohio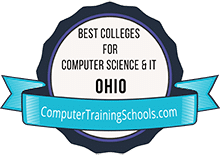 Both campus-based and online IT schools in Ohio provide options for students to learn about the computer science field. Moreover, Ohio students can choose between bachelor of arts and bachelor of science degree programs as well as undergraduate and graduate-level programs. To find the best tech school in Ohio for you, start with this data-based ranking.
| Ranking | School Name | In State Avg. Undergrad Tuition | % Receiving Financial Aid | Retention Rate |
| --- | --- | --- | --- | --- |
| 1 | University of Cincinnati-Main Campus | $9,322 | 83% | 86% |
| 2 | Youngstown State University | $8,373 | 98% | 76% |
| 3 | University of Akron Main Campus | $8,618 | 95% | 72% |
| 4 | University of Toledo | $8,173 | 95% | 76% |
| 5 | Ohio University-Main Campus | $12,192 | 94% | 81% |
| 6 | Sinclair Community College | $3,409 | 81% | 56% |
| 7 | Case Western Reserve University | $48,604 | 86% | 95% |
| 8 | Edison State Community College | $3,910 | 77% | 57% |
| 9 | University of Dayton | $42,900 | 98% | 91% |
| 10 | Baldwin Wallace University | $32,586 | 100% | 82% |
Source: Integrated Postsecondary Education Data System (IPEDS) 2018-19, National Center for Education Statistics, http://nces.ed.gov/ipeds/
Spotlight on Computer Sciences Schools in Ohio
Here's a closer look at a few of the available computer science programs in Ohio:
Kent State Online: At this school, students can choose to complete an online associate of applied business degree in computer technology or an online bachelor of science degree in information technology. Concentrations are available in each degree program and enable students to seek certification in specific fields, such as computer forensics or information security.
Franklin University, Columbia: Students interested in an online computer science education can opt for either a bachelor's of science or a master's of science degree in computer science. Students can transfer in up to 94 college credits from other institutions for the bachelor's degree program and also take some on-campus classes, if desired.
Case Western Reserve University, Cleveland: Making CWRU unique is that students can choose between a bachelor's of arts or a bachelor's of science degree in computer science. Offered through the school's Department of Engineering, the B.A. degree program focuses more on liberal arts and computing while the B.S. degree has stronger foundations in math and computer science.
Ohio State University, Columbus: IT-focused students can find several program choices at OSU's Columbus location. Options include pursuing a bachelor of science degree in computer science and engineering; a bachelor of science degree in computer and information science; or a bachelor of arts degree in computer and information science. Students also can utilize the career services department to seek internship experiences.
IT Salaries and Career Outlook in Ohio
Ohio may be a place that attracts "Top talent without the Silicon Valley price" — at least according to a paper by Jobs Ohio that also reports that 450,000 new jobs (of all types) were created in Ohio since 2010. This paper also shows that Ohio is home to more than 25 higher education schools offering programs in cybersecurity and 30 schools that offer programs in data analytics. Of course, students of IT degree programs in Ohio can study many different fields, ranging from networking to information research, information systems and computer engineering.
| Career | Annual Median Wage |
| --- | --- |
| Information Security Analysts | $92,740 |
| Database Administrators and Architects | $89,260 |
| Computer Network Architects | $100,530 |
| Web Developers and Digital Interface Designers | $68,780 |
| Computer Programmers | $77,010 |
| Computer Network Support Specialists | $58,780 |
| Software Developers and Software Quality Assurance Analysts and Testers | $92,110 |
| Computer Systems Analysts | $84,690 |
| Network and Computer Systems Administrators | $78,430 |
2019 Occupational Employment Statistics and 2018-28 Employment Projections, Bureau of Labor Statistics, BLS.gov.
Computer Science Scholarships for Ohio Students
A scholarship may help to offset some of the financial challenges of an education by helping with the cost of books, tuition or college-related fees. Some of the computer sciences schools in Ohio that you are considering may even have relevant scholarships listed on their web pages or departmental URLs. A few examples of scholarships for IT students in Ohio are provided below:
Ohio Professional Organizations and Resources
One way for you to expand your network of professional connections is to join an IT or computer science association in Ohio. You may even find a local chapter of an organization within your community. Some Ohio IT associations in computer science or IT include:
Professional Organizations
Additional Resources
Article Sources
Article Sources
Sources
2019 State of Computer Science Education, https://advocacy.code.org/
About, Innovation Campus, Virginia Tech, Accessed September 2019, https://vt.edu/innovationcampus/about.html
About, Southwest Virginia Technology Council, Accessed September 2019, https://www.swvtc.net/about
CIT/CREF, Southwest Virginia Technology Council, Accessed September 2019, https://www.swvtc.net/cit-funding-resources-2019
Computational and Data Sciences, George Mason University, Accessed September 2019, https://catalog.gmu.edu/colleges-schools/science/computational-data-sciences/computational-data-sciences-bs/computational-data-sciences-bs.pdf
Computer Science Academics, University of Virginia, Accessed September 2019, https://engineering.virginia.edu/departments/computer-science/academic-overview
Computer Science Online, Old Dominion University Online, Accessed September 2019, https://online.odu.edu/programs/bachelor-in-computer-science
Degrees and Certificate Programs, North Virginia Community College, Accessed September 2019, http://eli.nvcc.edu/degrees.htm
Dulles Tech Corridor, Accessed September 2019, https://homeinloudoun.com/dulles-tech-corridor/
Governor Northam Signs Executive Order Establishing Virginia STEM Education Commission, July 17, 2019, Virginia Governor Ralph S. Northam, https://www.governor.virginia.gov/newsroom/all-releases/2019/july/headline-841681-en.html
Information Technology: Associations, Greater Richmond Partnership, September 2019, https://www.grpva.com/key-industries/information-technology/information-technology-associations/
Information Technology, Virginia Tech Online, Accessed September 2019, https://vtonline.vt.edu/MastersDegrees/Information-Technology.html
NVTC Events, Northern Virginia Technology Council, Accessed September 2019, https://www.nvtc.org/events/
Scholarship Opportunities, Virginia Tech, Accessed September 2019, https://vt.academicworks.com/opportunities
Technology Employment Expands its Presence in the Virginia Workforce, Cyberstates 2019, CompTIA, https://www.comptia.org/about-us/newsroom/press-releases/2019/03/26/technology-employment-expands-its-presence-in-the-virginia-workforce
The New Billion-Dollar Reason Why Northern Virginia Will Be the Next Tech Startup Hot Spot, Inc.com, Accessed September 2019, https://www.inc.com/emily-canal/virginia-tech-innovation-campus-amazon-hq2-northern-virginia.html
UVA Engineering Tapped to Lead $27.5 Million Center to Reinvent Computing, Elizabeth Thiel Mather, University of Virginia, Accessed September 2019, https://engineering.virginia.edu/news/2018/01/uva-engineering-tapped-lead-275-million-center-reinvent-computing
X
Methodology
To be included in the rankings, all colleges had to meet the following criteria:
Be an accredited U.S. institution
Offer either 2 or 4-year degree programs
Be active in the 2016-17 school year
Offer a degree in a technology-related subject
Have awarded at least one degree in that subject in 2015-16
Have reported data for all ranking variables listed below
Ranking variables:
Related subjects, based on the number of relevant programs that are offered at any level
Flexibility, based on number of relevant programs that are offered at any level via distance education
Average in-state undergraduate tuition
Percent of undergraduate students awarded federal, state, local, institutional or other sources of grant aid
Average amount of federal, state, local, institutional, or other sources of grant aid awarded to undergraduate students
Graduation rate
Retention rate
Methodology Sources:
Integrated Postsecondary Education Data System (IPEDS) 2016-17, National Center for Education Statistics, http://nces.ed.gov/ipeds/
X