The Economic Development Partnership of North Carolina reported in 2019 that the state has the third-fastest growing information technology industry in the country, having grown 17.2 percent from 2012-2017. According to CompTIA's 2019 Cyberstates report, the state's tech sector contributes more than $46 billion to state's economy. Those figures clearly indicate that the industry is thriving… and that North Carolina has no shortage of potential IT employers.
Whether you're aiming for a career at one of the largest tech companies in the state or looking to get involved with a start-up that focuses on artificial technology, smart cities or other emerging technologies, earning a degree from one of the IT or computer science degree programs in North Carolina can give you the educational foundation you need.
North Carolina's Technology Education Initiatives
North Carolina is a technology powerhouse and state, business, education and community leaders have established a number of programs in order to continue to grow the state's IT sector and infrastructure. Here's a sampling of some of the activities in place.
Funding computer science education: North Carolina's political and education leaders consider access to high-quality IT schooling to be a top priority. In the state's most recent budget, the N.C. Department of Public Instruction's Computer Science Initiative was guaranteed $500K in funding for 2018-19 to expand access to computer science education in the state.
Supporting tech entrepreneurs: This commitment to technology growth also applies to the state's entrepreneurs. The One North Carolina Small Business Program awards funds to N.C. businesses "in capital-intensive, high-risk industries in science, technology, engineering, and math."
Boosting new technology: The state's lieutenant governor, Dan Forest, established in 2019 the North Carolina Blockchain Initiative. Members have been tasked with studying how this emerging technology might provide opportunities for economic growth and strengthen North Carolina's role as a leader in technological innovation.
Advancing Entrepreneurship: NC Idea, a private foundation, focuses on helping to create and support new founders and businesses in the state. Grants and programs like NC Idea Labs, NC Idea Micro, IC Idea Seed, and NC Idea Lead all focus on particular aspects of launching and growing new companies. Their NC Idea Soar program provides resources to specifically addresses the needs and issues faced by female entrepreneurs.
Southern New Hampshire University
Some of the nation's most affordable tuition rates, from a private, nonprofit, NEASC accredited university
Qualified students with 2.5 GPA and up may receive up to $20K in grants & scholarships
Multiple term start dates throughout the year. 24/7 online classroom access
Offering over 200 online degree programs
Purdue University Global
Experience world-class education online with more than 175 programs at associate's, bachelor's, master's and doctoral levels.
Apply eligible work experience and prior college credits toward up to 75% of your undergraduate degree.
You have the option of trying out a Purdue Global undergraduate program for an introductory 3-week period. There's no cost beyond the application fee.
Competency-based ExcelTrack™ programs may allow you to earn your degree faster and for less money
Best Colleges for Computer Science and IT in North Carolina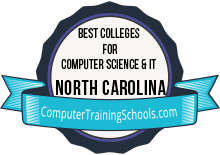 Any discussion of North Carolina computer science schools begins with The Research Triangle, a region of the state that exists inside the borders between three research schools: Duke University in Durham, the University of North Carolina in Chapel Hill, and North Carolina State University in Raleigh. However, these three institutions are only a fraction of the schools offering IT degree programs in North Carolina. Based on our analysis of data from the National Center for Education Statistics, here are the IT schools in North Carolina we believe can provide great opportunities to further your education.
| Ranking | School Name | In State Avg. Undergrad Tuition | % Receiving Financial Aid | Retention Rate |
| --- | --- | --- | --- | --- |
| 1 | Forsyth Technical Community College | $1,992 | 77% | 61% |
| 2 | Wake Technical Community College | $2,432 | 54% | 66% |
| 3 | North Carolina State University at Raleigh | $6,535 | 70% | 94% |
| 4 | Piedmont Community College | $2,432 | 61% | 65% |
| 5 | Pitt Community College | $1,824 | 82% | 59% |
| 6 | Rowan-Cabarrus Community College | $2,432 | 75% | 59% |
| 7 | Fayetteville Technical Community College | $2,432 | 82% | 55% |
| 8 | Haywood Community College | $2,432 | 59% | 63% |
| 9 | Stanly Community College | $2,432 | 53% | 62% |
| 10 | Blue Ridge Community College | $2,432 | 75% | 64% |
Source: Integrated Postsecondary Education Data System (IPEDS) 2018-19, National Center for Education Statistics, http://nces.ed.gov/ipeds/
Spotlight on Computer Sciences Schools in North Carolina
While more than 100 college and universities in the state offer higher education programs in computer- and technology-related fields, here are a few examples of the types of options available to students.
University of North Carolina at Chapel Hill: UNC-CH has been lauded by the Association of American Universities for its STEM education initiatives, including how the school has revamped the delivery of its computer science programs. The AAU has feted the school for "creating a support framework to facilitate the implementation of evidence-based teaching practices in large courses that have traditionally been taught by the lecture method."
North Carolina State University: NC State owns one of the nation's most impressive online education programs, including those related to technology. Students can choose from several online computer science programs, including an undergraduate certificate in computer programming, and Master of Science degrees in computer science, computer networking, or computer engineering.
Wake Forest University: Computer science majors at WFU have multiple opportunities to participate in projects outside the classroom to advance their knowledge and experience. For example, students may work with faculty on research projects involving computational biology, machine learning, and advanced imaging. Other options include participating in Humanitech programs that focus on using STEM to address problems of social value.
Appalachian State University: Students who pursue the Master of Science in Computer Science can opt for one of five concentrations — data science and visual computing, foundations, systems, theoretics, and web and mobile. While the master's program typically takes two years to complete, Appalachian's accelerated "baccalaureate to master's" program, available to seniors, can shorten the timeline to one year.
IT Salaries and Career Outlook in North Carolina
North Carolina and its Research Triangle tech hub continue to maintain a significant presence and mindshare in the nation's IT industry employment ecosystem — the Research Triangle Park alone hosts more than 200 companies. The state's focus on the development of high-performing IT schools has paid excellent returns for North Carolina's high-tech industry.
Some of North Carolina's IT employers include industry giants like Cisco, IBM, Lenovo, Red Hat, and SAS.
2019 Occupational Employment Statistics and 2018-28 Employment Projections, Bureau of Labor Statistics, BLS.gov.
Computer Science Scholarships for North Carolina Students
In addition to applying for more general scholarships, based on academic achievements, financial need, or other broad criteria, you may also find state-specific awards connected to your field of study: information technology or computer science. Here are a few examples that apply to students interested in computer science programs in North Carolina.
North Carolina Professional Organizations and Resources
Membership in a technology-focused organization can provide opportunities for learning, networking, and organized outreach to larger communities.
Article Sources
Article Sources
Sources
2019 North Carolina Technology Industry Report, North Carolina State of Technology, http://www.ncstir.com/tech-report/
About Us, NC Idea, Accessed September 2019, https://ncidea.org/about-us/
Budget Conference Committee Report, North Carolina General Assembly, May 28, 2018, https://www.ncleg.net/Sessions/2017/Budget/2018/conference_committee_report_2018_05_28.pdf
Computer Science: Master of Science (MS), Appalachian State University, Accessed September 2019, https://www.appstate.edu/academics/graduate/id/computer-science-ms
Computer Science Teachers Association, Accessed September 2019, https://csta.site-ym.com/page/ChaptersbyRegion
Department of Computer Science, Wake Forest University, Accessed September 2019, http://college.wfu.edu/cs/
Digital Cities Survey 2018 – Winners Announced, November 2, 2018, Government Technology, https://www.govtech.com/dc/digital-cities/Digital-Cities-Survey-2018 — Winners-Announced.html
Digital Counties Survey 2019 – Winners Announced, July 11, 2019, Government Technology, https://www.govtech.com/dc/digital-counties/Digital-Counties-Survey-2019 — Winners-Announced.html
Graduate Program, Computer Science Department, Appalachian State University, Accessed September 2019, https://compsci.appstate.edu/academics/graduate-program
IEE Computer Society, Accessed September 2019, https://www.computer.org/
Information Technology, Economic Development Partnership of North Carolina, Accessed September 2019, https://edpnc.com/industries/information-technology/
Information Technology, North Carolina Department of Commerce, Accessed September 2019, https://www.nccommerce.com/business/key-industries-north-carolina/information-technology#research-infrastructure
Lt. Governor Forest announces North Carolina Blockchain Initiative, July 2, 2019, https://ltgov.nc.gov/news/2019/07/02%20/lt-governor-forest-announces-north-carolina-blockchain-initiative
NC STEM Center, Accessed September 2019, https://www.ncstemcenter.org/
North Carolina Technology Association, Accessed September 2019, https://www.nctech.org/
One North Carolina Small Business Program, North Carolina Department of Commerce, Accessed September 2019, https://www.nccommerce.com/grants-incentives/technology-funds/one-north-carolina-small-business-program
North Carolina, Cyberstates 2019, CompTIA, https://www.cyberstates.org/#interactiveMap?geoid=37
University of North Carolina at Chapel Hill STEM Education Initiatives, Association of American Universities, Accessed September 2019, https://www.aau.edu/education-service/undergraduate-education/undergraduate-stem-education-initiative/stem-framework/university-north
X
Methodology
To be included in the rankings, all colleges had to meet the following criteria:
Be an accredited U.S. institution
Offer either 2 or 4-year degree programs
Be active in the 2016-17 school year
Offer a degree in a technology-related subject
Have awarded at least one degree in that subject in 2015-16
Have reported data for all ranking variables listed below
Ranking variables:
Related subjects, based on the number of relevant programs that are offered at any level
Flexibility, based on number of relevant programs that are offered at any level via distance education
Average in-state undergraduate tuition
Percent of undergraduate students awarded federal, state, local, institutional or other sources of grant aid
Average amount of federal, state, local, institutional, or other sources of grant aid awarded to undergraduate students
Graduation rate
Retention rate
Methodology Sources:
Integrated Postsecondary Education Data System (IPEDS) 2016-17, National Center for Education Statistics, http://nces.ed.gov/ipeds/
X