New York City may be known for its cosmopolitan flair, but it is also home to more tech businesses and organizations than people may ever imagine: New York City was home to 7,600 tech firms in 2016. One article, published online by the Interquest Group, goes so far as to describe New York City and its tech sector as being within "striking distance" of becoming the new Silicon Valley.
But employment opportunities in the IT field are not limited to NYC. Overall, there were more than 280,000 tech jobs in New York state in 2016. Tech employment in the state also increased by 57 percent between 2010 and 2016. Students of computer science schools in New York can looking forward to an availability of jobs and diverse job sector choice upon graduation.
New York's Technology Education Initiatives
New York's technology sector is the third largest in the U.S., according to a 2017 report from the state's Office of the Comptroller. And given its prominence, it's not surprising that New York government leaders as well as private organizations have a vested interest in supporting it through various initiatives. Here's a brief look at a few of those efforts.
Support for tech sector growth: In 2017 the mayor of New York City launched a program called New York Works, a jobs-plan initiative to help spur the creation of 30,000 more new jobs in the tech sector and to help double the number of students graduating with computer science degrees from the City University of New York.
Preparing new talent: Computer Science for All (CS4All) was launched in 2015 to bring computer science education to all of New York City's public schools. This 10-year initiative is a partnership between the New York City Foundation for Computer Science Education, the City of New York, the NYC Department of Education, and the Robin Hood Foundation.
Increasing opportunities for under-represented groups: CSTEP, New York's Collegiate Science and Technology Entry Program, aims to prepare African-American, Hispanic/Latino, American Indian or Alaskan native students for careers in STEM fields. In addition, students who may be economically disadvantaged may qualify for CSTEP services.
Southern New Hampshire University
Some of the nation's most affordable tuition rates, from a private, nonprofit, NEASC accredited university
Qualified students with 2.5 GPA and up may receive up to $20K in grants & scholarships
Multiple term start dates throughout the year. 24/7 online classroom access
Offering over 200 online degree programs
Purdue University Global
Experience world-class education online with more than 175 programs at associate's, bachelor's, master's and doctoral levels.
Apply eligible work experience and prior college credits toward up to 75% of your undergraduate degree.
You have the option of trying out a Purdue Global undergraduate program for an introductory 3-week period. There's no cost beyond the application fee.
Competency-based ExcelTrack™ programs may allow you to earn your degree faster and for less money
Best Computer Science and IT Colleges in New York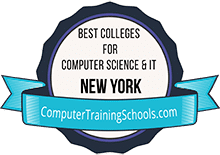 The state of New York is home to more than a hundred colleges, universities and technical schools that offer undergraduate and graduate degree programs in computer science. New York is also home to a number of schools hosting fully online computer science degree programs. Here's our list of the best schools for IT and CS in New York.
| Ranking | School Name | In State Avg. Undergrad Tuition | % Receiving Financial Aid | Retention Rate |
| --- | --- | --- | --- | --- |
| 1 | Pace University | $43,624 | 97% | 79% |
| 2 | Columbia University in the City of New York | $50,665 | 58% | 98% |
| 3 | The College of Saint Rose | $31,432 | 100% | 74% |
| 4 | Rochester Institute of Technology | $41,761 | 98% | 89% |
| 5 | Cornell University | $54,584 | 60% | 97% |
| 6 | Rensselaer Polytechnic Institute | $52,550 | 82% | 92% |
| 7 | Binghamton University | $6,870 | 75% | 92% |
| 8 | University at Buffalo | $6,870 | 83% | 87% |
| 9 | Marist College | $37,775 | 92% | 87% |
Source: Integrated Postsecondary Education Data System (IPEDS) 2018-19, National Center for Education Statistics, http://nces.ed.gov/ipeds/
Spotlight on Computer Science Schools in New York
You can find many options for campus-based and online computer science programs in New York. These include offerings from the bachelor's to the doctoral level, but also unique programs and courses from various schools and computer science departments. Below are brief details on four computer science schools in New York.
New York University, Brooklyn: NYU's Tandon School of Engineering has a vast array of computer science and IT degree programs. Ranging from bachelor's degrees to graduate-level programs, their offerings include a online master's of science degree in bioinformatics as well as bachelor's, master's and Ph.D. programs in computer science.
Manhattan College, Manhattan: Students enrolled in any of the computer science and IT programs at this school may find themselves participating in events like the Google Summer of Code and the ACM International Collegiate programming contest. The college offers both a B.A. and B.S. in computer science as well as a 5-year degree program resulting in both a B.A. and M.S. in computer science.
Saint Joseph's College, Long Island: Internships are a key part of the computer science degree programs at SJC. These internships enable students to work in paid positions and to earn college credit while making connections for jobs after college. The college also partners with Hofstra University, enabling students to use college credits earned at SJC toward the master's of computer science degree at Hofstra.
State University of New York, New Paltz: Students at this SUNY school may find opportunities to be involved in research projects. Previous students at the school have done research into Android phone drone control, mapping applications and database optimization for fantasy football. The school's bachelor's in computer science degree even requires a 400-level "Projects" class.
IT Salaries and Job Outlook in New York
While most of the state's tech jobs actually are located within New York City, graduates of IT degree programs in New York can find job opportunities in a variety of industries throughout the state. In New York City, two newcomers are the digital media company, Intersection, as well as ConsensSys, a blockchain software company. Other IT, fintech or e-commerce employers in New York include Bloomberg, Etsy and E*Trade; Google also plans to expand their New York City headquarters.
2019 Occupational Employment Statistics and 2018-28 Employment Projections, Bureau of Labor Statistics, BLS.gov.
Computer Science Scholarships for New York Students
Scholarships that could be of interest to students considering IT schools and programs in New York include the:
New York Professional Organizations and Resources
Becoming a member in an IT association in New York could provide opportunities for IT college graduates to learn new skills, meet people in the industry and learn about additional resources and training. Below is a list of professional IT and computer sciences organizations in New York.
Professional Organizations
Additional Resources
Article Sources
Article Sources
Sources
20 New York Organizations Making it Easier for Communities to Learn Coding, Ozobot, https://blog.ozobot.com/2017/08/17/20-new-york-organizations-making-it-easier-for-communities-to-learn-coding/
About SNJ Long Island, Saint Joseph's College, Accessed December 2018, https://www.sjcny.edu/long-island/about
Collegiate Science and Technology Entry Program (CSTEP), New York State Education Department, Accessed December 2018, http://www.highered.nysed.gov/kiap/colldev/CollegiateScienceandTechnologyEntryProgram.htm
Computer Science Department, Manhattan College, Accessed December 2018, https://manhattan.edu/academics/schools-and-departments/school-of-science/.computer-science-dept/index.php
Computer Science, New Paltz State University of New York, Accessed December 2018, https://www.newpaltz.edu/compsci/
Computer Science Major, Saint Joseph's College, Accessed December 2018, https://www.sjcny.edu/long-island/academics/undergraduate/majors/mathematics-computer-science
Degrees and Programs, New York University, Accessed December 2018, https://engineering.nyu.edu/academics/departments/computer-science-and-engineering/degrees-and-programs
DiNapoli: New York City's Tech Sector Is Booming, Office of the New York State Comptroller, Accessed December 2018, https://www.osc.state.ny.us/press/releases/sept17/090817.htm
Google plans to pour more than $1 billion into new Manhattan, https://www.cnbc.com/video/2018/12/17/google-1-billion-new-manhattan-headquarters-google-hudson-square-tech.html
Introducing New York City's Top 100 Tech Companies, Built in NYC, Accessed December 2018, https://www.builtinnyc.com/2017/11/07/nyc-top-100-tech-companies-2017
Long Term Occupational Professions, Projections Central, Accessed December 2018, http://www.projectionscentral.com/Projections/LongTerm
"New York City's Tech Sector Is Booming," Interquest Group, May 15, 2018, https://www.interquestgroup.com/iq-hub/blogs/2018/new-york-citys-tech-sector-is-booming
Professional Associations and Other Resources, New York Institute of Technology, Accessed December 2018, https://www.nyit.edu/career_services/professional_associations#
Scholarship Opportunities, Hofstra University, Accessed December 2018, https://www.hofstra.edu/academics/colleges/seas/scholarship-opportunities.html
"The fastest-growing sector in New York bodes well for good-paying jobs," Crain's New York Business, September 8, 2017, https://www.crainsnewyork.com/article/20170908/TECHNOLOGY/170909910/tech-is-the-fastest-growing-sector-in-ny-which-bodes-well-for-good-paying-jobs-in-the-city
X
Methodology
To be included in the rankings, all colleges had to meet the following criteria:
Be an accredited U.S. institution
Offer either 2 or 4-year degree programs
Be active in the 2016-17 school year
Offer a degree in a technology-related subject
Have awarded at least one degree in that subject in 2015-16
Have reported data for all ranking variables listed below
Ranking variables:
Related subjects, based on the number of relevant programs that are offered at any level
Flexibility, based on number of relevant programs that are offered at any level via distance education
Average in-state undergraduate tuition
Percent of undergraduate students awarded federal, state, local, institutional or other sources of grant aid
Average amount of federal, state, local, institutional, or other sources of grant aid awarded to undergraduate students
Graduation rate
Retention rate
Methodology Sources:
Integrated Postsecondary Education Data System (IPEDS) 2016-17, National Center for Education Statistics, http://nces.ed.gov/ipeds/
X