New Mexico has more than 67,000 tech workers, according to a 2019 report published by CompTIA, a leading technology industry association. The same report also notes that New Mexico's tech sector contributes $9 billion to the state's total economy. In 2018, New Mexico saw a 51 percent increase in the number of job postings related to the Internet of Things, artificial intelligence, drones, virtual and augmented reality, and other emerging technologies.
Such an active tech sector can be great news for students pursuing computer science degree programs in New Mexico. New graduates are likely to find interesting opportunities and meaningful employment in their industry upon completion of their degrees.
New Mexico's Technology Education Initiatives
There are a number of initiatives in the Land of Enchantment that are designed to support and grow New Mexico's IT sector and the "new collar" workforce — blue collar jobs that increasingly require 21st-century skills. These activities range from K-12 programs designed to channel students into IT degree programs in New Mexico — creating a pipeline of future workers — to business development — bringing more tech jobs to the state. Let's take a look at several of them.
Setting standards for computer science education: In December 2018, New Mexico's education leaders adopted computer science standards for the state's K-12 students as a way to bring consistency to learning opportunities across the state.
Inspiring students to tackle STEM challenges: The 2019-2020 New Mexico Governor's STEM Challenge encourages high school students (and their teachers) to create a project model that addresses the theme, "keeping the world safer using technology." This event is a collaboration between the New Mexico Department of Workforce Solutions, New Mexico Public Education Department and Los Alamos National Laboratory.
Educating the public about STEM: The New Mexico STEM Connection created an easily searchable site to help New Mexicans from all walks of life — students, parents, teachers, and administrators — explore and develop their interests in STEM. Visitors to the NM STEM-H site can find programs, projects, events and connect with others who are interested in learning opportunities at all educational levels.
Growing software jobs: The DART initiative was created to persuade out-of-state companies and agencies to contract with and hire software development firms in New Mexico. The organization hopes to attract revenue from out-of-state to create high-paying jobs and encourage local software developers to stay in New Mexico.
Recognizing women in tech: Every year, the New Mexico Technology Council hosts a Women in Technology Celebration to recognize outstanding New Mexico women who work in STEM. The goal of the annual event is to promote STEM careers to other women in the state.
Southern New Hampshire University
Some of the nation's most affordable tuition rates, from a private, nonprofit, NEASC accredited university
Qualified students with 2.5 GPA and up may receive up to $20K in grants & scholarships
Multiple term start dates throughout the year. 24/7 online classroom access
Offering over 200 online degree programs
Purdue University Global
Experience world-class education online with more than 175 programs at associate's, bachelor's, master's and doctoral levels.
Apply eligible work experience and prior college credits toward up to 75% of your undergraduate degree.
You have the option of trying out a Purdue Global undergraduate program for an introductory 3-week period. There's no cost beyond the application fee.
Competency-based ExcelTrack™ programs may allow you to earn your degree faster and for less money
Best Computer Science and IT Colleges in New Mexico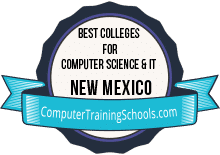 More than two dozen higher education institutions in New Mexico offer degree programs in a computer science or IT-related field. Students can find education opportunities at public or private schools in the state that result in earning an associate, bachelor's or advanced degree. Based on an analysis of data from the National Center for Education Statistics, these are the best New Mexico schools for those preparing for a career in the technology field.
| Ranking | School Name | In State Avg. Undergrad Tuition | % Receiving Financial Aid | Retention Rate |
| --- | --- | --- | --- | --- |
| 1 | New Mexico Institute of Mining and Technology | $6,440 | 97% | 76% |
| 2 | Eastern New Mexico University-Roswell Campus | $2,040 | 88% | 52% |
| 3 | San Juan College | $1,176 | 89% | 57% |
| 4 | Navajo Technical University | $3,420 | 83% | 68% |
| 5 | New Mexico State University-Dona Ana | $1,962 | 96% | 59% |
| 6 | New Mexico State University-Main Campus | $5,515 | 99% | 74% |
| 7 | New Mexico State University-Alamogordo | $2,232 | 98% | 52% |
| 8 | New Mexico State University-Carlsbad | $1,776 | 95% | 50% |
Source: Integrated Postsecondary Education Data System (IPEDS) 2018-19, National Center for Education Statistics, http://nces.ed.gov/ipeds/
Spotlight on Computer Science Schools in New Mexico
Computer science schools in New Mexico can help students prepare for fulfilling careers in IT. Here some schools with programs that are particularly interesting:
University of New Mexico: At the UNM, students can enroll in a Bachelor of Science and Master of Science shared-credit degree program in computer science. This program allows undergraduate computer science students to count 12 credit hours towards both their bachelor's and master's degrees. UNM's annual Mobile App Contest also give students the opportunity to apply their coding skills to make useful applications for the community.
New Mexico State University: NMSU offers both a Bachelor of Science and Bachelor of Arts in computer science. The Bachelor of Science is heavy on math and science while the Bachelor of Arts is designed for students that have interests outside computer science and wish to study other disciplines in some depth.
Eastern New Mexico University: A Bachelor of Applied Arts and Sciences Information Systems and Programming Design Concentration is available at ENMU. It provides students with advanced knowledge in computer programming and the application of information systems for business.
IT Salaries and Career Outlook in New Mexico
According to the New Mexico Workforce Connection, occupations like computer and information research scientists and information security analysts are expected to see the fastest growth in New Mexico in the coming years. Check the table below to see more projections for tech-related occupations.
New IT and computer science professionals may look for employment at tech startups such as RiskSense, a cyber risk management company, LAVU, a cloud-based point of sale system, and Twistle, an automation tool employ. Larger and more established companies such as Honeywell, Ideal Vacuum Products, and the New Mexico Hospital Association may also hire graduates from IT schools in New Mexico.
2019 Occupational Employment Statistics and 2018-28 Employment Projections, Bureau of Labor Statistics, BLS.gov.
Computer Science Scholarships for New Mexico Students
Scholarships in New Mexico can make campus-based or online computer science programs more affordable. In additional to general scholarships that may be available to eligible New Mexico students, here are some examples of tech-related scholarships available to students in the state:
New Mexico's Professional IT Organizations and Resources
There are several professional organizations and resources for IT professionals and students enrolled in IT degree programs in New Mexico. Working professionals and students may find these to be beneficial for their learning and networking opportunities.
New Mexico Technology Council: NMTC is an association of businesses, organizations and tech professionals who work together to promote the growth and success of New Mexico's technology business sectors. It hosts various tech events and programs throughout the year.
Computer Science Teachers Association of New Mexico: CSTA-NW holds member events to discuss new ways to promote learning about computer science, curriculum, and best practices for teaching K-12 students about this topic.
TechHire New Mexico: TechHire is a technology-focused job resource for professionals seeking employment in four New Mexico counties: Bernalillo, Sandoval, Torrance, and Valencia. It offers accelerated technological training, career counseling, job placement, and apprenticeships.
Article Sources
Article Sources
Sources
2019 State of Computer Science Education, https://advocacy.code.org/
About, Computer Science Teachers Association of New Mexico, Accessed September 2019, https://cstanm.org/about
About NMTC, New Mexico Technology Council, Accessed September 2019, https://nmtechcouncil.org/about-nmtc/
Annual Women in Technology Celebration, New Mexico Technology Council, Accessed September 2019, https://nmtechcouncil.org/annual-women-in-technology-celebration/
App Contest, University of New Mexico, Accessed September 2019, https://appcontest.unm.edu/
Bachelor of Applied Arts and Sciences Information Systems and Programming Design Concentration, Eastern New Mexico University, Accessed June 2019, https://www.enmu.edu/academics/degrees-programs/undergraduate-degree/bachelor/bachelor-applied-arts-sciences-baas/baas-concentrations/information-and-systems-programming
B.S./M.S. Shared-Credit Degree Program, University of New Mexico, Accessed June 2019, https://www.cs.unm.edu/programs-and-degrees/shared/index.html
Dart Initiative, Accessed September 2019, http://dartnm.com/
Governor's STEM Showcase, New Mexico Public Education Department, Accessed September 2019, https://webnew.ped.state.nm.us/bureaus/math-science/governors-stem-showcase/
In-Demand and STAR Occupations, New Mexico Workforce Connection, Accessed September 2019, https://www.jobs.state.nm.us/gsipub/index.asp?docid=810
NM STEM-H Connection, Accessed September 2019, https://www.nmstemh.org/
New Collar Workforce Ideation Summit, Accessed September 2019, http://newcollarnetwork.com/newcollarsummit/
New Report Details Impact of New Mexico Tech Industry, Cyberstates, CompTIA, Accessed June 2019, https://www.cyberstates.org/pdf/press_releases/CompTIA_Cyberstates_2019_NewMexico_PR.pdf
Undergraduate Degrees, New Mexico State University, Accessed June 2019, https://www.cs.nmsu.edu/wp/student-information/majors/undergraduate-degrees/
What is TechHire New Mexico?, New Mexico Workforce Connection, September 2019, https://techhirenm.com/about/
X
Methodology
To be included in the rankings, all colleges had to meet the following criteria:
Be an accredited U.S. institution
Offer either 2 or 4-year degree programs
Be active in the 2016-17 school year
Offer a degree in a technology-related subject
Have awarded at least one degree in that subject in 2015-16
Have reported data for all ranking variables listed below
Ranking variables:
Related subjects, based on the number of relevant programs that are offered at any level
Flexibility, based on number of relevant programs that are offered at any level via distance education
Average in-state undergraduate tuition
Percent of undergraduate students awarded federal, state, local, institutional or other sources of grant aid
Average amount of federal, state, local, institutional, or other sources of grant aid awarded to undergraduate students
Graduation rate
Retention rate
Methodology Sources:
Integrated Postsecondary Education Data System (IPEDS) 2016-17, National Center for Education Statistics, http://nces.ed.gov/ipeds/
X