Students looking to be part of the tech sector could find New Jersey to be optimal — for higher education and career opportunities. The Garden State is home to industry innovations in technology such as augmented intelligence, dynamic network infrastructure, cloud computing and transceiver chip technology. In fact, the state ranked fifth in growth for new tech business establishment year over year, according to the economic development organization, Choose New Jersey.
Whether you envision a start in the field or prefer to advance your existing knowledge, undergraduate and graduate level IT degree programs can be found in New Jersey to help you meet your career goals.
New Jersey's Technology Education Initiatives
New Jersey's state and industry leaders are eager to grow interest in STEM-related careers as a way to support workforce demands for more people who have higher-level skills in science, technology, engineering, and math. While about 7,000 New Jersey students graduate with a bachelor's degree in computer science or a related field each year, the state wants to increase that number.
Here are some of the initiatives underway to support New Jersey's tech industry growth:
NJ STEM Pathways Network: This comprehensive public-private alliance, launched in 2014, is charged with identifying and promoting formal and informal learning opportunities as way to build awareness around STEM-related careers. This pathway could include eventually enrolling in IT or computer science degree programs in New Jersey.
New Jersey Big Data Alliance: This powerhouse group includes sixteen higher education institutions, such as Rutgers University, Ramapo College of New Jersey, and the Stevens Institute of Technology, plus six government partners, and several corporate and business development industry members. Their goal is to advance computing innovation, including cyberinfrastructure resources and talent.
Southern New Hampshire University
Some of the nation's most affordable tuition rates, from a private, nonprofit, NEASC accredited university
Qualified students with 2.5 GPA and up may receive up to $20K in grants & scholarships
Multiple term start dates throughout the year. 24/7 online classroom access
Offering over 200 online degree programs
Purdue University Global
Experience world-class education online with more than 175 programs at associate's, bachelor's, master's and doctoral levels.
Apply eligible work experience and prior college credits toward up to 75% of your undergraduate degree.
You have the option of trying out a Purdue Global undergraduate program for an introductory 3-week period. There's no cost beyond the application fee.
Competency-based ExcelTrack™ programs may allow you to earn your degree faster and for less money
Best Computer Science and IT Colleges in New Jersey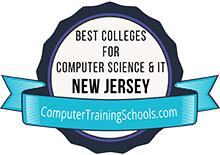 There are many higher education options in New Jersey for people interested in pursuing a career in computer science or a related IT field. This includes IT certification program from a vocational school, associate degree programs at a community college, or a bachelor's or master's degree program offered by a public research institution, a state college or a private college.
| Ranking | School Name | In State Avg. Undergrad Tuition | % Receiving Financial Aid | Retention Rate |
| --- | --- | --- | --- | --- |
| 1 | Stevens Institute of Technology | $50,370 | 99% | 95% |
| 2 | New Jersey Institute of Technology | $14,174 | 92% | 88% |
| 3 | Rowan College at Gloucester County | $3,990 | 67% | 65% |
| 4 | Atlantic Cape Community College | $5,442 | 77% | 62% |
| 5 | Rowan University | $9,858 | 84% | 84% |
| 6 | Montclair State University | $11,132 | 81% | 79% |
| 7 | Cumberland County College | $3,900 | 84% | 62% |
| 8 | Monmouth University | $37,438 | 99% | 81% |
| 9 | Ocean County College | $4,110 | 57% | 71% |
| 10 | Fairleigh Dickinson University-Metropolitan Campus | $39,686 | 99% | 80% |
Source: Integrated Postsecondary Education Data System (IPEDS) 2018-19, National Center for Education Statistics, http://nces.ed.gov/ipeds/
Spotlight on Computer Sciences Schools in New Jersey
Both public and private institutions in New Jersey can provide opportunities for students to build computer science and IT skills — from the certificate to doctoral level. Below is a quick look at four IT schools in the state.
New Jersey Institute of Technology, Newark: Online IT programs at this school include a master's of science in information systems and a master's of science in information technology administration and security. Depending on the degree chosen, students can find options to specialize, seek work experiences, do a master's thesis or a complete a capstone project.
Farleigh Dickinson University, Teaneck: Co-op, internship and job opportunities may be readily available to students completing a bachelor of science in information technology degree at this private school. The school also received a $1 million donation from Allied Signal, a group of high-tech New Jersey companies, to support its engineering and tech programs.
Thomas Edison State University, Trenton: One of the state's 11 senior public institutions of higher learning, online computer science and IT degree programs at TESU are available from the associate to master's degree level. The school also offers an online undergraduate certificate in information systems learning.
Caldwell University, Caldwell: Students can build their knowledge in computer information systems with the bachelor's of science degree in CIS program available at this Catholic school, located 20 minutes away from New York City. The program allows students to choose a concentration either in business systems or information technology.
IT Salaries and Career Outlook in New Jersey
Before enrolling in one of the computer science schools in New Jersey, students may want to research the IT careers expected to grow in the state in upcoming years. The table below highlights recent information about average salary and job growth data for a number of different IT-related occupations.
New Jersey's diverse tech sector means that students of online computer science programs or IT degree programs could find many ways to explore their career interests, including through job opportunities with any of the 21 companies in the state that made the Fortune 500 list in 2018, such as Automatic Data Processing, in Roseland, and Cognizant Technology Solutions, in Teaneck.
2019 Occupational Employment Statistics and 2018-28 Employment Projections, Bureau of Labor Statistics, BLS.gov.
Computer Science Scholarships for New Jersey Students
One way to find help with the costs of a campus or online IT program is to look for scholarship opportunities. These could be associated with specific schools or posted through unique organizations, such as a business or professional group. A few scholarships specific to IT or computer science students in New Jersey include:
You may also want to search for more general scholarships using the Scholarship database on our partner site, Schools.com.
New Jersey Professional Organizations and Resources
Graduates of IT programs in New Jersey could benefit from joining a professional association. Job boards, annual conferences and specialized trainings and meet-ups can be potential advantages of membership. A few of the IT associations in New Jersey are listed below.
Article Sources
Article Sources
Sources
About Us, Thomas Edison State University, Accessed December 2018, https://www.tesu.edu/about
BIS in Computer Information Systems, Caldwell University, Accessed December 2018, https://www.caldwell.edu/academics/majors-minors/business/bs-cis
Information Technology, Farleigh Dickinson University, Accessed December 2018, https://view2.fdu.edu/academics/university-college/school-of-computer-sciences-and-engineering/academic-programs/information-technology-programs/

New Jersey Big Data Alliance, Accessed January 2019, http://njbda.weebly.com/about-us.html

NJ STEM Pathways Network

, Office of the Secretary of Higher Education, State of New Jersey, Accessed January 2019, https://www.nj.gov/highereducation/njstem/
Online Degrees, Thomas Edison State University, Accessed December 2018, https://www.tesu.edu/academics/online-degrees
Online Programs, New Jersey Institute of Technology, Accessed December 2018, http://www.njit.edu/online/programs/
Technology, Choose NJ, Accessed December 2018, https://www.choosenj.com/key-industries/technology
21 New Jersey Fortune 500 Companies, Choose New Jersey, Accessed December 2018, https://www.choosenj.com/stats-and-facts/new-jersey-profile
X
Methodology
To be included in the rankings, all colleges had to meet the following criteria:
Be an accredited U.S. institution
Offer either 2 or 4-year degree programs
Be active in the 2016-17 school year
Offer a degree in a technology-related subject
Have awarded at least one degree in that subject in 2015-16
Have reported data for all ranking variables listed below
Ranking variables:
Related subjects, based on the number of relevant programs that are offered at any level
Flexibility, based on number of relevant programs that are offered at any level via distance education
Average in-state undergraduate tuition
Percent of undergraduate students awarded federal, state, local, institutional or other sources of grant aid
Average amount of federal, state, local, institutional, or other sources of grant aid awarded to undergraduate students
Graduation rate
Retention rate
Methodology Sources:
Integrated Postsecondary Education Data System (IPEDS) 2016-17, National Center for Education Statistics, http://nces.ed.gov/ipeds/
X