According to CompTIA, a leading technology industry association, Mississippi's technology sector is responsible for $3.8 billion of the state's overall economy. The Magnolia State, home to approximately 46,000 tech workers, has also seen an increase in tech-related job postings from 2017 to 2018.
These statistics can be exciting for adults who are interested in attending computer science schools in Mississippi. Once they graduate, with computer science degrees in hand, they are likely be able to find meaningful employment in Jackson, Tupelo, Biloxi, Gulfport, and other cities in the state.
Mississippi's Technology Education Initiatives
A number of specific initiatives have been established to support and grow technology awareness, tech skills, and IT degree programs in Mississippi. Here's a closer look at several of them:
Incorporating computer science in Mississippi schools: The state's Department of Education has launched the Computer Science for Mississippi (CS4MS) program. CS4MS partners with computer science schools in Mississippi to bring computer science classes to K-12 classrooms across the state.
Hosting major technology events: C Spire, the sixth-largest wireless provider in the United States, hosted in 2018 a technology conference in downtown Jackson. The conference gave consumers and students the chance to get up close and personal to robotics, 3D printing, the Internet of Things, artificial intelligence, and virtual reality. C Spire's mission is to transform Mississippi through technology.
Bringing coding leaders to Mississippi: Innovative Mississippi has launched Code Mississippi, a program intended to organize coding resources and encourage coding professionals to come to the state. It hopes to connect anyone who would like to pursue a career in coding or is already in coding to other coders, jobs, and resources within Mississippi.
Improving STEM programs in Mississippi schools: In May 2019 the state announced that $896,000 in grants is being made available to more than a dozen Mississippi school districts in order to enhance or establish programs in STEM. The hope is that these programs inspire K-8 students to eventually pursue STEM-related careers in the state.
Southern New Hampshire University
Some of the nation's most affordable tuition rates, from a private, nonprofit, NEASC accredited university
Qualified students with 2.5 GPA and up may receive up to $20K in grants & scholarships
Multiple term start dates throughout the year. 24/7 online classroom access
Offering over 200 online degree programs
Purdue University Global
Experience world-class education online with more than 175 programs at associate's, bachelor's, master's and doctoral levels.
Apply eligible work experience and prior college credits toward up to 75% of your undergraduate degree.
You have the option of trying out a Purdue Global undergraduate program for an introductory 3-week period. There's no cost beyond the application fee.
Competency-based ExcelTrack™ programs may allow you to earn your degree faster and for less money
Best Computer Science and IT Colleges in Mississippi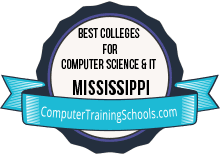 More than 20 different schools in Mississippi offer computer science, information technology, or related degree programs at the associate, bachelor's, and/or graduate levels. Before enrolling in a program, make sure that your higher education path aligns with your career goals. For example, some computer-focused occupations like web developers can start with an associate degree, while others, such as software developers or information security analysts typically require a bachelor's degree. Whether exploring online IT programs or one of the campus-based computer science degree programs in Mississippi, the following schools are our picks for best schools in the state.
| Ranking | School Name | In State Avg. Undergrad Tuition | % Receiving Financial Aid | Retention Rate |
| --- | --- | --- | --- | --- |
| 1 | Mississippi Gulf Coast Community College | $3,100 | 93% | 63% |
| 2 | Itawamba Community College | $2,900 | 97% | 68% |
| 3 | Hinds Community College | $2,880 | 91% | 65% |
| 4 | Copiah-Lincoln Community College | $2,800 | 92% | 68% |
| 5 | Holmes Community College | $2,600 | 91% | 67% |
| 6 | Northwest Mississippi Community College | $3,000 | 88% | 56% |
| 7 | Jones County Junior College | $3,400 | 81% | 55% |
| 8 | East Mississippi Community College | $3,200 | 96% | 67% |
| 9 | Southwest Mississippi Community College | $2,880 | 95% | 64% |
| 10 | Meridian Community College | $2,800 | 89% | 54% |
Source: Integrated Postsecondary Education Data System (IPEDS) 2018-19, National Center for Education Statistics, http://nces.ed.gov/ipeds/
Spotlight on Computer Sciences Schools in Mississippi
A number of computer science degree programs can be found at Mississippi community colleges, four-year public institutions, and four-year private Christian colleges. Let's dive deeper into a few schools with some of the most unique program offerings.
Mississippi College: Students who pursue an undergraduate or graduate computer science degree at MC receive the opportunity to attend a cybersecurity summit. This event can provide students with insights into valuable cybersecurity tools and resources for a variety industries and topics such as critical infrastructure, healthcare, government, education, and cryptocurrency.
Mississippi State University: At MSU students may enroll in a 5-year B.S./M.S. program in computer science. By doing so, they can earn a Bachelor of Science in Computer Science or a Bachelor of Science in Software Engineering as well as a Master of Science in Computer Science in about 5 years.
University of Southern Mississippi: Southern Miss offers a Bachelor of Science in Applied Computer Science, which focuses on applying computer science theories and techniques to disciplines like computer game design and software engineering. Research opportunities for students at the undergraduate and graduate levels are available.
IT Salaries and Career Outlook in Mississippi
Mississippi is projected to see significant growth in software development, information security analysis, web development, and database administration in the coming years.
Some of the companies who typically hire professionals that specialize in these fields include the Yates Companies, a construction engineering provider; American HealthTech, a healthcare management software company; and Aerojet Rocketdyne, which manufactures rocket and missile propulsion.
| Career | Annual Median Wage |
| --- | --- |
| Information Security Analysts | $70,460 |
| Database Administrators and Architects | $74,180 |
| Computer Network Architects | $92,350 |
| Web Developers and Digital Interface Designers | $59,150 |
| Computer Programmers | $72,830 |
| Computer Network Support Specialists | $54,550 |
| Software Developers and Software Quality Assurance Analysts and Testers | $80,420 |
| Computer Systems Analysts | $63,820 |
| Network and Computer Systems Administrators | $66,610 |
2019 Occupational Employment Statistics and 2018-28 Employment Projections, Bureau of Labor Statistics, BLS.gov.
Computer Science Scholarships for Mississippi Students
Paying for college can be a challenge for many, but scholarships and grants may help eligible students defray costs. Be sure to check what might be available through your school of choice. In addition, you can use the scholarship database on our sister site, Schools.com, to search for Mississippi-specific scholarships as well as awards that focus on students pursuing majors in computer science or information technology.
Mississippi Professional Organizations and Resources
Technology professionals as well as those who are pursuing IT degree programs in Mississippi may find the following organizations and resources valuable for learning and networking opportunities.
Article Sources
Article Sources
Sources
About Computer Science, Mississippi College, Accessed August 2019, https://www.mc.edu/academics/programs/computer-science/about
Accelerated Program (B.S./M.S. Combined Degree), Mississippi State University, Accessed August 2019, http://www.cse.msstate.edu/undergrad/accelerated/
Association of Information Technology Professionals-Jackson Chapter, Accessed August 2019, https://aitpjackson.org/
C Spire on a Mission to Transform Mississippi through Technology, PR Newswire, Accessed January 2019, https://www.prnewswire.com/news-releases/c-spire-on-a-mission-to-transform-mississippi-through-technology-300612877.html
Computer Science, University of Southern Mississippi, Accessed August 2019, https://home.usm.edu/academics/undergraduate-programs/computer-science
CS4MS Pilot Program Launched by Mississippi Department of Education, CS4MS, Accessed January 2019, https://cs4ms.org/2016/08/cs4ms-pilot-program-launched/
Innovate Mississippi Launches "Code Mississippi" Statewide, Innovate Mississippi, Accessed January 2019, https://www.innovate.ms/innovate-mississippi-launches-code-mississippi-statewide/
Mississippi Communications Technology Alliance, Accessed August 2019, http://mctaonline.org
Mississippi Educational Computing Association, Accessed August 2019, http://www.ms-meca.org/
Mississippi Educational Technology Leaders Association, Accessed August 2019, http://www.metla.org/
Mississippi Expands STEM Education in Schools, Districts Through Grants, Mississippi Department of Education, Accessed August 2019, https://www.mdek12.org/news/2019/5/13/Mississippi-Expands-STEM-Education-in-Schools-Districts-Through-Grants_20190513
New Report Details Impact of Mississippi Tech Industry, CompTIA, Accessed August 2019, https://www.comptia.org/about-us/newsroom/press-releases/2019/03/26/new-report-details-impact-of-mississippi-tech-industry
These are the Largest Employers in Mississippi, Zippia, Accessed January 2019, https://www.zippia.com/advice/largest-companies-in-mississippi/
X
Methodology
To be included in the rankings, all colleges had to meet the following criteria:
Be an accredited U.S. institution
Offer either 2 or 4-year degree programs
Be active in the 2016-17 school year
Offer a degree in a technology-related subject
Have awarded at least one degree in that subject in 2015-16
Have reported data for all ranking variables listed below
Ranking variables:
Related subjects, based on the number of relevant programs that are offered at any level
Flexibility, based on number of relevant programs that are offered at any level via distance education
Average in-state undergraduate tuition
Percent of undergraduate students awarded federal, state, local, institutional or other sources of grant aid
Average amount of federal, state, local, institutional, or other sources of grant aid awarded to undergraduate students
Graduation rate
Retention rate
Methodology Sources:
Integrated Postsecondary Education Data System (IPEDS) 2016-17, National Center for Education Statistics, http://nces.ed.gov/ipeds/
X