If you want to be in a hub of technology, innovation and entrepreneurship, Massachusetts could be a place to consider. Boston alone has more than 100 digital tech companies, accounting for 37,000-plus jobs in tech employment, according to a BuiltInBoston.com article. And according to a 2018 study by CompTIA, the state as a whole has the highest concentration of tech workers.
Whether you are looking to start your IT career or take your current one to a more advanced level, students in Massachusetts have many choices for computer science degree programs through one of the state's public or private colleges and universities.
Massachusetts' Technology Education Initiatives
Given the importance of the tech industry in the Bay State, it's not surprising that Massachusetts is focused on tech education. The need is strong, since in Massachusetts about 23 percent of jobs in the state require skills in computer science. Government, education, and industry leaders know it may be a smart move to equip learners of all levels with a strong science and tech education.
STEM Council: The Massachusetts Department of Higher Education established an official STEM Council in 2014 in order to expand access to high-quality education in these fields for students throughout the Commonwealth. Council members are united in their goal of helping students be prepared to meet future workforce demands in terms of STEM-literacy and skills.
Closing the digital equity gap: The Massachusetts Business Alliance for Education also understands the importance of helping to build a workforce that is well-grounded in the foundations of computer science. To that end, one of their main initiatives is to create additional pathways for students to pursue more advanced skills through advanced computer science courses. MBAE is working with the state's board of education to make that happen.
STEM Week: In 2018, for the first time, the state celebrated STEM week, which focused on science and tech education from the kindergarten to high school and college level. The purpose of this week-long event in October was to help promote STEM careers and jobs among middle school and high school students.
Southern New Hampshire University
Some of the nation's most affordable tuition rates, from a private, nonprofit, NEASC accredited university
Qualified students with 2.5 GPA and up may receive up to $20K in grants & scholarships
Multiple term start dates throughout the year. 24/7 online classroom access
Offering over 200 online degree programs
Purdue University Global
Experience world-class education online with more than 175 programs at associate's, bachelor's, master's and doctoral levels.
Apply eligible work experience and prior college credits toward up to 75% of your undergraduate degree.
You have the option of trying out a Purdue Global undergraduate program for an introductory 3-week period. There's no cost beyond the application fee.
Competency-based ExcelTrack™ programs may allow you to earn your degree faster and for less money
Best Computer Science and IT Colleges in Massachusetts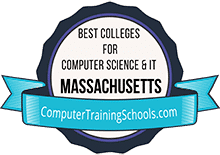 There exists broad opportunity for workers with varying levels of educational attainment in the IT industry in Massachusetts – at the associate, bachelor's and graduate degree levels. Prospective students can select from 60-plus colleges and universities in the state (public, private, and for-profit) that offer computer science-related degree programs. IT-related associate degrees can be earned at almost two dozen institutions, while bachelor's degrees can be attained at more than 40 schools; advanced degrees can be completed at 15-plus colleges and universities.
| Ranking | School Name | In State Avg. Undergrad Tuition | % Receiving Financial Aid | Retention Rate |
| --- | --- | --- | --- | --- |
| 1 | Worcester Polytechnic Institute | $49,860 | 98% | 96% |
| 2 | Bunker Hill Community College | $576 | 67% | 61% |
| 3 | Fitchburg State University | $970 | 90% | 73% |
| 4 | Brandeis University | $53,260 | 68% | 92% |
| 5 | Harvard University | $46,340 | 77% | 99% |
| 6 | Massachusetts Institute of Technology | $51,520 | 73% | 99% |
| 7 | University of Massachusetts-Lowell | $14,710 | 91% | 85% |
| 8 | Boston University | $52,816 | 58% | 94% |
| 9 | Bridgewater State University | $910 | 93% | 78% |
| 10 | University of Massachusetts-Amherst | $15,406 | 91% | 91% |
Source: Integrated Postsecondary Education Data System (IPEDS) 2018-19, National Center for Education Statistics, http://nces.ed.gov/ipeds/
Spotlight on Computer Sciences Schools in Massachusetts
Computer science and IT degree programs in Massachusetts can be found at community colleges as well as universities and research institutions. Details on four schools with programs are listed below, but be aware there are more degree programs offered through IT schools in Massachusetts.
Middlesex Community College, Middlesex: Starting with an associate degree program in computer science could be a good choice for students interested in community college. In fact, this school offers two different A.S. degree programs in computer science, both of which are intended to be transfer degrees.
Worcester Polytechnic Institute, Worcester: The bachelor of science program for computer science at this institute is versatile, offering topics of study as diverse as art, engineering, math and the humanities. Project-based learning is also integrated and includes project opportunities off campus and even overseas.
UMass Online: If online learning in an IT field is important, then UMass Online may be a school of choice. A variety of IT programs are offered online, including at the undergraduate and graduate level. Additional options include a bachelor's of science in IT as a second degree and a variety of undergraduate and graduate level certificates in the field.
UMass Amherst: This school offers computer science degrees from the bachelor's to Ph.D. levels. Furthermore, its faculty members have recently been in the news for contributions such as co-authoring a textbook and collaborative development of a mobile health system to monitor osteoarthritis in the knee.
IT Salaries and Career Outlook in Massachusetts
Before enrolling in one of the online computer science programs or IT schools in Massachusetts, you might want to know more about the demand for various IT occupations in the state. Take a list at our look of in-demand occupations below.
| Career | Annual Median Wage |
| --- | --- |
| Information Security Analysts | $98,380 |
| Database Administrators and Architects | $103,370 |
| Computer Network Architects | $125,280 |
| Web Developers and Digital Interface Designers | $82,720 |
| Computer Programmers | $96,710 |
| Computer Network Support Specialists | $79,780 |
| Software Developers and Software Quality Assurance Analysts and Testers | $112,720 |
| Computer Systems Analysts | $93,690 |
| Network and Computer Systems Administrators | $90,440 |
2019 Occupational Employment Statistics and 2018-28 Employment Projections, Bureau of Labor Statistics, BLS.gov.
There are many different companies that employ people in tech jobs in Massachusetts. Students of IT degree programs in Massachusetts might look at these and other organizations as they start their job hunt:
Agero (software)
Akami Technologies (cloud)
Carbon Black (cybersecurity)
Kronos (software)
PTC (software)
SimpliSafe (IoT)
Computer Science Scholarships for Massachusetts Students
Scholarship money can be useful in helping to offset college tuition costs. A short list of some scholarships available to Massachusetts residents interested in IT degree programs are detailed below. Some scholarships may be specific to certain schools; if your target school isn't highlighted below, be sure to check that school's website to see what might be available.
There are also non-program-specific scholarships available to Massachusetts students. Check the scholarship tool on our partner site, Schools.com, to explore additional options.
Massachusetts Professional Organizations and Resources
Either before or after you graduate from one of the campus-based or online IT programs in Massachusetts, you may want to join a professional association. These associations offer sundry benefits that may vary from networking to training and legislative action. A list of some IT associations and organizations in Massachusetts are provided below.
Professional Organizations
Additional Resources
Article Sources
Article Sources
Sources
College of Information and Computer Sciences, UMass Amherst, Accessed December 2018, https://www.cics.umass.edu/
Computer Science, BS, Worcester Polytechnic Institute, Accessed December 2018, https://www.wpi.edu/academics/study/computer-science-bs
Computer Science Department, Middlesex Community College, Accessed December 2018, https://www.middlesex.mass.edu/computerscience/
Cost of Living Data Series, Missouri Economic Research and Information Center, Accessed December 2018, https://www.missourieconomy.org/indicators/cost_of_living/
Degrees and Certificates, UMass Online, Accessed December 2018, https://www.cyberstates.org/pdf/press_releases/CompTIA_Cyberstates_2018_Massachusetts_PR.pdf
First Annual Statewide STEM Week, Mass Stem Week, Accessed December 2018, https://www.massstemweek.org
"Introducing Boston's Top 100 tech companies," Built in Boston, Accessed December 2018, https://www.builtinboston.com/2017/11/07/boston-top-100-tech-companies-2017
Massachusetts STEM Advisory Council, Massachusetts Department of Higher Education, Accessed February 2019, http://www.mass.edu/stem/home/council.asp
"Massachusetts Technology Industry Added More Than 8,000 Jobs in 2017, State has Highest Concentration of Tech Workers in Nation," CompTIA, March 27, 2018, https://www.cyberstates.org/pdf/press_releases/CompTIA_Cyberstates_2018_Massachusetts_PR.pdf
Search Scholarships Database, Schools.com, Accessed December 2018, https://www.schools.com/scholarships-database
X
Methodology
To be included in the rankings, all colleges had to meet the following criteria:
Be an accredited U.S. institution
Offer either 2 or 4-year degree programs
Be active in the 2016-17 school year
Offer a degree in a technology-related subject
Have awarded at least one degree in that subject in 2015-16
Have reported data for all ranking variables listed below
Ranking variables:
Related subjects, based on the number of relevant programs that are offered at any level
Flexibility, based on number of relevant programs that are offered at any level via distance education
Average in-state undergraduate tuition
Percent of undergraduate students awarded federal, state, local, institutional or other sources of grant aid
Average amount of federal, state, local, institutional, or other sources of grant aid awarded to undergraduate students
Graduation rate
Retention rate
Methodology Sources:
Integrated Postsecondary Education Data System (IPEDS) 2016-17, National Center for Education Statistics, http://nces.ed.gov/ipeds/
X