CompTIA, a global technology industry association, reported in the 2019 edition of Cyberstates that the tech sector in Maine contributes an estimated $2.6 billion to the state's overall economy. Maine is also home to about 35,000-plus employees in the tech space. Maine tech salaries are also reported to be higher than the state's average salaries in other industries.
These statistics can be great news if you're thinking of enrolling in one of the computer science programs in Maine. Upon graduation, you can be ready for to start a tech career in Portland, Augusta, Bangor, for example.
Maine's Technology Education Initiatives
To encourage the growth of technology and tech-related knowledge in the Pine Tree State, a number of initiatives have been implemented through government, education, business and community efforts. Here's a brief overview of a few of them.
Encouraging technology in schools: The Maine Learning Technology Initiative (MLTI) was developed to support technology-enhanced educational experiences for K-12 students throughout the state. It focuses on ensuring that teachers have the software, tech support, and professional development they need to take full advantage of technology in the classroom. In the 2018-19 school year, more than 300 schools are targeted to be served by this initiative.
Supporting the technology community: TechMaine is an open platform that strives to promote news, events, and activities that support technology throughout the state. It sends out regular newsletters and features discussion boards to keep people informed and connected on technology happenings. In addition, TechMaine hosts tech-related courses like "Ruby Programming for Beginners" and "JavaScript with BackboneJS and Bootstrap CSS."
Funding the tech sector: A special referendum approved by Maine voters in 2017 authorized the issue of $50 million in bonds to pay for the research, development, and commercialization of seven technology sectors in the state. Funds are being used for technology upgrades, infrastructure, and to support qualifying small businesses in creating tech jobs.
Southern New Hampshire University
Some of the nation's most affordable tuition rates, from a private, nonprofit, NEASC accredited university
Qualified students with 2.5 GPA and up may receive up to $20K in grants & scholarships
Multiple term start dates throughout the year. 24/7 online classroom access
Offering over 200 online degree programs
Purdue University Global
Experience world-class education online with more than 175 programs at associate's, bachelor's, master's and doctoral levels.
Apply eligible work experience and prior college credits toward up to 75% of your undergraduate degree.
You have the option of trying out a Purdue Global undergraduate program for an introductory 3-week period. There's no cost beyond the application fee.
Competency-based ExcelTrack™ programs may allow you to earn your degree faster and for less money
Best Colleges for Computer Science and IT in Maine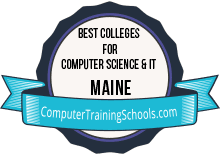 An educated workforce is necessary for Maine's technology industry to continue to thrive. Prospective students can select from many institutions to pursue degrees in computer science or information technology. If you're unsure of which school is right for you, this list of the best IT schools in Maine can help.
| Ranking | School Name | In State Avg. Undergrad Tuition | % Receiving Financial Aid | Retention Rate |
| --- | --- | --- | --- | --- |
| 1 | University of Maine | $8,790 | 100% | 78% |
| 2 | Bowdoin College | $53,418 | 56% | 98% |
| 3 | University of Maine at Farmington | $8,220 | 97% | 71% |
| 4 | Colby College | $52,890 | 52% | 94% |
| 5 | University of Southern Maine | $7,588 | 97% | 70% |
| 6 | Thomas College | $25,960 | 100% | 65% |
| 7 | University of Maine at Augusta | $6,990 | 94% | 59% |
| 8 | Southern Maine Community College | $2,820 | 81% | 54% |
Source: Integrated Postsecondary Education Data System (IPEDS) 2018-19, National Center for Education Statistics, http://nces.ed.gov/ipeds/
Spotlight on Computer Sciences Schools in Maine
Computer science schools in Maine can prepare students for fulfilling careers in IT. These schools have programs that are particularly noteworthy.
University of Maine: At UMaine, students can pursue either a Bachelor of Science or Bachelor of Arts in Computer Science. While the B.S. program is a traditional computer science degree, the B.A. allows students to learn about other areas of study and aims to prepares them for a career in computing or graduate education. Students accepted to the School of Computing and Information Science's "4+1" program have the opportunity to earn a master's degree in computer science in just one year.
Thomas College: The bachelor of science in computer science program at Thomas focuses on real-world experiences. For example, students pursuing this bachelor's degree can expect to learn how to build databases and websites, set up networks, write programs and even solve security problems.
Southern Maine Community College: Students who earn an associate degree in computer science at SMCC can either apply for entry-level tech jobs after graduation or transfer to a four-year bachelor's program. SMCC has transfer agreements in place with Husson University for those who want to move on to a program that culminates in either a B.S. in computer science or a B.S. in software development.
University of Maine at Augusta: A bachelor of science in cybersecurity program is available at UMA. Students can enjoy open lab time in the school's cybersecurity resource center and participate in Cyber Moose, a competitive cybersecurity team that gives students the opportunity to compete across the nation.
IT Salaries and Career Outlook in Maine
Database administrators, software developers, and computer system administrators are a few of the fastest-growing occupations in Maine, according to the Bureau of Labor Statistics. Potential employers that may hire these types of professionals include Tilson Technology Management, a network deployment and IT professional services firm; Tex Tech Industries, a leading needle and woven felt manufacturer; and Diversified Communications, an international media organization. These companies are located in Portland, Maine, the most populous city in the state.
| Career | Annual Median Wage |
| --- | --- |
| Information Security Analysts | $88,280 |
| Database Administrators and Architects | $86,350 |
| Computer Network Architects | $101,220 |
| Web Developers and Digital Interface Designers | $51,360 |
| Computer Programmers | $83,940 |
| Computer Network Support Specialists | $64,970 |
| Software Developers and Software Quality Assurance Analysts and Testers | $94,110 |
| Computer Systems Analysts | $73,330 |
| Network and Computer Systems Administrators | $74,780 |
2019 Occupational Employment Statistics and 2018-28 Employment Projections, Bureau of Labor Statistics, BLS.gov.
Computer Science Scholarships for Maine Students
Funding online IT programs can be overwhelming. Eligible students can, however, apply for scholarships that help to cover some of the costs and make a tech education more affordable. Here are a few scholarships available to students pursuing computer science degree programs in Maine.
Unitil Scholarship Fund: This award is for eligible high school seniors who live in Maine (or New Hampshire and Massachusetts) and plan on majoring in science, technology, engineering, or math (STEM). Consideration is give to academic merit, financial need, and extracurricular involvement.
Kennebec Valley Community College Foundation Scholarship: Enrolled computer science college students or those who are returning to school may be eligible to apply for this award.
University of Southern Maine's Hagge Family Scholarship: Maine residents who are enrolled in a full-time degree program related to STEM can apply for this award, which is designed for new or current students who are majoring in a STEM field, including computer science. They should have a minimum GPA of 3.0 and demonstrate financial need.
Maine Professional Organizations and Resources
There are several professional organizations and resources for IT professionals and students pursuing IT degree programs in Maine. Both students and working professionals may find the following valuable in terms of networking and learning opportunities.
Article Sources
Article Sources
Sources
Associate Degree in Computer Science, Southern Maine Community College, Accessed November 2019, https://www.smccme.edu/academics/degree-programs/computer-science/
Association of Computing Machinery- University of Maine Chapter, Accessed November 2019, https://umaine.edu/scis/students/
Computer Science (BS), Thomas College, Accessed November 2019, https://www.thomas.edu/academics/programs/undergraduate/computers-technology/computer-science-bs/
Hagge Family Scholarship, University of Southern Maine, Accessed November 2019, https://usm.maine.edu/scholarships/hagge-family-scholarship
Information Technology Exchange, Accessed November 2019, https://www.itec3.org/about
Institute of Electrical and Electronics Engineers (IEEE)- University of Maine Chapter, Accessed November 2019, https://umaine.edu/ieee/what-is-ieee/
Maine Learning Technology Initiative, Accessed November 2019, https://www.maine.gov/doe/learning/ltt/mlti
Maine Scholarship Search, Finance Authority of Maine, Accessed November 2019, https://www.famemaine.com/education/topics/paying-for-college/maine-scholarship-search/
Maine Technology Institute, Accessed November 2019, https://www.mainetechnology.org
Maine Technology Users Group (MTUG), Accessed November 2019, https://mtug.org/
"MTI announces final $10.9M of grants from last year's R&D bond," April 13, 2018, Maine Startups Insider, http://mainestartupsinsider.com/mti-awards-final-mtaf/
New Report Offers Insights into Maine Technology Industry, CompTIA, Accessed August 2019, https://www.comptia.org/newsroom/press-releases/2018/03/27/new-report-offers-insights-into-maine-technology-industry
School of Computing and Information Science 4+1 Programs, University of Maine, Accessed November 2019, https://umaine.edu/las/clas-double-up-programs/scis-4-plus-1-programs/
TechMaine, Accessed November 2019, http://www.techmaine.com/
Undergraduate Degree Programs, Computer Science, University of Maine, Accessed November 2019, https://umaine.edu/cs/undergraduate-degree-programs/
X
Methodology
To be included in the rankings, all colleges had to meet the following criteria:
Be an accredited U.S. institution
Offer either 2 or 4-year degree programs
Be active in the 2016-17 school year
Offer a degree in a technology-related subject
Have awarded at least one degree in that subject in 2015-16
Have reported data for all ranking variables listed below
Ranking variables:
Related subjects, based on the number of relevant programs that are offered at any level
Flexibility, based on number of relevant programs that are offered at any level via distance education
Average in-state undergraduate tuition
Percent of undergraduate students awarded federal, state, local, institutional or other sources of grant aid
Average amount of federal, state, local, institutional, or other sources of grant aid awarded to undergraduate students
Graduation rate
Retention rate
Methodology Sources:
Integrated Postsecondary Education Data System (IPEDS) 2016-17, National Center for Education Statistics, http://nces.ed.gov/ipeds/
X