Iowa is home to more than 4,300 tech establishments and has more than 92,000 tech workers. And the impact of those businesses? CompTIA's Cyberstates 2019 report notes that Iowa's tech sector is responsible for about $10.4 billion of the state's overall economy, an increase over the previous year.
Adults who are pursuing IT degree programs in Iowa are likely be excited about these figures as they show that there is a real need for IT professionals in the Hawkeye State. After graduating with an IT or computer science degree, they are likely to land employment in Des Moines, Cedar Rapids, Davenport, Iowa City, and other thriving cities with tech jobs.
Iowa's Technology Education Initiatives
Iowa is working hard to support and grow both its IT sector and the computer science schools who help to educate its future tech workforce. Several examples of the state's initiatives include:
Expanding computer science opportunities: Senate File 274 was passed to encourage computer science education in all Iowa schools by July 1, 2019. It establishes computer science standards and develops a computer science professional development incentive fund for teachers. Iowa's government has dedicated $250,000 to train teachers in computer science instruction.
Connecting students with technology leaders: The Technology Association of Iowa has created the Catalysts program to provide students, professionals, and other interested parties with opportunities to hear how technology leaders are aiming spark tech innovation in the state and inspire change.
Increasing the effectiveness of IT: The University of Iowa has designed OneIT, an effort to raise the efficiency and effectiveness of IT by dramatically reducing the cost of providing general IT services that are necessary for the daily operations of the campus.
Supporting teachers with technology education: The Iowa Technology and Education Connection hosts IT conferences to give IT professionals and district technology leaders the opportunity to connect and learn about the most recent hardware and software developments for schools.
Southern New Hampshire University
Some of the nation's most affordable tuition rates, from a private, nonprofit, NEASC accredited university
Qualified students with 2.5 GPA and up may receive up to $20K in grants & scholarships
Multiple term start dates throughout the year. 24/7 online classroom access
Offering over 200 online degree programs
Purdue University Global
Experience world-class education online with more than 175 programs at associate's, bachelor's, master's and doctoral levels.
Apply eligible work experience and prior college credits toward up to 75% of your undergraduate degree.
You have the option of trying out a Purdue Global undergraduate program for an introductory 3-week period. There's no cost beyond the application fee.
Competency-based ExcelTrack™ programs may allow you to earn your degree faster and for less money
Best Computer Science and IT Colleges in Iowa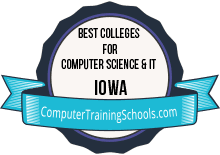 More than two dozen schools in Iowa offer degree programs in the tech field, including online IT programs. While a large number of schools are private nonprofit institutions — some of which are Christian-based colleges — the state also hosts a several large public community colleges and universities. How to choose which one to attend? You can start by checking out the schools in our ranking of the best colleges for computer science in the state to see which ones meet your goals for variety of programs and the all-important cost factor, among other metrics.
| Ranking | School Name | In State Avg. Undergrad Tuition | % Receiving Financial Aid | Retention Rate |
| --- | --- | --- | --- | --- |
| 1 | Iowa State University | $7,740 | 89% | 87% |
| 2 | University of Northern Iowa | $7,665 | 81% | 84% |
| 3 | Grinnell College | $51,924 | 86% | 92% |
| 4 | Eastern Iowa Community College District | $5,184 | 86% | 63% |
| 5 | Luther College | $41,950 | 100% | 84% |
| 6 | Marshalltown Community College | $4,152 | 83% | 71% |
| 7 | Purdue University Global-Davenport | $13,356 | 25% | 100% |
| 8 | Maharishi University of Management | $16,000 | 100% | 53% |
| 9 | Southwestern Community College | $5,130 | 94% | 60% |
| 10 | Loras College | $32,524 | 100% | 81% |
Source: Integrated Postsecondary Education Data System (IPEDS) 2018-19, National Center for Education Statistics, http://nces.ed.gov/ipeds/
Spotlight on Computer Sciences Schools in Iowa
Here's a closer look at some of the most noteworthy computer science programs in Iowa. This is just a sampling, and given the number of available IT programs in Iowa, it's worth investing additional schools to find the most that best aligns with your education plans.
The University of Iowa: A Bachelor of Science in Engineering at the UI combines the technical aspect of a computer science degree and a computer engineering degree into one program. Students in this joint program are taught by faculty from both the Computer Science and Electrical and Computer Engineering departments.
Mount Mercy University: At Mount Mercy, students who major in computer science can participate in research projects, STEM initiatives, and internships through the Computer Science Club. Majors can focus on computational science, information security, software development, web development, embedded systems, or software engineering.
University of Northern Iowa: UNI offers a Bachelor of Science in Networking & Administration. This program aims to prepare students for research opportunities and careers in reliable and distributed network computing. Students can conduct research on topics such as high-performance computing, system security, data encryption, and grid computing.
St. Ambrose University: Students may choose from undergraduate majors in computer science, cybersecurity, and computer network administration — any of which can be combined with the M.S. program in information technology management. This 4+1 program can be completed in five years — a potential time and money saver.
IT Salaries and Career Outlook in Iowa
According to the Bureau of Labor Statistics, a number of computer-related occupations are projected to have double-digit growth in the coming years, especially web developers, information security analysts, and software developers.
Newly minted graduates of IT schools in Iowa can explore career opportunities with large employers IBM, Wells Fargo, and Rockwell Collins. Additional options to pursue may be found with smaller companies or start-ups.
| Career | Annual Median Wage |
| --- | --- |
| Information Security Analysts | $81,980 |
| Database Administrators and Architects | $95,210 |
| Computer Network Architects | $101,370 |
| Web Developers and Digital Interface Designers | $59,730 |
| Computer Programmers | $78,500 |
| Computer Network Support Specialists | $53,920 |
| Software Developers and Software Quality Assurance Analysts and Testers | $93,960 |
| Computer Systems Analysts | $83,770 |
| Network and Computer Systems Administrators | $74,290 |
2019 Occupational Employment Statistics and 2018-28 Employment Projections, Bureau of Labor Statistics, BLS.gov.
Computer Science Scholarships for Iowa Students
Paying for one of the computer science degree programs in Iowa may be a daunting prospect, but scholarships and grants can help to defray costs. State- or program-related scholarships may be available to eligible applicants. In addition to the ones highlighted below, it may be worth exploring the scholarship database on our sister site, Schools.com, as well as checking the computer science department at your target school.
Hispanic Scholarship Fund: While this scholarship is available for all majors and graduate fields, emphasis is given to STEM majors. Award amounts can vary.
University of Iowa's Computer Science Department: Multiple awards may be available to eligible applicants, including the David Spang Award, the Jason and Leslie Weber Women in Computer Science Scholarship, the John Deere Scholarship, and the Arthur Collins Scholarship, among others.
Iowa State University's Department of Computer Science: Scholarships available to new and/or current students include the Charlie and Barb Hunt Scholarship in Computer Science, the Mark Geise Computer Science Scholarship, and the Arthur A. Collins Education Fund in Computer Science.
Iowa Professional Organizations and Resources
Iowa has numerous professional organizations and resources that may be of value to students enrolled in IT programs in Iowa as well as active technology professionals. Several of them include:
Article Sources
Article Sources
Sources
A Major in Networking and System Administration, University of Northern Iowa, Accessed December 2018, https://www.cs.uni.edu/overview_networking.php
Association for Computing Machinery, The University of Iowa, Accessed August 2019, https://acm.org.uiowa.edu/
Computer Science, Mount Mercy University, Accessed August 2019, https://www.mtmercy.edu/computer-science
Computer Science, St. Ambrose University, Accessed August 2019, https://www.sau.edu/computer-science
Computer Science and Engineering, The University of Iowa, Accessed August 2019, https://cs.uiowa.edu/undergraduate-programs/computer-science-and-engineering-0
Fastest Growing Jobs in Iowa, Zippia, Accessed December 2018, https://www.zippia.com/advice/fastest-growing-jobs-in-iowa/
Iowa Makes Progress in Expanding Computer Science Opportunities for Students, Educate Iowa, Accessed December 2018, https://www.educateiowa.gov/article/2017/11/01/iowa-makes-progress-expanding-computer-science-opportunities-students
Iowa Technology Summit, Accessed August 2019, https://www.iowatechsummit.com/
IT Conference, Iowa Technology & Education Connection, Accessed August 2019, https://oneit.uiowa.edu/about
OneIT, University of Iowa, Accessed December 2018, https://oneit.uiowa.edu/about
STEM Scale-Up Program, Iowa.gov, Accessed August 2019, https://www.iowastem.gov/Scale-Up
Technology Employment Expands its Presence in Iowa's Workforce, CompTIA, Accessed August 2019, https://www.comptia.org/about-us/newsroom/press-releases/2019/03/26/technology-employment-expands-its-presence-in-iowa-s-workforce
Technology Association of Iowa, Accessed August 2019, https://www.technologyiowa.org
X
Methodology
To be included in the rankings, all colleges had to meet the following criteria:
Be an accredited U.S. institution
Offer either 2 or 4-year degree programs
Be active in the 2016-17 school year
Offer a degree in a technology-related subject
Have awarded at least one degree in that subject in 2015-16
Have reported data for all ranking variables listed below
Ranking variables:
Related subjects, based on the number of relevant programs that are offered at any level
Flexibility, based on number of relevant programs that are offered at any level via distance education
Average in-state undergraduate tuition
Percent of undergraduate students awarded federal, state, local, institutional or other sources of grant aid
Average amount of federal, state, local, institutional, or other sources of grant aid awarded to undergraduate students
Graduation rate
Retention rate
Methodology Sources:
Integrated Postsecondary Education Data System (IPEDS) 2016-17, National Center for Education Statistics, http://nces.ed.gov/ipeds/
X