In 2017, the U.S. Department of Labor ranked Indianapolis fourth in the nation for technology job growth among all U.S. cities. The state is now often referred to as "Silicon Valley of the Midwest" or as part of the "Silicon Prairie" because of its growth in the technology sector. In addition to the state's high number of computer science graduates, Indiana's affordability factor is another reason why so many tech company founders may consider locating their business in the state.
Tech industry statistics show that computer science degree programs in Indiana may be a wise investment for many adults. The tech industry's labor pool in central Indiana grew by more than 27 percent between 2015 and 2016. Prior to the that, tech industry employment in the state rose by 25.7 percent. In addition, TechPoint, the tech community accelerator in Indiana found technology investments in Indiana to grow and total more than $235 billion in 2017.
Indiana's Technology Education Initiatives
Indiana has taken steps to promote and grow the state's technology sector and IT degree programs in Indiana through a number of initiatives. Let's take a closer look at several of them.
Incorporating computer science in public school curricula: Starting in 2021, public school districts throughout Indiana are expected to include computer science in their curricula for students. This initiative is designed to encourage students to eventually pursue computer science degree programs in Indiana.
Increasing the number of minorities in STEM: The IU-MSI STEM Initiative is an academic and research partnership between Indiana University and multiple Minority Serving Institutions (MSI). Its main objective is to provide additional substantive STEM research opportunities for MSI and IU students.
Preparing students for tech careers: Hire Tech has prepared 7,000-plus high school students for high-tech careers since 2012. It has also awarded more than 8,300 industry-recognized credentials and 16,000-plus college credits. High Tech's mission is to inspire students and to develop a skilled talent pipeline.
Connecting teachers with leaders in the IT sector: Nextech, a nonprofit in Indianapolis, has launched an initiative to connect computer science teachers with leaders in the local tech sector. It allows them to gain firsthand knowledge about trends and computer-related job opportunities in the state.
Southern New Hampshire University
Some of the nation's most affordable tuition rates, from a private, nonprofit, NEASC accredited university
Qualified students with 2.5 GPA and up may receive up to $20K in grants & scholarships
Multiple term start dates throughout the year. 24/7 online classroom access
Offering over 200 online degree programs
Purdue University Global
Experience world-class education online with more than 175 programs at associate's, bachelor's, master's and doctoral levels.
Apply eligible work experience and prior college credits toward up to 75% of your undergraduate degree.
You have the option of trying out a Purdue Global undergraduate program for an introductory 3-week period. There's no cost beyond the application fee.
Competency-based ExcelTrack™ programs may allow you to earn your degree faster and for less money
Best Computer Science and IT Colleges in Indiana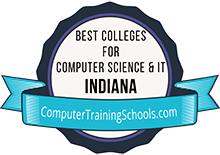 Similar to other states in the country, computer science and IT degree programs in Indiana are offered by large public colleges and universities, smaller private institutions, and a number of small community colleges and tech schools. Most larger schools focus on bachelor's and graduate degree programs in computer science and related fields, while Indiana's technical schools and community colleges focus mainly on associate and certificate programs.
| Ranking | School Name | In State Avg. Undergrad Tuition | % Receiving Financial Aid | Retention Rate |
| --- | --- | --- | --- | --- |
| 1 | Purdue University-Main Campus | $9,208 | 69% | 92% |
| 2 | Ivy Tech Community College | $4,218 | 74% | 51% |
| 3 | Indiana University-Bloomington | $9,342 | 77% | 91% |
| 4 | International Business College-Indianapolis | $13,960 | 95% | 87% |
| 5 | Valparaiso University | $39,000 | 100% | 80% |
| 6 | DePauw University | $48,860 | 100% | 91% |
| 7 | Purdue University Fort Wayne | $7,349 | 90% | 55% |
| 8 | Goshen College | $33,700 | 100% | 73% |
| 9 | International Business College-Fort Wayne | $13,960 | 97% | 69% |
| 10 | Taylor University | $33,864 | 98% | 86% |
Source: Integrated Postsecondary Education Data System (IPEDS) 2018-19, National Center for Education Statistics, http://nces.ed.gov/ipeds/
Spotlight on Computer Sciences Schools in Indiana
Here's a brief overview of several innovative computer science programs offered by IT schools in Indiana:
Indiana University Bloomington: IU's accelerated master's in computer science program grants students the opportunity to earn two degrees (a Bachelor of Science in Computer Science and a Master of Science in Computer Science) in five years.
Taylor University: Computer science students at Taylor, a Christian liberal arts institution, may participate in programming practicums and semester-long research programs. They may also study abroad with Taylor's Center for Computing Missions.
Indiana Institute of Technology: Indiana Tech has an entire school dedicated to computer science programs. In addition to its challenging computer science major, students may choose to pursue software or network engineering, information systems, or cybersecurity, among other options
Purdue University: Purdue's Department of Computer Science offers bachelor's, master's, and doctoral programs, including an online M.S. and a joint master's in computer science and statistics. Purdue also partners with a number of corporations in order to offer students internship opportunities.
IT Salaries and Career Outlook in Indiana
According to Indiana Career Ready, the IT-related occupations that are showing significant growth in Indiana include software developers, computer and information systems managers, and web developers.
| Career | Annual Median Wage |
| --- | --- |
| Information Security Analysts | $78,780 |
| Database Administrators and Architects | $70,160 |
| Computer Network Architects | $91,070 |
| Web Developers and Digital Interface Designers | $54,610 |
| Computer Programmers | $78,330 |
| Computer Network Support Specialists | $60,170 |
| Software Developers and Software Quality Assurance Analysts and Testers | $88,430 |
| Computer Systems Analysts | $77,170 |
| Network and Computer Systems Administrators | $73,480 |
2019 Occupational Employment Statistics and 2018-28 Employment Projections, Bureau of Labor Statistics, BLS.gov.
SupplyKick, which helps businesses succeed on Amazon, Fizziology, a social media research firm, Formstack, an online form builder, and Lewellyn Technology, a provider of electrical and combustible dust safety solution all hire these types of IT professionals. Most of these companies are located in the Indianapolis area.
Computer Science Scholarships for Indiana Students
Scholarships for Indiana residents who hope to pursue online IT programs — or campus-based ones — in Indiana may be available to qualified applicants. Here's a closer look at a few of them.
LHP Scholarship: The LHP Scholarship is for residents of Indiana's Bartholomew County who are enrolling in an associate's or bachelor's degree in computer science, electrical engineering, or mechanical engineering. Applicants must have a minimum GPA of 3.0.
Posey County Co-op Scholarship: Designed for graduating high school seniors who reside in Posey County, Indiana, this award supports those who wish to pursue post-secondary education in several fields, including computer technology, at an accredited institution.
CountryMark Technical Trade Scholarship: High school seniors and residents of Posey County may also apply for this scholarship if they are pursuing an associate or bachelor's degree in technology at any the state's accredited colleges, universities, or vocational schools.
Professional Organizations and Resources in Indiana
Indiana is home to a number of professional organizations and resources for students who are attending computer science schools and professionals in the IT sector. A few of these include:
Article Sources
Article Sources
Sources
2018 Indianapolis Tech Census Report, Powderkeg, https://powderkeg.com/indianapolis-tech-census/
About the IU-MSI STEM Initiative, Indiana University, Accessed December 2018, http://www.stem.indiana.edu/about.html
Accelerated Master's in Computer Science, Indiana University Bloomington, Accessed December 2018, https://www.sice.indiana.edu/graduate/degrees/computer-science/accelerated-masters.html
Association for Computing Machinery, Accessed December 2018, https://www.acm.org/
Computer Science, Taylor University, Accessed December 2018, https://www.taylor.edu/computerscience/
CSTA Chapters: Indiana Hoosier Heartland, Accessed December 2018, https://www.csteachers.org/members/group.aspx?code=indiana_hh
Department of Computer Science, Purdue University, Accessed February 2019, https://www.cs.purdue.edu
Hire Tech, Conexus Indiana, Accessed December 2018, https://www.conexusindiana.com/talent-initiatives/hire-tech/
InDemand Jobs, Indiana Career Ready, Accessed December 2018, https://www.indianacareerready.com/Indemandjobs?Page=14&areaID=1&Pagefilter=1
Indiana Public Schools Get Ready to Include Computer Science in Curriculum by 2021, Center for Digital Education, Accessed December 2018, http://www.govtech.com/education/Indiana-Public-Schools-Get-Ready-to-Include-Computer-Science-in-Curriculum-by-2021.html
Indiana Technology Association, Accessed December 2018, https://indianatechnology.org/
"Life in the Silicon Prairie: Tech's great migration to the Midwest," The Hustle, June 9, 2018, https://thehustle.co/life-in-the-silicon-prairie-techs-great-migration-to-the-midwest/
Nextech Launches Externship For Teachers, Inside Indiana Business, Accessed December 2018, http://www.insideindianabusiness.com/story/35632301/nextech-launches-externship-for-teachers
Scholarships Database, Schools.com, Accessed December 2018, https://www.schools.com/scholarships-database
School of Computer Sciences, Indiana Institute of Technology, Accessed February 2019, https://academics.indianatech.edu/areas-of-study/cs/
TechPoint, Accessed December 2018, https://techpoint.org/
Witnessing the Evolution of the Indiana Tech Industry, Building Indiana, Accessed December 2018, https://www.buildingindiana.com/witnessing-the-evolution-of-an-industry
X
Methodology
To be included in the rankings, all colleges had to meet the following criteria:
Be an accredited U.S. institution
Offer either 2 or 4-year degree programs
Be active in the 2016-17 school year
Offer a degree in a technology-related subject
Have awarded at least one degree in that subject in 2015-16
Have reported data for all ranking variables listed below
Ranking variables:
Related subjects, based on the number of relevant programs that are offered at any level
Flexibility, based on number of relevant programs that are offered at any level via distance education
Average in-state undergraduate tuition
Percent of undergraduate students awarded federal, state, local, institutional or other sources of grant aid
Average amount of federal, state, local, institutional, or other sources of grant aid awarded to undergraduate students
Graduation rate
Retention rate
Methodology Sources:
Integrated Postsecondary Education Data System (IPEDS) 2016-17, National Center for Education Statistics, http://nces.ed.gov/ipeds/
X