According to CompTIA, a leading technology industry association, employment in Illinois's technology industry increased by more than 4,000 jobs in 2017 and contributed $48.7 billion to the state's economy. These figures are exciting, especially for adults who hope to pursue computer science degree programs in Illinois. Since Illinois ranks 5th among the 50 states and the District of Columbia in net tech employment, graduates of IT schools in Illinois are likely to land jobs in their fields of study.
Illinois's Technology Education Initiatives
The Prairie State has implemented several initiatives to support IT programs in Illinois and grow interest in technology in the state. Some of the most noteworthy ones include:
Preparing for the future: The goal of Future Ready Illinois is to help administrators, teachers, librarians, and technology integrators understand how to use technology to transform learning, identify areas of need, and develop specific plans of action to address them.
Inspiring IT educators: Every year, IT educators throughout the state come together to attend the Illinois Education & Technology Conference. The goal of this multi-day conference is to help educators harness the power of technology and prepare students to be ready for the future.
Promoting STEM education: i-STEM partners with computer sciences schools in Illinois as well as a number of organizations to facilitate STEM education outreach, improve STEM teacher training, foster undergraduate and graduate STEM education reform, and advocate for STEM education.
Nurturing high schoolers' interest in STEM: The Illinois Mathematics and Science Academy is a college preparatory school that enrolls students in grades 10 through 12 who hope to complete IT degree programs in Illinois. The state provides tuition and boarding expenses for students, who receive opportunities to perform research and further develop their interest in STEM.
Attracting, growing, and retaining talent: Formed by the Illinois Technology Association, TechForward is a nonprofit organization that aims to raise funding from tech businesses to support programs that train students in STEM. It offers scholarships to students pursuing computer science programs in Illinois and raises interest and awareness in STEM careers by bringing corporations, nonprofits, and students together.
Southern New Hampshire University
Some of the nation's most affordable tuition rates, from a private, nonprofit, NEASC accredited university
Qualified students with 2.5 GPA and up may receive up to $20K in grants & scholarships
Multiple term start dates throughout the year. 24/7 online classroom access
Offering over 200 online degree programs
Purdue University Global
Experience world-class education online with more than 175 programs at associate's, bachelor's, master's and doctoral levels.
Apply eligible work experience and prior college credits toward up to 75% of your undergraduate degree.
You have the option of trying out a Purdue Global undergraduate program for an introductory 3-week period. There's no cost beyond the application fee.
Competency-based ExcelTrack™ programs may allow you to earn your degree faster and for less money
Best Computer Science and IT Colleges in Illinois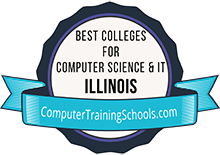 Illinois is an academic powerhouse of a state, home to plenty of big-name universities and a long list of smaller colleges — all that offer computer science-related programs. How do you know which one might be a great fit for your needs? You can start by looking into these ten schools we think do the best job of serving tech-focused students.
| Ranking | School Name | In State Avg. Undergrad Tuition | % Receiving Financial Aid | Retention Rate |
| --- | --- | --- | --- | --- |
| 1 | DePaul University | $39,369 | 98% | 86% |
| 2 | Illinois Institute of Technology | $45,747 | 100% | 86% |
| 3 | Illinois State University | $10,310 | 86% | 79% |
| 4 | Lewis University | $32,300 | 99% | 82% |
| 5 | University of Illinois at Urbana-Champaign | $14,223 | 62% | 93% |
| 6 | University of Chicago | $55,425 | 61% | 99% |
| 7 | Northwestern University | $54,120 | 66% | 97% |
| 8 | Wheaton College | $36,420 | 84% | 92% |
| 9 | Bradley University | $33,360 | 100% | 82% |
| 10 | Elmhurst College | $36,755 | 100% | 78% |
Source: Integrated Postsecondary Education Data System (IPEDS) 2018-19, National Center for Education Statistics, http://nces.ed.gov/ipeds/
Spotlight on Computer Sciences Schools in Illinois
While there are a number of computer science schools in Illinois, the ones with the most unique offerings include:
Illinois College: Students who enroll in their computer science program have the opportunity to join the Illinois College Computer Club or ICCC. Through the ICCC, they can participate in programming contests and take field trips to research facilities and companies who hire IT graduates.
The University of Illinois at Urbana-Champaign: The school's degree option, known as CS + X, allows students to incorporate computer science with technical or professional education in the arts or sciences. A few examples of CS + X programs include Computer Science + Advertising, Computer Science + Music, and Computer Science + Chemistry.
Lewis University: Students at this school can earn a master's degree in computer science with only one additional year of study after they complete their bachelor's degree program. Specialization options include cybersecurity operations, software engineering, game and simulation programming, data science, digital forensics, networking, and computational theory.
IT Salaries and Career Outlook in Illinois
According to 2017 data from the career platform Zippia, web developers, software developers in applications and systems software, and computer systems analysts are considered some of the fastest-growing jobs in Illinois.
Several examples of large companies who hire employees in these types of tech jobs include Salesforce, a customer relationship management platform; Grubhub, a food delivery service; Uber, a ride-sharing provider; Morningstar, an investment management company; and Groupon, an e-commerce marketplace.
| Career | Annual Median Wage |
| --- | --- |
| Information Security Analysts | $101,800 |
| Database Administrators and Architects | $99,690 |
| Computer Network Architects | $123,180 |
| Web Developers and Digital Interface Designers | $74,830 |
| Computer Programmers | $89,570 |
| Computer Network Support Specialists | $60,090 |
| Software Developers and Software Quality Assurance Analysts and Testers | $101,580 |
| Computer Systems Analysts | $89,530 |
| Network and Computer Systems Administrators | $84,490 |
2019 Occupational Employment Statistics and 2018-28 Employment Projections, Bureau of Labor Statistics, BLS.gov.
Computer Science Scholarships for Illinois Students
A few computer science related scholarships to students who wish to enroll in IT degree programs in Illinois including:
MillerCoors Chicagoland Scholarship: This award is for full-time junior and senior college students who are of Hispanic descent and pursuing a degree in business, computer science, biochemistry, or engineering at a Chicago university. Requirements include a minimum GPA of 3.0 and two letters of recommendation.
JASC-Nielsen STEM Scholarship: Japanese American high school seniors as well as college freshmen, sophomores, and juniors may apply for this award if they hope to or are pursuing a STEM major. To apply, students need to submit official high school and college transcripts, a summary of extracurricular activities, and a one page essay of how the Japanese American Service Committee is relevant to their life.
Illinois Professional Organizations and Resources
By joining an IT or computer science association in Illinois, students in computer science schools and working tech professionals can connect with others in the industry and stay-up-to-date on technological trends. Here's a brief overview of what's available in the state.
Professional Organizations
Illinois Technology Association: The goal of ITA is to elevate the local tech community and make Illinois the place for tech companies to thrive. This organization offers educational, networking, and recruiting opportunities for technology professionals.
Association of Information Technology Professionals: The Chicago chapter of CompTIA AITP holds a variety of education and networking opportunities for its members, including dinner meetings, special interest groups, and award events. IT professionals and technology executive are encouraged to join.
Illinois Educational Technology Leaders: IETL is the premier professional association for school technology leaders, policy makers, and decision makers from the public and private sectors of Illinois. It provides mentorship and professional development to school district leaders in the state.
Additional Resources
Women in CU Tech Industry Lunch Forum: This informal networking event is for women in the Champaign-Urbana area who work at technology companies or in technology positions.
TechForward: This philanthropic group, connected to ITA, brings together individuals, corporations and other foundations to make strategic investments in organizations that are dedicated to expanding STEM education in Illinois. Its mission is to grow and retain technology talent in Illinois.
Article Sources
Article Sources
Sources
Chicago's Top 100 Tech Companies, Built in Chicago, Accessed December 2018, https://www.builtinchicago.org/2017/10/24/chicago-top-100-tech-companies-2017
CompTIA AITP Chicago Chapter, CompTIA, Accessed December 2018, https://www.aitp.org/chapters/chicago/
Computer Science, Illinois College, Accessed December 2018, https://www.ic.edu/computer-science
Computer Science, Lewis University, Accessed December 2018, https://www.lewisu.edu/academics/comsci/
CS + X Degree Programs, University of Illinois at Urbana-Champaign, Accessed December 2018, https://cs.illinois.edu/academics/undergraduate/degree-program-options/cs-x-degree-programs
Future Ready Illinois, Technology Center of Illinois, Accessed December 2018, https://ltcillinois.org/digital/futureready/
i-STEM, University of Illinois at Urbana-Champaign, Accessed December 2018, http://www.istem.illinois.edu/about/aboutus.html
Illinois Education & Technology Conference, Accessed December 2018, https://www.il-edtech.org/
Illinois Educational Technology Leaders, Accessed December 2018, https://cosn.org/illinois
Illinois Mathematics and Science Academy, Accessed December 2018, https://www3.imsa.edu
Illinois Technology Association, Accessed December 2018, https://www.illinoistech.org/
Illinois Technology Industry Added More Than 4,000 Jobs in 2017, CompTIA, Accessed December 2018, https://www.comptia.org/about-us/newsroom/press-releases/2018/03/27/illinois-technology-industry-added-more-than-4-000-jobs-in-2017-tech-contributes-nearly-$49-billion-in-economic-impact-to-state
Scholarships, JASC, Accessed December 2018, http://www.jasc-chicago.org/community-services/for-everyone/scholarships/
Scholarships Database, Schools.com, Accessed December 2018, https://www.schools.com/scholarships-database
TechForward, Accessed December 2018, https://www.illinoistechforward.org/
Technology & Manufacturing Association, Accessed December 2018, http://www.tmaillinois.org/#
The Fastest Growing Jobs in Illinois in 2017, Zippia, Accessed December 2018, https://www.zippia.com/advice/fastest-growing-jobs-in-illinois/
Women in Tech, University of Illinois at Urbana-Champaign, Accessed December 2018, http://www.researchpark.illinois.edu/events/cu-women-in-tech
X
Methodology
To be included in the rankings, all colleges had to meet the following criteria:
Be an accredited U.S. institution
Offer either 2 or 4-year degree programs
Be active in the 2016-17 school year
Offer a degree in a technology-related subject
Have awarded at least one degree in that subject in 2015-16
Have reported data for all ranking variables listed below
Ranking variables:
Related subjects, based on the number of relevant programs that are offered at any level
Flexibility, based on number of relevant programs that are offered at any level via distance education
Average in-state undergraduate tuition
Percent of undergraduate students awarded federal, state, local, institutional or other sources of grant aid
Average amount of federal, state, local, institutional, or other sources of grant aid awarded to undergraduate students
Graduation rate
Retention rate
Methodology Sources:
Integrated Postsecondary Education Data System (IPEDS) 2016-17, National Center for Education Statistics, http://nces.ed.gov/ipeds/
X