Two strong drivers of Idaho's economy are technology and innovation, according to Idaho's Department of Commerce. Therefore, it's no surprise that over the past decade, the number of high-tech companies in the state have grown by 61 percent. Looking ahead, the Gem State's tech industry is also projected to increase by 20 percent in the next 10 years as government and business leaders continue to promote initiatives related to technology, innovation and startups.
If you're looking to start or enhance your career in computer science or IT, you're likely to find plenty of education opportunities in the state as well as employment in your field of study once you have a degree in hand.
Idaho's Technology Education Initiatives
To support technology growth and campus-based or online IT degree programs in Idaho, the state has implemented a number of initiatives including:
Incorporating computer science across Idaho schools: The Idaho STEM Action Center, Idaho Digital Learning Academy, and stakeholders across the state have partnered together to create the Idaho Computing Technology K-12 Computer Science State Plan. The plan strives to implement computer science education in schools throughout the state.
Requiring school districts to offer computer science: In 2018, the state passed a bill that requires all school districts in Idaho to make at least one computer science course available to high school students by 2020.
Allowing computer science to count toward graduation credits: The state now allows AP Computer Science to count as one math or up to two science credits for graduation, as long as students complete Algebra II.
Allocating funding to grow computer science: Idaho allocated provided $1 million for FY 2020 to expand computer science throughout the state and give teachers relevant professional development opportunities.
Southern New Hampshire University
Some of the nation's most affordable tuition rates, from a private, nonprofit, NEASC accredited university
Qualified students with 2.5 GPA and up may receive up to $20K in grants & scholarships
Multiple term start dates throughout the year. 24/7 online classroom access
Offering over 200 online degree programs
Purdue University Global
Experience world-class education online with more than 175 programs at associate's, bachelor's, master's and doctoral levels.
Apply eligible work experience and prior college credits toward up to 75% of your undergraduate degree.
You have the option of trying out a Purdue Global undergraduate program for an introductory 3-week period. There's no cost beyond the application fee.
Competency-based ExcelTrack™ programs may allow you to earn your degree faster and for less money
Best Colleges for Computer Science and IT in Idaho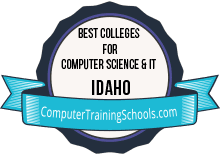 To ensure Idaho has the talented and educated technology professionals it needs to thrive in the coming years, the state's focus on computer science education at the K-12 level is designed to encourage students to pursue computer science degree programs in Idaho. Based on an analysis of data, here are the IT degree programs in Idaho we think offer the best opportunities for students.
| Ranking | School Name | In State Avg. Undergrad Tuition | % Receiving Financial Aid | Retention Rate |
| --- | --- | --- | --- | --- |
| 1 | University of Idaho | $5,778 | 95% | 81% |
| 2 | Idaho State University | $5,645 | 92% | 63% |
| 3 | Boise State University | $5,259 | 84% | 79% |
| 4 | College of Eastern Idaho | $4,096 | 73% | 73% |
| 5 | College of Southern Idaho | $4,560 | 81% | 59% |
| 6 | Brigham Young University-Idaho | $4,118 | 64% | 73% |
| 7 | Northwest Nazarene University | $29,300 | 100% | 76% |
| 8 | College of Western Idaho | $3,400 | 78% | 52% |
| 9 | North Idaho College | $3,916 | 86% | 53% |
| 10 | Lewis-Clark State College | $6,618 | 96% | 63% |
Source: Integrated Postsecondary Education Data System (IPEDS) 2018-19, National Center for Education Statistics, http://nces.ed.gov/ipeds/
Spotlight on Computer Sciences Schools in Idaho
Here's closer look at what's available at some of Idaho's colleges and universities. These schools offer particularly noteworthy IT degree programs:
University of Idaho: At U of I, students may enroll in a Bachelor of Science in Computer Science and practice their software development skills in real-world scenarios. This program offers a number of specializations such as cybersecurity, gaming and virtual environments, computer graphics, software engineering, and bioinformatics.
Northwest Nazarene University: NNU offers a Bachelor of Science in Computer Science that gives students research and hands-on opportunities through its collaboration with NASA, NIH and the USDA. Students can also select from an emphasis in cybersecurity, data science, or general computer science.
Idaho State University: ISU's College of Technology offers students the opportunity to earn both an Associate of Applied Science degree as well as a Bachelor of Applied Science degree. Students who enroll in the B.A.S. program can enhance their technical knowledge and skills acquired through the A.A.S. program.
IT Salaries and Career Outlook in Idaho
According to the Bureau of Labor Statistics, software application developers, web developers, and computer systems administrators are among some of the fastest-growing occupations in Idaho.
Hewlett-Packard, which was established in Boise and is nationally known for its computers and printers; Micron Technology, a company that manufactures memory storage solutions; and General Dynamics Information Technology, a cybersecurity provider, typically hire computer science and IT professionals.
| Career | Annual Median Wage |
| --- | --- |
| Information Security Analysts | $85,040 |
| Database Administrators and Architects | $64,330 |
| Computer Network Architects | $0 |
| Web Developers and Digital Interface Designers | $50,840 |
| Computer Programmers | $66,730 |
| Computer Network Support Specialists | $51,060 |
| Software Developers and Software Quality Assurance Analysts and Testers | $93,390 |
| Computer Systems Analysts | $79,800 |
| Network and Computer Systems Administrators | $66,890 |
2019 Occupational Employment Statistics and 2018-28 Employment Projections, Bureau of Labor Statistics, BLS.gov.
Computer Science Scholarships for Idaho Students
Here are a few program-specific scholarships for students pursuing computer science programs in Idaho.
NCWIT Idaho Affiliate Aspirations Award Scholarship: This scholarship, one of many computer science-related awards offered through the Boise State University College of Engineering, can be renewed for up to four years.
Avista Scholars Program: The North Idaho College Foundation makes available this award program for low- to middle-income students who are majoring in computer science or a related major.
Coeur d'Alene Kiwanis Club Scholarship: Another award available through the North Idaho College Foundation, this one is available to students pursuing a computer technology program
Idaho Professional Organizations and Resources
Idaho Technology Council: ITC's mission is to advance workforce development and further the expansion of Idaho technology corporations. The organization hosts a variety of conferences and events for professionals and students enrolled in IT schools in Idaho that promote technological leadership and innovation.
North Idaho IT Professional Association: Also known as InlandNorthWest Tech Pros Association, this group strives to grow the tech industry in northern Idaho. Every quarter it hosts regional meetings so members can network and participate in professional development opportunities.
Boise Software Developer's Group: BSDG has been meeting regularly for the past 20-plus years to discuss various technology topics on platforms such as .net, Java, Ruby, Python, ObjectiveC, JavaScript, and others.
Article Sources
Article Sources
Sources
2019 State of Computer Science Education, CODE Advocacy Coalition, Accessed January 2020, https://advocacy.code.org/2019_state_of_cs.pdf
Boise Software Developers Group, Accessed January 2020, https://www.meetup.com/bsdg-meetup/
K-12 Computer Science Policy and Implementation in States, National Center for Women & Information Technology, Accessed September 2019, https://www.ncwit.org/sites/default/files/file_type/landscape_of_cs_action_in_states_.pdf
Computer Science, Northwest Nazarene University, Accessed January 2020, https://math.nnu.edu/computer-science
Computer Science, University of Idaho, Accessed January 2020, https://www.uidaho.edu/degree-finder/computer-science/bs-computer-science
Idaho Technology Council, Accessed January 2020, http://www.idahotechcouncil.org/
May 2018 State Occupational Employment and Wage Estimates Idaho, Bureau of Labor Statistcs, Accessed September 2019, https://www.bls.gov/oes/current/oes_id.htm
North Idaho College Foundation Scholarships, North Idaho College, Accessed January 2020, https://www.nic.edu/modules/images/websites/160/file/NIC%20Foundation%20Scholarships%202019-20.pdf
North Idaho IT Professional Association, Accessed January 2020, https://inwtechpros.io
Scholarships, Boise State University, Accessed January 2020, http://coen.boisestate.edu/cs/undergraduates/scholarships/
Technology and Innovation, Idaho.Gov, Accessed January 2020, https://commerce.idaho.gov/site-selection/key-industries/technology-and-innovation/
X
Methodology
To be included in the rankings, all colleges had to meet the following criteria:
Be an accredited U.S. institution
Offer either 2 or 4-year degree programs
Be active in the 2016-17 school year
Offer a degree in a technology-related subject
Have awarded at least one degree in that subject in 2015-16
Have reported data for all ranking variables listed below
Ranking variables:
Related subjects, based on the number of relevant programs that are offered at any level
Flexibility, based on number of relevant programs that are offered at any level via distance education
Average in-state undergraduate tuition
Percent of undergraduate students awarded federal, state, local, institutional or other sources of grant aid
Average amount of federal, state, local, institutional, or other sources of grant aid awarded to undergraduate students
Graduation rate
Retention rate
Methodology Sources:
Integrated Postsecondary Education Data System (IPEDS) 2016-17, National Center for Education Statistics, http://nces.ed.gov/ipeds/
X