CompTIA, a leading technology industry association, discovered that Arkansas' tech sector is responsible for $4.4 billion of the overall state's economy. The Natural State is home to about 3,300 tech businesses and more than 60,300 workers. Arkansas also saw a huge increase in 2018 — 84 percent — in the job postings related to emerging technologies such as drones, blockchain and artificial intelligence.
These statistics may be very encouraging for adults pursuing computer science degree programs in Arkansas. After graduation, their chances of finding meaningful employment in computer science or another technology field look very promising.
Arkansas' Technology Education Initiatives
A number of initiatives have been developed and implemented in Arkansas to support and grow technology and computer science education in K-12 schools. These learning opportunities are designed to encourage students to later explore campus-based or online computer science programs at the college level… and potential careers in technology fields. Here's a closer look at a few of them:
Training students in cybersecurity: The Arkansas Department of Higher Education provided University of Central Arkansas with a half-million dollar grant to educate students throughout the state on cybersecurity. UCA strives to show students how to anticipate cyberattacks and defeat them.
Identifying computer science and technology needs: Established in 2015, the The Arkansas Computer Science and Technology in Public School Task Force works to research and recommend computer science and technology courses and standards. The organization also suggests strategies to meet the anticipated computer science and technology employment needs of Arkansas.
Promoting STEM education throughout the state: Microsoft partnered with Arkansas to to give high school students the opportunity to learn about STEM fields and encourage them to attend computer science schools in Arkansas.
Educating teachers on how to teach and advocate for STEM: AdvancED Arkansas, Arkansas STEM Coalition, and the Arkansas Out-of-School Network came together to host the Arkansas STEM Coalition Summit in Little Rock. The sessions in the two-day summit focused on effective STEM strategies for engaging student learners.
Southern New Hampshire University
Some of the nation's most affordable tuition rates, from a private, nonprofit, NEASC accredited university
Qualified students with 2.5 GPA and up may receive up to $20K in grants & scholarships
Multiple term start dates throughout the year. 24/7 online classroom access
Offering over 200 online degree programs
Purdue University Global
Experience world-class education online with more than 175 programs at associate's, bachelor's, master's and doctoral levels.
Apply eligible work experience and prior college credits toward up to 75% of your undergraduate degree.
You have the option of trying out a Purdue Global undergraduate program for an introductory 3-week period. There's no cost beyond the application fee.
Competency-based ExcelTrack™ programs may allow you to earn your degree faster and for less money
Best Computer Science and IT Colleges in Arkansas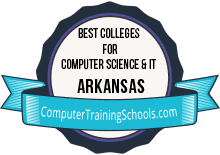 Almost 40 postsecondary schools in Arkansas offer education programs in the computer science and information technology fields. More than half offer certificate and/or associate degree programs, almost half offer bachelor's programs, and a handful offer advanced degree programs. How do you know which school might be right for your career goals? Start by exploring the institutions that made our "best" list. To learn about how we chose these schools, select the methodology button to view the data points we analyzed.
| Ranking | School Name | In State Avg. Undergrad Tuition | % Receiving Financial Aid | Retention Rate |
| --- | --- | --- | --- | --- |
| 1 | Phillips Community College of the University of Arkansas | $2,520 | 93% | 54% |
| 2 | North Arkansas College | $2,304 | 95% | 54% |
| 3 | Hendrix College | $45,440 | 100% | 86% |
| 4 | Arkansas State University-Main Campus | $6,300 | 97% | 76% |
| 5 | Arkansas State University-Mountain Home | $2,304 | 95% | 55% |
| 6 | Arkansas Tech University | $5,424 | 95% | 70% |
| 7 | Harding University | $19,140 | 99% | 85% |
| 8 | College of the Ouachitas | $2,910 | 90% | 49% |
| 9 | Southeast Arkansas College | $2,880 | 95% | 53% |
| 10 | University of Arkansas at Little Rock | $6,495 | 97% | 68% |
Source: Integrated Postsecondary Education Data System (IPEDS) 2018-19, National Center for Education Statistics, http://nces.ed.gov/ipeds/
Spotlight on Computer Sciences Schools in Arkansas
While there are many computer science degree programs in Arkansas, here's closer look at some of the most interesting opportunities for students:
University of Central Arkansas: At UCA students may earn a Master of Science in Applied Computing. This unique program offers thesis and non-thesis options and is ideal for students interested in helping organizations thrive through computing systems applications.
Harding University: Harding, a faith-based institution, offers a Bachelor of Arts in Computer Science, a Bachelor of Science in Computer Science, and a Bachelor of Science in Software Development. A Management Information Systems degree is also available to students who are passionate about using technology to solve problems in business instead of developing algorithms and software.
Arkansas Tech University: A bachelor's of science program in cybersecurity is available at ATU. It may be a good option for students who would like to work as federal cybersecurity specialists, information security analysts, or computer forensics analysts.
IT Salaries and Career Outlook in Arkansas
Employment for software developers, computer user support specialists, and computer systems analysts are projected to experience significant growth in Arkansas in the coming years, according to the U.S. Bureau of Labor Statistics. Fortunately, there are many employers across the state who tend to employ these types of professionals.
A few examples of these employers include Infosys, a software development company that is likely to be on the lookout for computer professionals to design and maintain software and technology; and UST Global, which provides information technology services and needs computer professionals to support them.
| Career | Annual Median Wage |
| --- | --- |
| Information Security Analysts | $81,940 |
| Database Administrators and Architects | $78,150 |
| Computer Network Architects | $87,260 |
| Web Developers and Digital Interface Designers | $45,240 |
| Computer Programmers | $69,820 |
| Computer Network Support Specialists | $44,370 |
| Software Developers and Software Quality Assurance Analysts and Testers | $83,340 |
| Computer Systems Analysts | $70,240 |
| Network and Computer Systems Administrators | $62,720 |
2019 Occupational Employment Statistics and 2018-28 Employment Projections, Bureau of Labor Statistics, BLS.gov.
Computer Science Scholarships for Arkansas Students
Scholarships can help make IT degree programs in Arkansas more affordable. Here are examples of two program-specific scholarships offered by the Arkansas Department of Higher Education:
Arkansas Future Grant: This support is for Arkansas residents who are enrolled part-time or full-time at an approved higher education program of study that leads to an associate degree or a certification in a STEM or regional high-demand field.
Arkansas Workforce Challenge: Students eligible for this award must attend one of the information technology workforce training programs approved by the Arkansas Department of Higher Education. Unlike the Future Grant award, this one can be used for non-credit-bearing programs.
Other program-specific scholarships may be available through specific schools. Here are a couple of examples:
Arkansas Tech University computer science majors can consider the Arkansas Academy of Computing Scholarship, Laura Ferguson Computer Science Scholarship, Lloyd D. McDaniel Engineering or Computer & Information Science Scholarship or Ross Pendergraft Scholarship.
The University of Central Arkansas' College of Natural Sciences and Mathematics has several awards for students studying computer science, including the aptly named "Computer Science Student Scholarship" and the Richard and Terri Harper Jordan Scholarship.
Arkansas Professional Organizations and Resources
Technology professionals and students pursuing IT programs in Arkansas may benefit from these field-focused organizations and resources. Participating in their events and initiatives can be a way to stay on top of developing trends and to connect with others in the tech community.
Article Sources
Article Sources
Sources
50 Fastest Growing Jobs in Arkansas, Owl Guru, Accessed January 2019, https://www.owlguru.com/career/50-fastest-growing-jobs-in-arkansas-ar/
Arkansas Tech University Small Business and Technology Development Center, Arkansas Tech University, Accessed January 2019, https://www.atu.edu/asbtdc/
Arkansas TSA, Accessed August 2019, https://www.arkansastsa.org
ARKSTE, Accessed August 2019, www.arkste.com
Bachelor of Science in Cybersecurity, Arkansas Tech University, Accessed January 2019, https://www.atu.edu/cis/STULRN-BS-Cybersecurity.php
Computer Science, Harding University, Accessed January 2019, https://www.harding.edu/academics/colleges-departments/sciences/computer-science/academic-programs
Computer Science Initiative, Arkansas STEM Coalition, Accessed January 2019, https://arkansasstemcoalition.com/computer-science-initiative/
CSTA Arkansas, Accessed August 2019, https://arkansas.csteachers.org/
Cyber Range: Next Step in Arkansas' Computer Science Initiative, Arkansas.gov, Accessed January 2019, https://governor.arkansas.gov/news-media/weekly-address/cyber-range-next-step-in-arkansas-computer-science-initiative
Engaging Learners in STEM, AdvancED, Accessed January 2019, https://www.advanc-ed.org/article/engaging-learners-stem-advanced-arkansas-and-arkansas-stem-coalition-summit
Graduate Degree Program, University of Central Arkansas, Accessed January 2019, http://uca.edu/computerscience/graduate-degree-program/
Growth Occupations in Arkansas thru 2026, Arkansas.gov, Accessed January 2019, http://www.discover.arkansas.gov/Occupation/Growth-Occupations#739224918-fastest-growing-occupations
Microsoft to Partner with Arkansas to Promote STEM Education, Accessed January 2019, http://www.arkansasnews.com/news/20161212/microsoft-to-partner-with-arkansas-to-promote-stem-education
New Report Details Employment, Economic Impact of Arkansas Tech Industry, CompTIA, Accessed August 2019, https://www.comptia.org/about-us/newsroom/press-releases/2019/03/26/new-report-details-employment-economic-impact-of-arkansas-tech-industry
Scholarships, Arkansas Department of Higher Education, Accessed August 2019, https://scholarships.adhe.edu/scholarships-and-programs/at/
X
Methodology
To be included in the rankings, all colleges had to meet the following criteria:
Be an accredited U.S. institution
Offer either 2 or 4-year degree programs
Be active in the 2016-17 school year
Offer a degree in a technology-related subject
Have awarded at least one degree in that subject in 2015-16
Have reported data for all ranking variables listed below
Ranking variables:
Related subjects, based on the number of relevant programs that are offered at any level
Flexibility, based on number of relevant programs that are offered at any level via distance education
Average in-state undergraduate tuition
Percent of undergraduate students awarded federal, state, local, institutional or other sources of grant aid
Average amount of federal, state, local, institutional, or other sources of grant aid awarded to undergraduate students
Graduation rate
Retention rate
Methodology Sources:
Integrated Postsecondary Education Data System (IPEDS) 2016-17, National Center for Education Statistics, http://nces.ed.gov/ipeds/
X